Sharp Pebble Premium Whetstone Knife Sharpening Stone Review
This double-sided model put an edge on both of our knives that none of the electric or manual knife sharpeners CR evaluated could match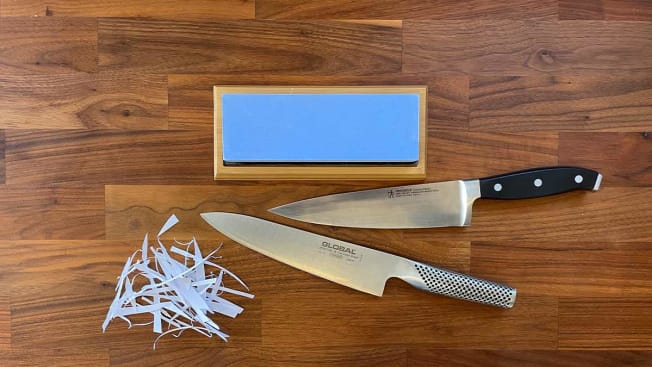 I wouldn't wish a dull knife on my worst enemy. As the primary cook in my house, and a former chef, I jumped at the chance to assess eight knife sharpeners as part of Consumer Reports' Outside the Labs program. I sized up each sharpener by repeatedly dulling and then sharpening two of my favorite knives from our recent chef's knives test: the J.A. Henckels Forged Premio 8-Inch Chef's Knife, which is a German-style knife, and the Global G-2 8-inch Chef's Knife, a Japanese blade.

My pick for knife enthusiasts who are willing to put in the work to keep their blades sharp is the Sharp Pebble Premium Whetstone Knife Sharpening Stone, $40.

For thousands of years, sharpening stones were the only option for sharpening knives, and in my opinion, they remain the gold standard for anyone who finds knife sharpening fun and wants total control. They require a fair amount of skill—users control the sharpening angle as you drag the knife blade across the stone, alternating sides as you go. A separate tool called a bevel gauge—available at home centers and hardware stores—can help you get the angle exactly right. You use a coarse stone for restoring a really dull blade, then progress to a finer stone for polishing the edge. The Pebble Premium is double-sided, with a coarse and fine side on the same stone. 
This product evaluation is part of Consumer Reports' "Outside the Labs" reviews program, which is separate from our laboratory testing and ratings. Our "Outside the Labs" reviews are performed at home and in other native settings by individuals, including our journalists, with deep subject matter experience or knowledge and are designed to offer another important perspective for consumers as they shop. While the products or services mentioned in this article may not currently be in CR's ratings, they might eventually be tested in our laboratories and rated according to an objective, scientific protocol.
Like all CR evaluations of products and services, our "Outside the Labs" reviews are independent and free from advertising. If you'd like to learn more about the criteria for our lab testing, please visit the Research and Testing page on our website.
When you shop through retailer links on our site, we may earn affiliate commissions. 100% of the fees we collect are used to support our nonprofit mission. Learn more.