When you shop through retailer links on our site, we may earn affiliate commissions. 100% of the fees we collect are used to support our nonprofit mission.
Learn more.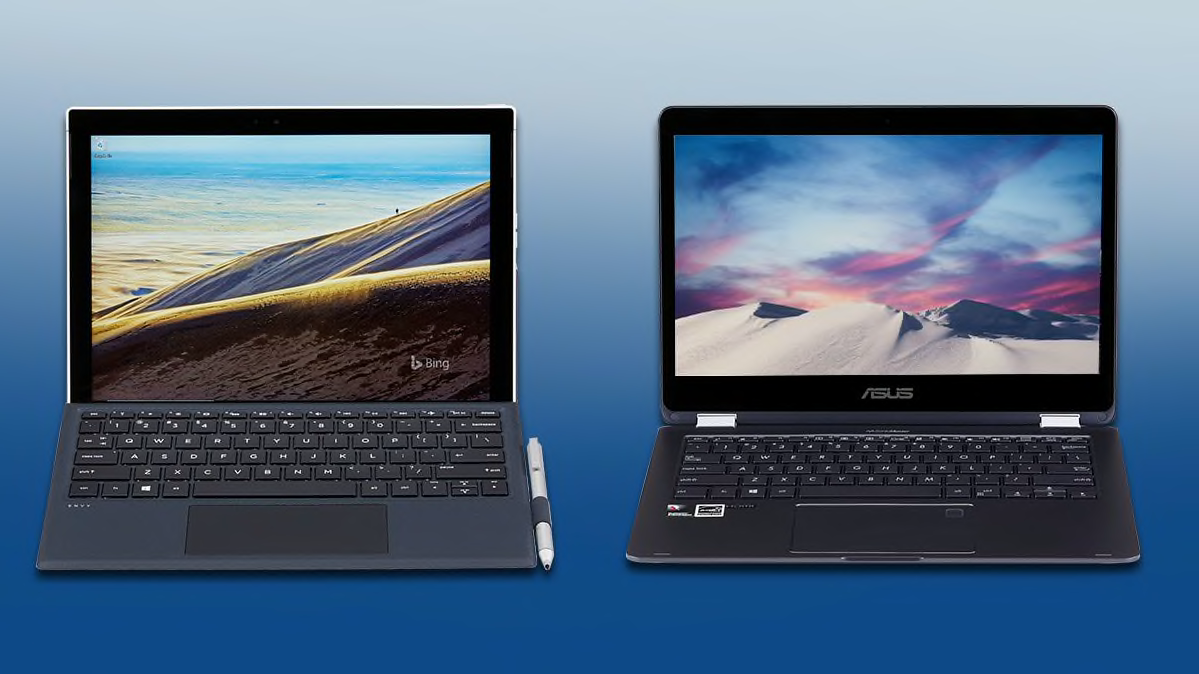 Always connected PCs have been promoted heavily for the past several months by Microsoft, Qualcomm, and various PC makers. They're trying to entice on-the-go consumers with the promise of all-day battery life and the ability to seamlessly connect to the internet—much like a smartphone—using a built-in LTE modem.
But questions regarding performance and app compatibility make early models, including the HP Envy x2, $900, and Asus Nova Go, $700, difficult to recommend, according to Consumer Reports' testers.
"Always connected PCs have some good features, but you need to consider other factors before deciding if it's worth getting one," says Antonette Asedillo, who oversees computer testing in our labs.
The Envy x2 and the Nova Go received very low scores for performance, ranking among the worst 12- to 13-inch laptops in our ratings. In practice, this means they were slow to execute even the most basic tasks, like booting up, launching apps, and navigating the Windows operating system.
Bernard Fernandes, a senior manager in the communications department at Qualcomm, which designed the Snapdragon 835 processor that powers these laptops, acknowledged the hiccups. "There are kinks we need to work out," he wrote via email, citing performance, app compatibility, and legacy software issues.
But Fernandes also affirmed the company's faith in the always connected idea. "While we're in the early years, there's full commitment from Qualcomm, Microsoft, and the Original Equipment Manager ecosystem—Lenovo, Samsung, HP, Asus—in bringing the best of the smartphone to the PC," he noted.

"This device is not meant to game, decode, encode, or photo edit," he added. "It's for productivity and content consumption on the go."
Because these laptops use the Snapdragon 835 processor, which typically powers smartphones, there's no way to be sure whether your favorite applications will work on them.
On its always connected PC website, Microsoft warns that some antivirus programs and accessory apps compatible with Windows 10 may not perform as expected.
While you may be able to send documents to your printer, for example, special features unlocked by the device's dedicated driver—notifications about how much ink you have left or how many pages you've printed—may be disabled, explains Richard Fisco, a program leader in electronics testing at Consumer Reports.
"If you're expecting to have the full capabilities of a Windows 10 laptop, you might end up disappointed," he says.
Battery Life and Built-in LTE
On closer inspection, the always connected PC's chief selling points—all-day battery life and on-the-go connectivity—are less appealing than anticipated, too.
Battery
HP and Asus claim up to 22 hours' worth of battery life for their laptops, but in our tests the Envy x2 logged 16.25 hours and the Nova Go 15.75 hours. Those numbers are certainly impressive but they're not groundbreaking, not when compared with other laptops in our ratings.
The LG Gram 13, $1,200, reached 16.25 hours; the Dell XPS 13, $1,100, hit 15.75 hours; and the Microsoft Surface Book 2, $1,365, clocked in at 16 hours.
LTE
A big selling point of always connected PCs is built-in LTE, which lets you connect the laptop to the internet as long as you have a cellular signal (all four major wireless carriers are compatible). While not having to rely on a nearby WiFi connection is certainly useful and potentially more secure (it's a bad idea to connect to a public WiFi network without a VPN), it's important to realize that this may cost you extra.
Sprint, the wireless carrier that's most heavily promoting always connected PCs, currently offers free LTE access for these devices through the end of 2018 but will charge $15 per month beginning in January. You can expect to pay about the same on other carriers.

And as Asedillo points out, if your smartphone's data plan already supports tethering (which means your laptop can connect to the internet through your smartphone), then having built-in LTE is more of a nice-to-have than a crucial feature. It's important to note, though, that depending on your plan, wireless carriers may limit how fast you can download when a device like an always connected PC is tethered to your smartphone.

And Then There's the Price
Consumers might be willing to forgive the poor performance and spotty app compatibility, but these always connected PCs aren't inexpensive. The HP Envy x2 costs around $900, and the Asus Nova Go sells for around $700—prices that put them in the ballpark with Windows laptops that don't exhibit the same shortcomings.
"Ultimately, these PCs are not worth the cost," says Asedillo. "For the same price, you can find far better scoring laptops, ones that can handle a wider range of software and at faster speeds. Many have very long battery life as well, with portability that is just as good or even better."
For the same $900, you could get the LG Gram 13 Touchscreen. It doesn't have the latest-generation Intel Core processor but performance-wise, it still runs circles around the Envy. And if you want to spend a little more—say around $1,100 to $1,200—you can find fully featured, highly rated laptops from the likes of Dell (XPS 13), Samsung, and even HP and Asus.
"Because always connected PCs are available at retail channels, consumers might consider buying them," Fisco says. "But they may be better aimed at businesspeople" who are often outside the office and away from WiFi.