Apple's New MacBook Pros Have Advanced M1 Processors and Popular Old-School Features
Available in 14- and 16-inch sizes, they bring back SD card slots, HDMI ports, and the magnetic MagSafe charger. The company unveiled new AirPods as well.
Say goodbye to your MacBook dongles.
Apple on Monday announced updated versions of its MacBook Pro laptops that, in a win for consumers, ditch the divisive keyboard Touch Bar and bring back handy SD card slots, HDMI ports, and the MagSafe power adapter. The high-end notebooks, which come in 14- and 16-inch sizes, begin shipping next week with prices starting at $2,000.
Now that Apple is bringing back SD card slots and HDMI ports, you don't need to buy and carry an external dongle just to, say, transfer photos from your camera or plug the Mac into a projector to give a quick presentation at work. The return of MagSafe, meanwhile, brings back a user-friendly power connector that simply pulled away from the laptop when accidentally snared instead of yanking the device to the ground.
All in all, those are not major upgrades, but they're welcome changes, especially if they one day make their way down to the more consumer-focused MacBook Air.
In a trivia note, this is the first time Apple has released a 14-inch MacBook Pro. The 16-inch Pro was last updated in mid-2020. The 15-inch MacBook Pro is extinct. 
Both models also now use Mini LED display tech.
We've already seen it in some televisions and the 12.9-inch iPad Pro, and find that it splits the difference between traditional LCD and the more expensive OLED: It can get very bright, just like an LCD, but with better, more OLED-like contrast and dynamic range, which is the difference between the deepest blacks and brightest whites. 
The displays will also feature ProMotion, Apple's high-refresh rate tech that makes onscreen movement, such as scrolling text and video playback, appear more smooth. You can read more about ProMotion in our iPhone 13 Pro review.
The displays will have a small "notch" at the top to house Apple's new 1080p webcam and light sensor. We'll have more to say about the webcam's performance once we test it, but it's not compatible with Face ID, Apple says, which means you can't unlock the laptop by looking into the camera like you do with an iPhone.
In a nod to consumer feedback, Apple has removed the divisive Touch Bar, replacing it with a row of physical buttons. Touch ID remains built into the keyboard.
The MacBook Pro begins shipping next week. The 14-inch model starts at $2,000 with an M1 Pro chip and $2,900 with an M1 Max, and the 16-inch model starts at $2,500 with an M1 Pro and $3,100 with an M1 Max.
Apple's true wireless headphones have been a hit with consumers since their launch in 2016, and the latest version looks to continue that momentum with a refreshed design, better battery life, and compatibility with Spatial Audio, Apple's surround-sound tech for music, movies, and TV shows.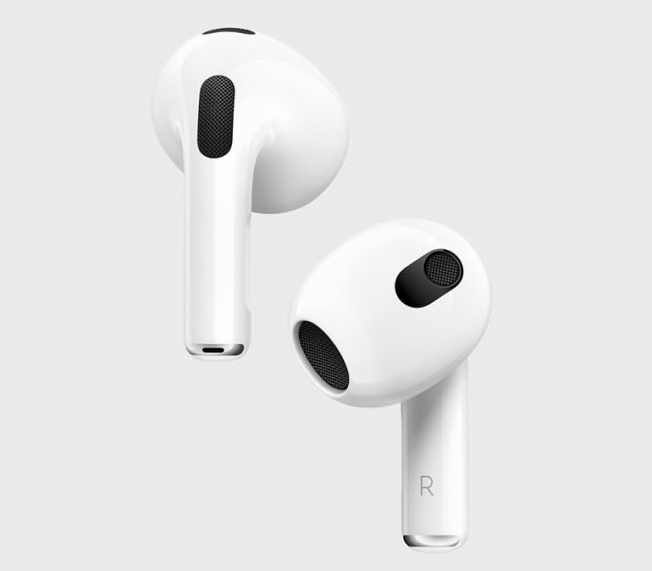 Apple has shortened the "stems" of the AirPods, which now resemble the higher-end AirPods Pro. Don't expect to find new advanced features found in the AirPods Pro (namely noise cancellation, which we rated highly in our tests), but at $180, the new model falls between the second-generation AirPods, now $130, and the Pros, $250.
The battery life has increased from 5 to 6 hours of listening per charge, according to Apple, with a total of 30 hours of juice provided by the charging case (up from 24 hours). 
In other audio news, Apple announced a new tier for its Apple Music streaming service. Priced at $5 per month, Voice Plan lets users pick and choose songs and playlists exclusively using Siri voice commands. The new HomePod Mini colors were also announced, adding orange, yellow, and blue to the current lineup of white and space gray.