When you shop through retailer links on our site, we may earn affiliate commissions. 100% of the fees we collect are used to support our nonprofit mission.
Learn more.
One day last May, an 87-year-old woman named Edith was rushed to the hospital in a small Texas town after she was found slumped over and unresponsive at the home where she lived with her son and daughter-in-law. The woman, who suffered from dementia, had eaten two liquid laundry detergent packets. She died two days later.

Edith's is one of eight deaths related to ingesting liquid laundry packets in the U.S. between 2012 and early 2017 that have been reported to the Consumer Product Safety Commission. Two of the cases were young children and six were adults with dementia.

"Caregivers and children of seniors should be aware that ingestion of the contents of certain liquid laundry packets has led to serious and even tragic incidents," says Patty Davis, press secretary for the CPSC. "Water, wet hands, and even saliva can dissolve the packets and release the highly concentrated liquid."

Liquid laundry detergent packets are squishy like playthings and colorful like candy, which helps explain why children can be drawn to them. Not long after Tide Pods debuted in a television commercial during the Academy Awards in 2012, promoting a new product category, Consumer Reports began calling on manufacturers to make liquid packets safer. CR's advice to consumers has been to keep laundry packets out of households where children under 6 years old may be present. And although some manufacturers have made some changes to the packaging and the product itself, pods continue to pose serious health risks. Now it's clear that kids aren't the only vulnerable population.

Slide the Bar to Pick Out the Pods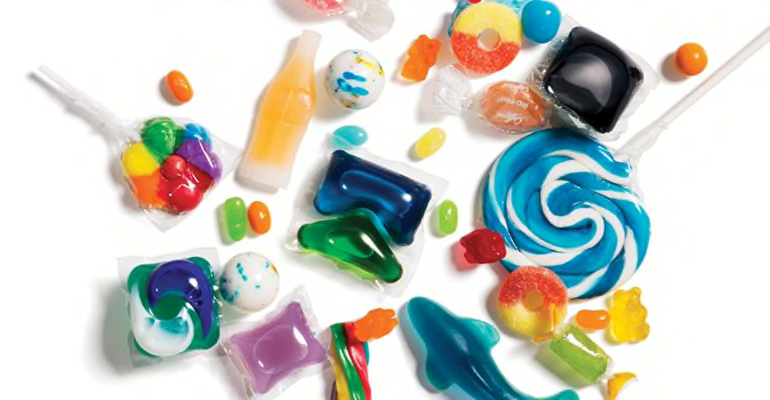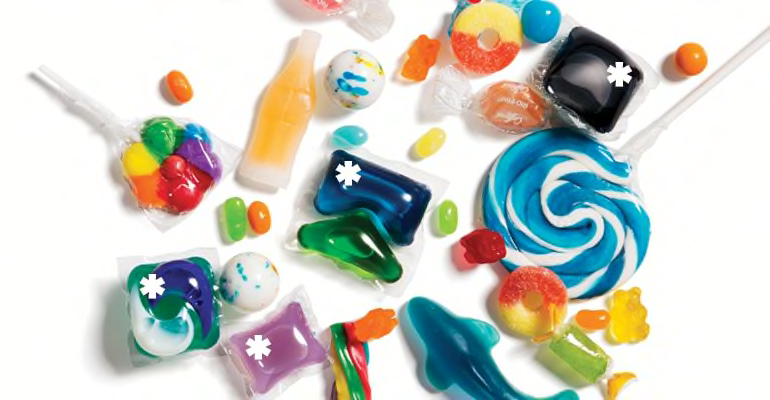 Consumer Reports learned about the pod-related deaths through a Freedom of Information Act request that we filed earlier this year with the CPSC. (CR discovered Edith's name through further reporting but chose to withhold her last name in the interest of her family's privacy.)

According to the information we received from the CPSC, Edith had seemed fine during lunch, just a few hours before she was found. The first clues as to what happened came when her daughter-in-law returned home from the hospital to collect a few things. She found that the pungent smell of laundry detergent filled Edith's bedroom, and a new container of liquid laundry detergent packets had been opened. Several of the pink pods were missing. Edith, who had been known to mistake objects for candy, had eaten them. The medical examiner ruled her death an accident; ingestion of laundry detergent was listed as the cause.

Six of the eight deaths, including Edith's, involved pods manufactured by Procter & Gamble, according to the CPSC reports. P&G's laundry packets are the industry's biggest sellers, with its Tide Pods and sibling brands representing 79 percent of the market, according to IRI, a Chicago-based market research firm. "We are aware of accidental ingestions related to our liquid laundry pacs among adults with previously diagnosed dementia," Elizabeth Kinney, P&G's senior communications manager for North America fabric care, told CR. "We are deeply saddened by this and have taken action to understand and help prevent these types of incidents."

Sales of laundry pods totaled $1.2 billion over a recent 12-month period, according to IRI, and accounted for 17 percent of all laundry detergent sales.
Reported Cases
The details CR received from the CPSC provide a grim glimpse into preventable tragedies:
A 15-month-old boy visiting his grandmother in New Jersey managed to reach a container of laundry packets on top of the washer and ate one. He died of poisoning three days later.
In Ohio, a new pouch of laundry pods was left on a kitchen counter, where a 67-year-old man with dementia discovered it. He opened the ziplock-style package, chewed on five pods, and died the same day.
A 78-year-old woman with advanced Alzheimer's living with her son in Tennessee ate laundry packets one day in 2012. She died several weeks later of respiratory failure and chemical pneumonia, among other medical conditions.

In all six of the adult deaths, the victims suffered from dementia.

"As a result of this new data from the CPSC highlighting the potential risks of laundry detergent pods to adults with dementia, we are amending our advice and recommending that family members caring for anyone who is cognitively impaired not keep pods in the home," says James Dickerson, Ph.D., chief scientific officer at Consumer Reports. "We also continue to believe that manufacturers should modify the appearance of laundry packets, so they do not look like candy."
How This Can Happen to Adults
Dementia comes in many forms. The most common type is Alzheimer's disease, which affects an estimated 5.4 million adults in the U.S., according to the Centers for Disease Control and Prevention.

People with moderate to severe dementia may mistakenly try to eat items that aren't food. "A hungry person with dementia foraging in a kitchen may misidentify a box of powdered detergent as cereal and still know to pour it in a bowl and mix it with milk from the refrigerator," says Lon S. Schneider, M.D., director of the California Alzheimer's Disease Center at the University of Southern California.

Such streaks of confusion are a hallmark of dementia, and the colorful appearance of liquid detergent packets can't help. But there's another risk factor for people with a certain form of dementia, in which they may become increasingly interested in putting things in their mouth.

"The reasons for these behaviors are not entirely known," says Gregory S. Day, M.D., a neurologist specializing in diagnosis and management of dementia at Washington University School of Medicine in St. Louis. "It likely reflects loss of function in brain areas that regulate or restrict such behaviors, returning the patient to a more primitive, child or baby-like state, where such behavior is common."

According to the Alzheimer's Association, P&G has been working with the nonprofit group over the past year to develop a checklist caregivers can use to make homes safer for adults with dementia. The advice includes tips on the safe storage of cleaning products. A printed version of the checklist is expected to be available this summer and will later appear on the association's website.
Working to Reduce the Risk
Laundry pods are convenient, single-load packets designed to dissolve in the wash and release highly concentrated liquid detergent. Branded variously as Pods, Mighty Pacs, Power Pacs, Power-Caps, PowerBlasts, PowerCore Pacs, and Flings, their concentrated formulation poses a greater risk than conventional detergent, according to the American Association of Poison Control Centers (AAPCC).

Gary A. Smith, M.D., Dr.P.H., and president of the Child Injury Prevention Alliance, agrees that pods pose a greater risk, but he's not sure why that is. "The chemical composition specifics are proprietary information, making it difficult to answer this question," he says.

Smith's analysis of calls made to poison-control centers in 2013 and 2014 was published last year in the peer-reviewed journal Pediatrics. The study found that children exposed to laundry detergent packets were significantly more likely to be admitted to a healthcare facility than those exposed to other types of detergent. "They were also more likely to have serious clinical effects," says Smith. "Coma, pulmonary edema, respiratory arrest, and death were only observed among children exposed to laundry detergent packets."

In 2012, the Centers for Disease Control and Prevention issued a report saying that for children under 6, exposure to the detergent in pods is "an emerging public health hazard." Between 2012 and 2015, the AAPCC received reports of 38,021 people suffering exposure to the liquid detergent in the packets in some way: ingesting or inhaling it, getting it in their eyes, or absorbing it through their skin. Children under age 6 account for 91 percent of the reported incidents. The AAPCC doesn't release incidents related to adults with dementia, apart from a few anecdotes, in its annual report.

Since Consumer Reports first called on manufacturers to make pods safer, many have switched from clear plastic containers to opaque ones that hide the colorful pods inside. In addition, Consumer Reports, as a member of a committee that sets voluntary industry standards, called for more packaging changes to protect kids. In 2015, the manufacturers that adopted the voluntary standard agreed to add a bitter-tasting substance to the outer film of the packet and make them tougher to burst and slower to dissolve—modifications they had already planned for the European market.

"Manufacturers of liquid laundry detergent packets are fully committed to reducing accidental access to these products, which are used safely by millions of consumers every day," says Brian Sansoni, a spokesman for the American Cleaning Institute, a trade group that includes detergent manufacturers.

P&G's Kinney claims that the manufacturer's efforts have led to a 39 percent decrease in the rate of accidental exposures to its liquid laundry packets, but that's relative to the number sold, which has increased. If sales go up and incidents go up—just at a lower rate—that would be, technically, a decrease in the rate. Consumer Reports has seen no evidence that the raw number of accidental exposures has decreased.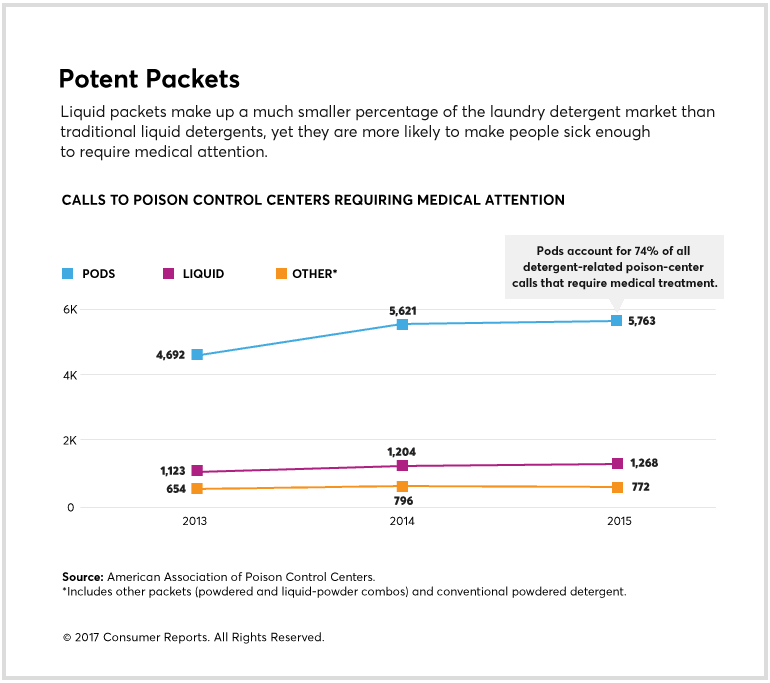 The most recent data CR has for all ages from the AAPCC is from 2015. Of the 24,887 laundry detergent–related calls to poison-control centers that year, 55 percent (13,619) involved liquid packets, compared with 29 percent (7,158) for conventional liquid detergents. More people required medical treatment when the call was related to pods (23 percent) compared with liquid detergents (5 percent). And if you look at all laundry detergent–related calls that required medical treatment, you'll see that 74 percent were related to pods (see chart, above).

"We very much hope that the steps manufacturers are taking will prevent deaths and injuries associated with these products," says William Wallace, policy analyst for Consumers Union, the policy and mobilization arm of Consumer Reports. "But if we don't see a meaningful decline in the number of incidents, we will press for further action—including for lawmakers to put mandatory standards in place."
How to Make Your Home Safer
To keep children and adults who suffer from cognitive impairment safe from household cleaners, follow these tips from the medical experts we interviewed:
Remove cleaning products that may resemble food from the home.
Limit the use of toxic home-cleaning products.
Keep cleaning products in their original containers and choose products with latches intended to keep kids out, when possible. Never transfer cleaning products into a generic, unlabeled container.
Store cleaning products in a separate place from food, and lock the cabinet. This is especially important when it comes to sweet-smelling liquid cleaners and bright blue glass cleaners, such as Windex, which could be mistaken for bottles of juice.
Monitor the behavior of a person with dementia, watching for impulsivity and increasing interest in placing items in the mouth. If you observe these behaviors, remove choking hazards and items that could be fatal if ingested, including cleaners, medications, certain plants, and batteries.