When you shop through retailer links on our site, we may earn affiliate commissions. 100% of the fees we collect are used to support our nonprofit mission.
Learn more.
I've written about home remodeling for the better part of two decades, including the last nine years at Consumer Reports. In that time I've tackled a lot of smaller projects, but the renovation of an 1882 brownstone in Brooklyn, New York, where I live with my wife and two kids, will be my first full-scale remodel.

As if the project itself isn't terrifying enough, I've decided to share the entire experience with the Consumer Reports audience. Coverage will take many forms, including weekly reports, Facebook Live events, updates on social media, traditional videos and, my favorite of all, a series of 360-degree videos capturing every aspect of the kitchen installation, from the demolition phase through the final coat of paint.

Along the way, I'll highlight the many tips and test results from Consumer Reports that inform the renovation, from my choice of appliances, countertops, and floors to general design advice to issues related to energy efficiency.
And I'd love to hear any thoughts, questions, comments you have, either about my project or remodeling in general. (I've already made one key change to the design based on a great observation from a viewer of our first Facebook Live, where I did a walk through of the building a few days before the dust started to fly.)
If there's one thing I've learned, it's that home renovations are unpredictable. So even with my years of experience, and access to the Consumer Reports' brain trust, I'm sure many surprises—and even the occasional fiasco—are in store.

The Game Plan
When we bought the three-story brownstone in 2014, it had a rental unit on the top floor (see before floor plan, below). The overall layout didn't work for our family of four, so our plan is to reconfigure the building into an owner's duplex over a garden rental apartment; the rental income is crucial to our household budget, so restoring it into a single-family home isn't an option.

The parlor level will contain our kitchen, dining, and living areas (see after floor plan). We also plan to open up the back wall and add French doors with sidelights, which will bring even more light into that part of the house, while also creating a strong connection to the outdoor patio space.

The top floor will be our sleeping quarters, including a master bedroom suite, two smaller bedrooms, a second kids' bathroom, and a bit of storage space.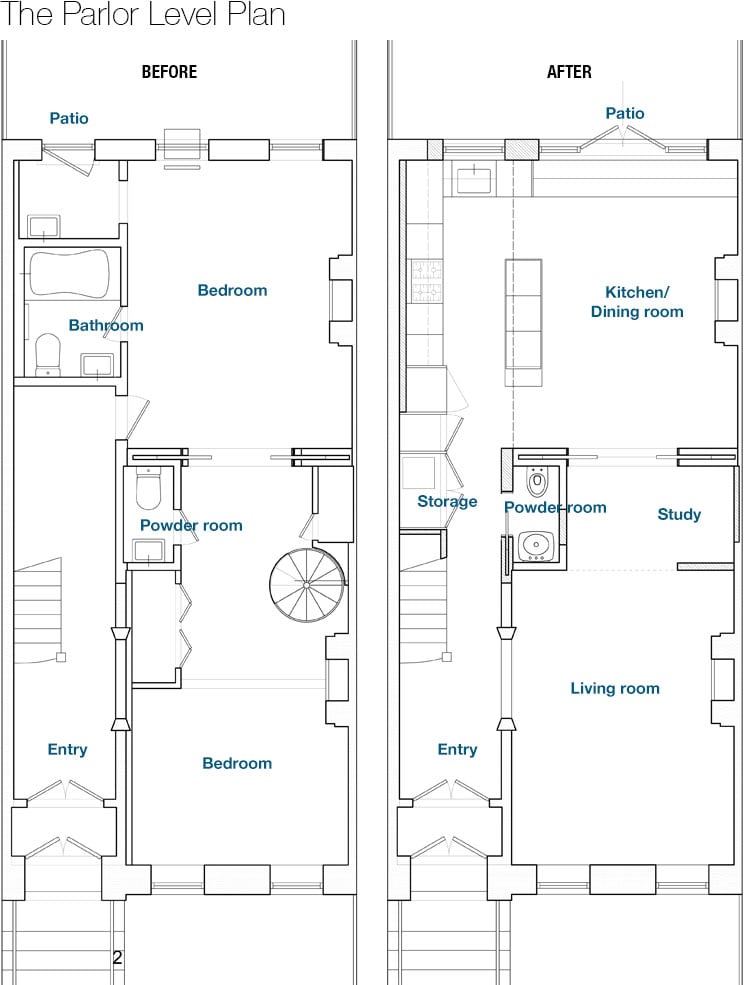 Assembling the Team
Consumer Reports often talks about how word-of-mouth referrals are best, since they let you hear first-hand about the quality of the pro's work.

Our architect, Bo Lee of Bo&Em architects in New York, is actually a fellow parent at my daughter's school. She came highly recommended, and in reviewing her past projects, we liked how the spaces felt clean and contemporary, while still conveying a sense of warmth and tradition.

Our general contractor, Federico DiMattia of DiMattia Design & Construction, came through friends in Brooklyn whose home had been badly damaged in a fire. He did a great job on the project, plus the fact that he passed muster with our friends' insurance company was added security—though we still checked his license and insurance, following another Consumer Reports dictum.

The Timeline
We were initially hoping for a July 1st start date, but the permitting process took longer than expected, so we didn't get going until the end of July. We'll be out of the house for the duration, bouncing between friends, relatives, and a sublet in our old Brooklyn neighborhood.

The project will take at least four months, so we're hoping to be in our new home by Thanksgiving, although Christmas is probably more realistic. Just so long as it's not Memorial Day!

We'll be doing another Facebook Live this Friday, August 5th at 12 noon EST, to talk about what the demo revealed. Hope you can make it!
Use of any products or services in this article does not constitute an endorsement by Consumer Reports. Consumer Reports does not endorse any products or services.
Kicking Off a Home Renovation