When you shop through retailer links on our site, we may earn affiliate commissions. 100% of the fees we collect are used to support our nonprofit mission.
Learn more.
Some consumers who think about cutting the cable cord hesitate for fear they won't have an easy way to record shows once they've given up their cable company-provided DVR. But there are alternatives for anyone who uses an antenna to pull in free over-the-air TV signals.
We just tested the Tablo from Nuvyyo, the ChannelMaster DVR+, and the TiVo Roamio OTA. All of them have a program guide you use to find and record shows, but there are also some important differences among the devices.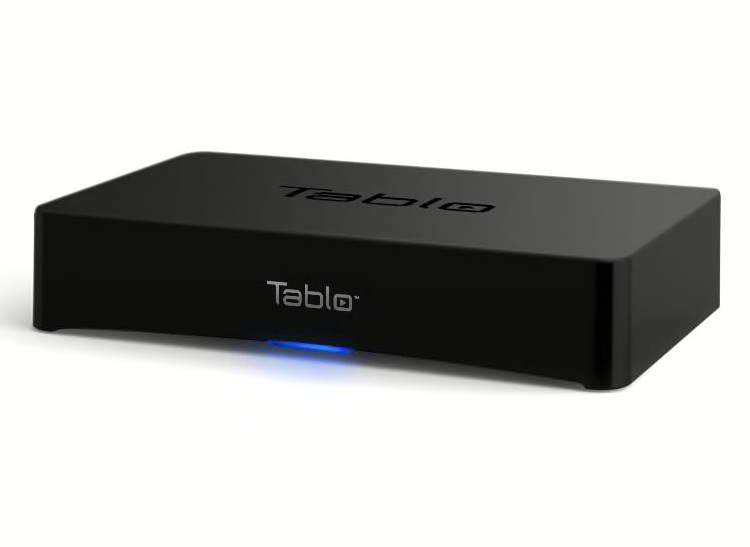 Tablo 2-Tuner DVR, $220
The Tablo 2-Tuner DVR offers a balance of price and flexibility. Tablo also sells a $300, four-tuner version, but the cheaper two-tuner version should suffice for many families.
A blue LED power light on the Tablo 2-Tuner DVR's plain black box lets you know when the unit is on. The Tablo is outfitted with dual-band 802.11n Wi-Fi, plus an Ethernet jack for making a wired connection to your network. There are also two USB ports on the back, and an antenna input.
The two tuners let you record two shows at once, and recorded programs from one Tablo can be viewed on up to six devices simultaneously. You can stream to Android and iOs mobile devices, plus Amazon Kindles.
The DVR we tested requires that you supply the antenna. However, Tablo also offers a slightly pricier two-tuner model with an integrated dual-antenna array, designed primarily for those living in urban areas since reception is limited to about 25 miles.
The Tablo doesn't come with built-in storage, but you can buy a 1TB external hard drive for as little as $50. Tablo will work without its program guide, but we recommend paying for it—$5 per month, $50 annually, or a one-time fee of $150 for a lifetime subscription—as it greatly increases the usability of the DVR. The guide gives you access to 14 days of programming, and the ability to set up recordings by series (every episode of a show) or season, or to record just the new episodes of a show. It will also auto-extend live recordings, and let you filter recorded content into a number of different "views," such as Prime Time TV View, Movie View, and Sport View. The subscription guide includes metadata so you can receive cover art and story synopses.
The Tablo 2-Tuner DVR differs from many of its competitors in that it doesn't connect directly to your TV; in fact, there's no HDMI output. Instead, the DVR connects to your Wi-Fi network and streams to devices such as Apple TV, Amazon Fire TV, Chromecast, and Roku on your home network. It can also stream to mobile devices such as a smartphone, a tablet, a PC or a Mac loaded with the Tablo app. As a result, Tablo doesn't need to be in the same room as the TV.
With the paid subscription there's a also a feature called Tablo Connect, which works like Slingbox, letting you access recorded shows via the Internet when you're away from home.
In our tests, we found the Tablo DVR's setup to be relatively complicated. Also, you need to download the app onto a tablet or smartphone, which then becomes the primary interface for scheduling recordings and searching for programs. Additionally, setup on a home router could be required for the Tablo Connect feature to work properly. The interface is modern looking.
ChannelMaster DVR+, $250
If the idea of recurring monthly costs reminds you too much of cable, then the subscription-free ChannelMaster DVR+ might be the answer, since the fee for the program guide is built into the price tag. We purchased the DVR+ with 1TB of built-in storage for $399, but the $249 version, with 16GB of storage, makes more sense since you can add your own 1TB external hard drive for as little as $50. If you add in the cost of an antenna, you've probably spent about $350, unless you need to go wireless (read below). That makes the ChannelMaster DVR+ a great choice if you're looking for long-term savings.
The sleek ChannelMaster DVR+ is just a half-inch high. The back of the unit has two USB ports, an Ethernet jack, an HDMI output, a mini digital optical audio output, and an antenna input. There's also an input for an optional IR sensor. The DVR+ does not have built-in Wi-Fi, so you need a wired Ethernet connection to your network or an optional $40 USB Wi-Fi dongle. You can connect an external hard drive to the other USB port. The DVR+ comes with a remote control.
The over-the-air guide is very basic, with just two days worth of programming info. Connecting the DVR+ to the Internet gets you an improved guide with 14 days worth of programming, plus access to Vudu, YouTube, and Pandora streaming services. You can easily perform 30-second skips through commercials, but the guide won't make program recommendations and record them, and it lacks the ability to record only new episodes.
Overall, the guide lacks the sleek feel of newer electronic program guides. Like all two-tuner DVRs, the ChannelMaster+ can record two shows at once while a recorded show is playing. The DVR+ works only with a single TV at a time and doesn't stream to mobile devices—to do this, you have to purchase a Slingbox 500, which costs about $300.
We found the Channel Master DVR+ to be the easiest of all three models to set up. You can add Internet channels to the guide, but online registration is required and content from those channels can't be recorded.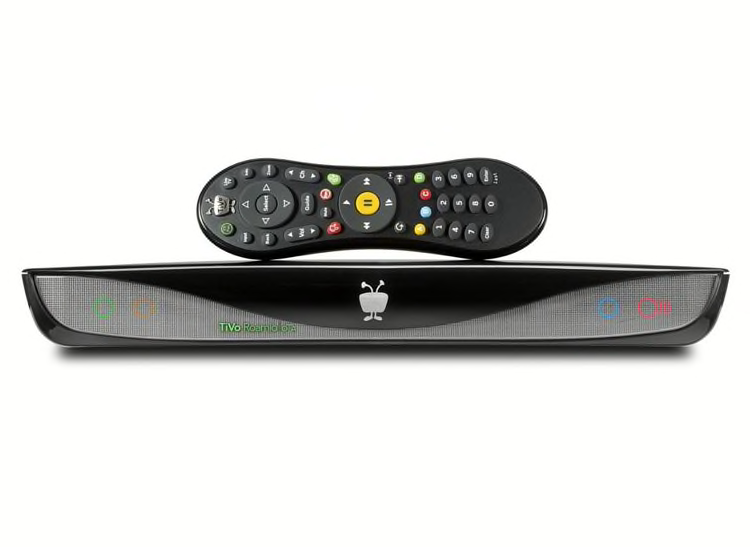 TiVo Roamio OTA, $50
The TiVo Roamio OTA looks and acts like the $200 TiVo Roamio DVR, except it doesn't work with digital cable or FiOS pay-TV services. That's because its CableCard capability is deactivated. The unit is attractively styled with an arched design and glossy black finish. The back of the unit has an Ethernet jack, HDMI output, two USB ports, an antenna input, optical digital audio output, and analog A/V out.
The four-tuner Roamio OTA, which can record up to four off-air programs at a time, also has built-in Wi-Fi for connecting to your network. It comes with a 500GB hard drive, but you can add more storage via its eSATA slot. Like other TiVos, it comes with a remote control that uses RF rather than IR, so line-of-sight usage with the DVR isn't required.
One of TiVo's strengths has always been its easy-to-use program TV guide. The graphically rich menus are easy to navigate and respond quickly, and TiVo is clearly the leader when it comes to ease of recording and the number of options offered. For example, the OnePass feature—which replaces Season's Pass—lets you track and save every episode of a show you want to watch and organizes the programs into customizable playlists that make finding shows a lot easier.

In addition to over-the-air broadcast channels, you can stream movies and TV shows from services such as Amazon, Hulu Plus, and Netflix directly from apps on the Roamio OTA. TiVo also has integrated search capability, which looks for shows whether they're broadcast over the air, offered by one of the included streaming services, or tucked away in the DVR's recordings menu. The results show up on a single screen.
Despite its low initial cost, the Roamio OTA requires a $15-per-month subscription fee. On top of that, you can use the Roamio OTA with only one TV. To connect to another set, you'll need a $150 TiVo Mini, which has no additional service fee. And the Roamio OTA doesn't let you stream your shows to mobile devices unless you buy a Tivo Stream, which costs $130.
In addition, the TiVo Roamio was slow to set up, due to the channel searches, a firmware update, and the required restarts. At one point, the Roamio OTA got locked in an infinite setup loop, and we had to disconnect the power source and restart the whole process. Despite the lengthy initialization, we found setting up the DVR to be a straightforward, step-by-step process using the onscreen guide, and the provided remote control is intuitive, with a decent number of transport controls, such as the one-button commercial skip feature.
Just as we completed our testing of the Roamio OTA, TiVo announced the new TiVo Bolt. While the Bolt, which starts at $300, will replace some Roamio models, the OTA will remain in the company's lineup.
Bottom Line
Your best option depends on what type of viewer you are. All the models we tested offered excellent picture quality, so you can take that out of the equation.
If you want a simple DVR to record off-air broadcasts, the ChannelMaster DVR+ is probably the least expensive option. Fees and add-ons make the full-featured TiVo the most expensive choice. The Tablo is unique in that it requires a streaming media player or laptop to display content on your TV.
If you've already replaced your pay-TV DVR, let us know what device you're using, and how it's working out. And keep checking back for our first looks on some of the newest streaming media players, including the updated Amazon Fire TV, Apple TV, Google Chromecast, and Roku 4.