When you shop through retailer links on our site, we may earn affiliate commissions. 100% of the fees we collect are used to support our nonprofit mission.
Learn more.
A 50-inch TV can cost $1,100 when it first hits the market, drop to $880 a few months later, and cost as little as $650 when stores are trying to clear out stock to make room for next year's models. That leaves plenty of opportunity for buyer's remorse, but it also means that a well-timed TV purchase can save you hundreds of dollars.
The even better news is that the discounts are entirely predictable. Consumer Reports has teamed up with Gap Intelligence, a retail and e-commerce market research company, to run an analysis of television pricing to determine the best times of the year to buy a new set.
Research shows that Black Friday, that bacchanal of preholiday bargains, is indeed the time for the deepest discounts. But the numbers also show that the second-best discounts come two weeks before the Super Bowl, which will be played on Feb. 5 this year.
Before the big game, stores will be trying to clear out 2016 sets in anticipation of 2017 models that start arriving a month or two later. In our analysis of two years of pricing data, Super Bowl sales have pushed down prices by an average of 22 percent, and those deals tend to favor crowd-pleasing large-screen sets. What's more, those discounts are sometimes on top of the natural decline in pricing that happens over the shelf life of a TV.
Check out our infographic to see when you're likely to get the best deals on a new TV.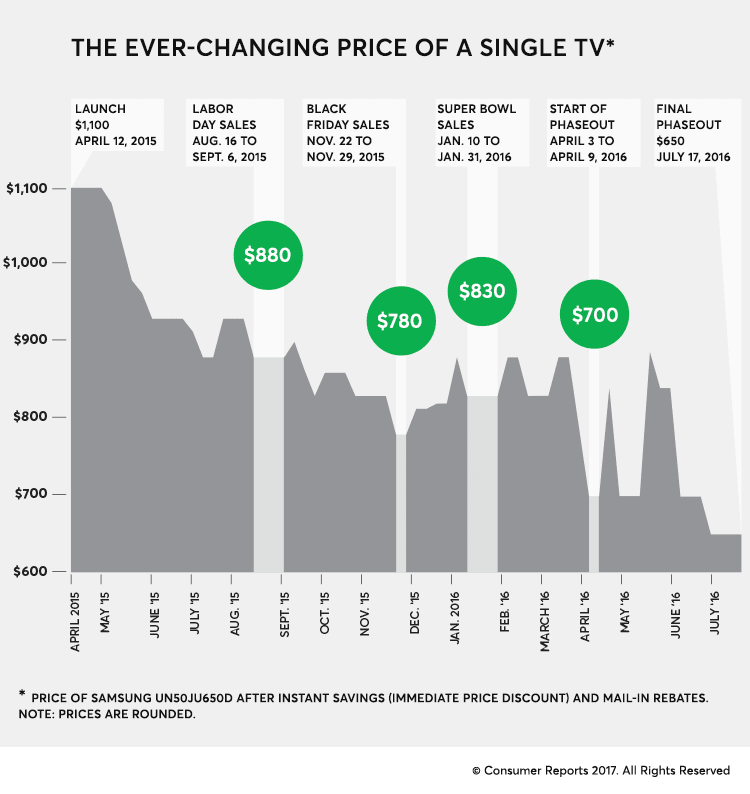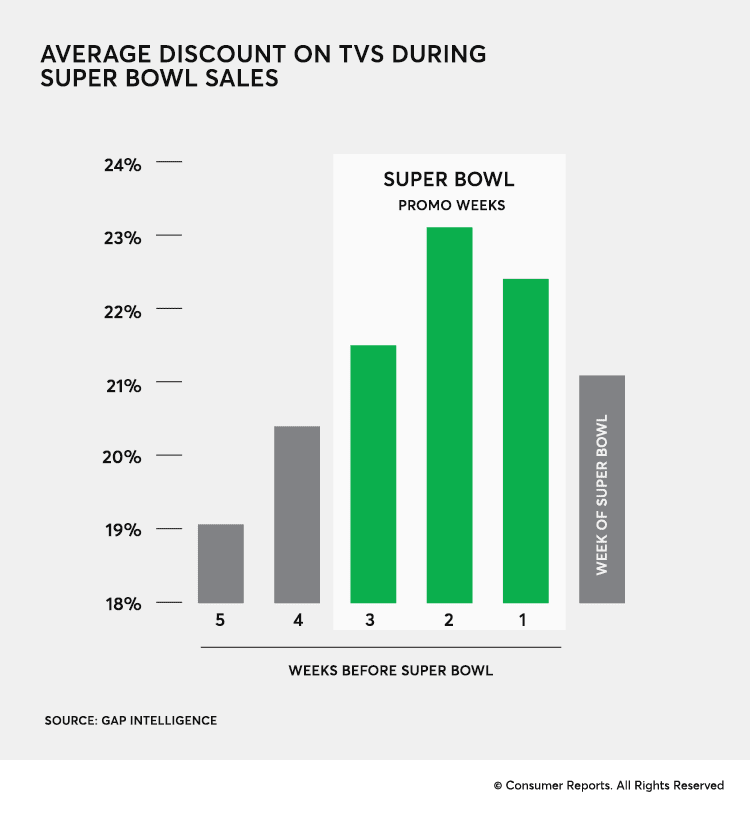 Shopping Tips to Snag More Savings
Now that you've scored a great deal on a new TV, don't squander the savings with pricey extras. Here's some advice that will help you save money:
Don't buy pricey cables. Avoid the markup when you're in a store. Shop online at sites such as Amazon or Monoprice, where 6-foot HDMI cables go for less than $10.
Skip the extended warranty. Most major-brand TVs are fairly reliable. Instead, buy with a credit card or from a retailer such as Costco that automatically extends a manufacturer's warranty.
Ask for a 30-day price-match guarantee. Then spend the next month eagerly watching for price drops.
Get social. The Facebook pages and Twitter feeds of your favorite retailers are a great way to find out about deals and promotions. Those retailers might even reward customers who "like" or follow them.
Editor's Note: This article also appeared in the February 2017 issue of Consumer Reports magazine.