When you shop through retailer links on our site, we may earn affiliate commissions. 100% of the fees we collect are used to support our nonprofit mission.
Learn more.
GE recently announced it would stop making CFLs this year and focus on LED lights. That's because these bulbs are evolving into consumer electronic products, offering much more than light. Consumer Reports tested eight LEDs with built-in speakers. The claims are inviting—"Light it loud" and "Turn it on. Turn it up." We just had to take a look, and listen.

We bought the LED lights online and paid $26 to $200 per bulb. Engineers from our lightbulb lab tested each LED for brightness, energy use, whether it cast warm or cool light (color temperature), and its color rendering index or CRI. That tells you how well a bulb accurately reveals the colors of objects and skin tones.

Three trained listening panelists compared the sound quality of the Bluetooth speaker in the LED lights to the same high-quality reference audio system that we use for all home audio testing. The speaker in the LEDs were also compared to one of the lower scoring small portable Bluetooth speakers in our tests.

The Sound Quality
The idea is appealing, and the apps, for the models that had them, were easy to use and it was easy to connect them to Bluetooth audio sources. These LEDs used only 4 to 10 watts of energy, Unfortunately, they weren't great as either light sources or speakers.

The speakers in all eight LEDs had poor sound quality that was tinny and about what you would expect from an intercom. They're best suited for close listening but many could achieve adequate volume in a small to medium-sized room. Some online user reviews mention installing these LEDs in bathrooms, which are not known for their great acoustics.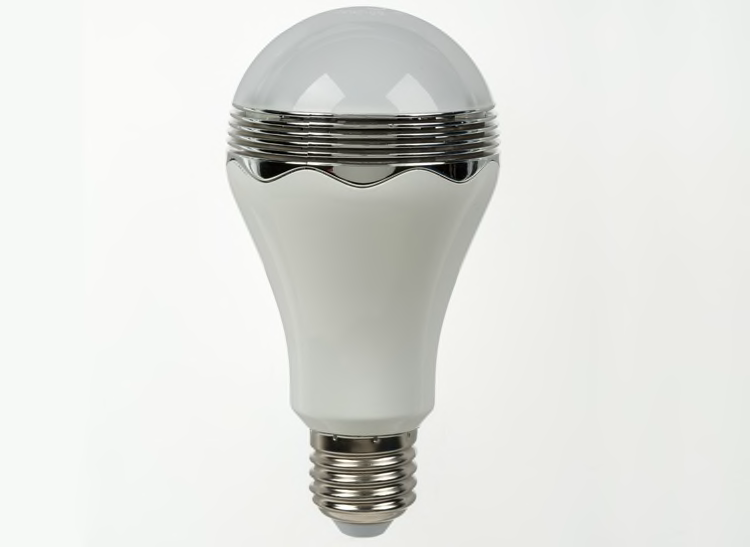 The Light Quality
Propel, $26
This bulb seems more like a BR30 in shape and speaker location. It's a bit dimmer than a 40-watt incandescent, the cool light appears directional, similar to a spotlight. No app was provided with the LED. Remote control allows you to adjust volume and dimming.

Flux, $30
Casting a bluish white light, the Flux is a bit dimmer than a typical 40-watt incandescent. The bulb is meant for a table lamp, but the light is directional and very little of it is projected down toward the tabletop—most of the light goes up. The LED cannot be dimmed and there's no app to control the light or speaker. But you can use your smart device to control volume.

MagicLight, $40
This bulb produces multiple colors but it's significantly dimmer than a typical 40-watt incandescent. Light is directional, the light color is very cool, and poor at accurately showing the colors of objects. An app lets you dim the bulb and adjust volume.

Playbulb, $44
Significantly dimmer than a typical 40-watt incandescent, Playbulb gives off cool, directional light, so it's not ideal for a table lamp needed for task lighting. The app controls dimming and volume, and there are programmable timer settings for wake-up, night, sleep, and energy saver.

Sengled Pulse Solo, $55
A little brighter than a 40-watt incandescent, the warm light cast appears very directional, almost like a spotlight. Bulb works in a table lamp or gooseneck lamp. An app lets you control dimming and volume.

Awox StriimLight, $69
More like a nightlight or mood light, this bulb isn't bright enough for illuminating tasks. It fits in a typical table lamp and is dimmable. An app offers you control of volume and light color, which can react to music by changing colors or brightness.

Sengled Pulse, $146
Sold as a set of two BR30 LEDs, the LEDs give off warm directional light similar to a flood light. The light is a bit dimmer than a typical 65-watt incandescent BR30 bulb, the kind used in recessed cans and track lighting. The app controls dimming and speaker loudness.

Sony LED Bulb Speakers, $200
Dimmer than a typical 40-watt incandescent, the Sony casts a warm but somewhat directional light. Use the app to control dimming. A remote control lets you dim the light and adjust volume.

Lightbulbs that light up a room
For lightbulbs that simply keep you out of the dark, see our full Ratings of LEDs and CFLs. Any questions? Email me at kjaneway@consumer.org.