When you shop through retailer links on our site, we may earn affiliate commissions. 100% of the fees we collect are used to support our nonprofit mission.
Learn more.
Ultra-high-def TVs and the future of the networked car cockpit are making news at the Consumer Electronics Show. But so are lightbulbs. After all, LEDs are electronic products with built-in sensors, cameras, or speakers designed to provide home security, safety, or music while casting light. Welcome to the future.
Lighting is the most important real estate in the home—it's in every room and everybody uses it—making it a great place for manufacturers to add sensors and other controls. Shax Riegler, who leads the home and appliance content team at Consumer Reports, is at CES and flagged the LEDs, and an interesting retrofit that caught his attention.
Kuna Toucan, $199
Kuna makes home security systems that are outdoor lighting fixtures with a smart Wi-Fi camera built-in. For existing outdoor lights there's Toucan, seen above. This retrofit has all the same features and functions as Kuna's fixtures and is powered by the same mobile app. A camera detects movement at your door and alerts you via your smartphone, so you can see who's at the door and talk with visitors or detect intruders. Toucan will be available mid-year at Amazon.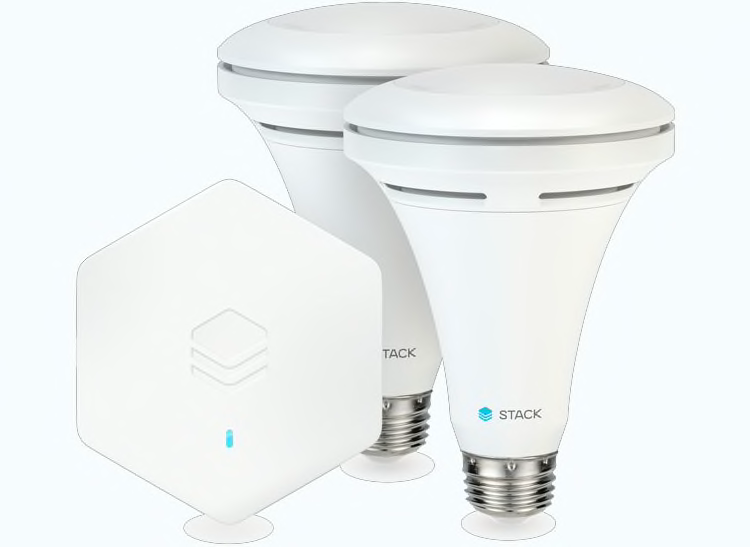 Stack Downlight BR30 LED Starter Kit, $150
Built-in sensors enable the LEDs to react to existing light and motion, producing what Stack calls perfect light that's responsive throughout the day—from a cool light to energize you in the morning to soft warm light for unwinding in the evening—adapting to your patterns and preferences. The starter kit has two bulbs and a hub; additional LEDs are $60. You'll find them on Stack's website and on Amazon in March. Learn more about LED light color and its effects in our story, "LED lightbulbs that promise to help you sleep."
BeON Home Protection System, $199
Each system comes with three LEDs and smart modules that are meant to deter break-ins by making it seem like you're home. Screw the LEDs into any sockets and Bluetooth Smart enables them to learn your lighting behaviors via your interaction with the light switch, and then they replicate the pattern when you're away. Your doorbell can also activate the lights. Available at Amazon, there's now a BeON Home app for Android users too.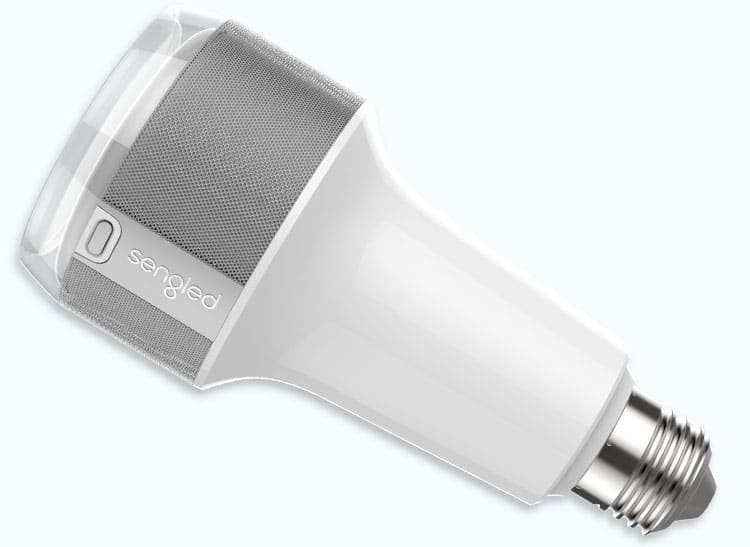 Sengled LEDs
Named a CES Best of Innovation in the smart home products category, Sengled Voice is an LED with an integrated microphone/speaker that enables voice control of devices and home security in every room. With a Voice LED in every light socket—just screw it in and connect to Wi-Fi—Sengled claims you gain voice control of devices, voice interaction with the cloud, and improved home security and safety by detecting sounds such as glass breaking. In the case of smoke/CO alarms, you'll be alerted on your mobile device and all Voice LEDs in the home will make a siren noise. Baby crying? You'll be notified on your mobile device and can calm your child by talking or playing a lullaby. Teenage ranting? That's trickier. No news on price yet. Voice will be available mid-year.
Our engineers are testing the Sengled LEDs with JBL wireless speakers, the $55 Sengled Pulse Solo, and the Sengled Pulse, a set of two downlight LEDs for $146. We'll report our results soon. For more lightbulb choices, see the results of our tests of dozens of LEDs and CFLs.

How 'Smart' Products Track Your Daily Habits