When you shop through retailer links on our site, we may earn affiliate commissions. 100% of the fees we collect are used to support our nonprofit mission.
Learn more.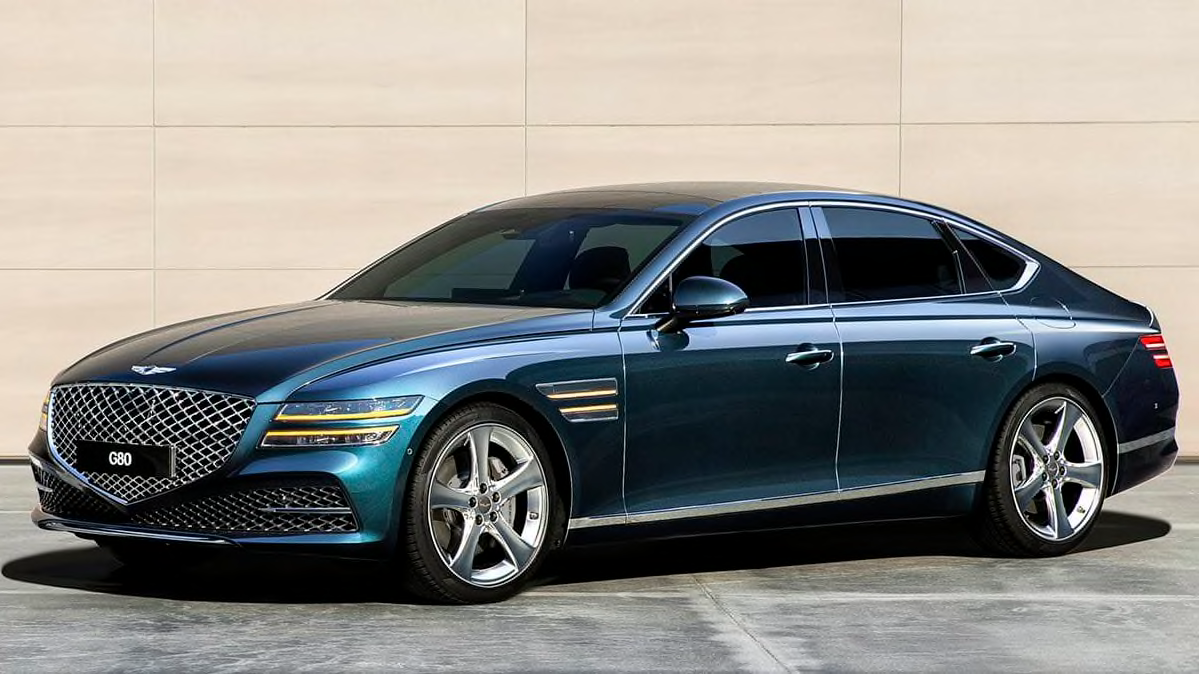 The redesigned 2021 Genesis G80 aims to follow the upcoming GV80 SUV in moving the brand ahead, with elegant design, increased comfort, and modern amenities intended to draw shoppers away from other prestige brands.
It is based on a new platform, with turbocharged engines, the latest infotainment features, and innovative advanced safety features. Beneath the familiar shape is an all-new, modern car that boasts more interior space than the outgoing model, while retaining similar dimensions.
With auto shows being delayed, and even some canceled, the Genesis G80 just had a virtual unveiling online. Below is what we know so far.
What it competes with: Audi A6, BMW 5 Series, Cadillac CT6, Lincoln Continental, Mercedes-Benz E-Class
What it looks like: The current Genesis G80, with a fresh grille and fender lights
Powertrains: 2.5-liter four-cylinder turbo and 3.5-liter V6 turbo with an 8-speed automatic transmission; all- and rear-wheel drive
Price: $44,000 to $65,000 (estimated)
On-sale date: Summer 2020
CR's Take
The G80 has long been a hidden gem among midsized luxury sedans. It may not have the brand history or cachet of some European rivals, but the G80 stands tall for comfort, performance, and especially value. The redesigned G80 promises to continue that tradition. Although the exterior marks an incremental evolution, the interior is reimagined as a modern, minimalist cabin, with clever comfort and convenience features. Factor in reduced weight, and the new G80 has the potential to once again shine in a category filled with impressive competition.
Genesis was the second-highest-ranked brand in our annual brand reports cards this year, for its strong combination of average scores for road tests, owner satisfaction, and reliability—the elements that comprise the CR Overall Score. We expect good things from this next-generation G80, but we won't know for sure until we buy our own to test.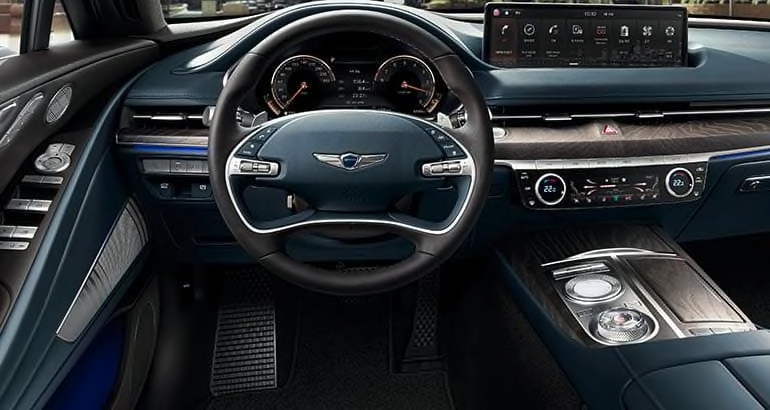 Outside
The dimensions for the new G80 are near-identical to the outgoing model. The metal skin is fresh, giving the car a more sophisticated appearance, with a bit more sculpting on the rear fenders. But the look is quite familiar, especially from the side, for a car that is all new. The windows, rear pillar, and chrome accents all carry over relatively unchanged. The front fender is adorned with a vent-looking trim, akin to a styling trend popular with many upscale SUVs. This notable garnish integrates lighting that visually connects with the horizontal elements in the headlamps and flashes when the turn signals are used.
The grille shape now has a point at the bottom, much like the crest used in the brand's logo. The pattern within the grille looks like a chain-link fence. It is a bold appearance that visually connects it to the GV80.
Genesis claims that aluminum is used for 19 percent of the body, trimming 243 lbs. from the previous model. A diet was needed, as the last G80 we tested weighed a hefty 4,530 lbs. This weight reduction should aid both fuel economy and performance.
Inside
The cabin for the next G80 is much simpler than the previous model. Gone is the dash full of buttons. In its place is a large 14.5-inch screen for the infotainment system. The valet mode has a function that prevents access to personal information, which could be welcomed when using a parking service or dropping off the car for maintenance work.
Underneath this wide screen is a streamlined, rather high-tech-looking set of climate controls. The instrument cluster uses a 12.3-inch display for gauges and information. The screen can render graphics in 3D, and it is responsive to the driver's eyes. A new electronic gear selector integrates seamlessly into the elegant cockpit.
The driver's seat has a motion feature that activates seven air cells to adjust for comfort and reduce fatigue. Genesis claims that the passenger space has improved, with more head- and legroom. Rear passengers have independent climate controls.
What Drives It
The G80 is based on a new, rear-drive-based platform that also underpins the upcoming GV80 SUV. All-wheel drive is optional. There are two turbocharged engines, a 300-hp, 2.5-liter four-cylinder and a 375-hp, 3.5-liter V6. Each is expected to be paired with an eight-speed automatic transmission, like the GV80. There is no longer a V8 option. Given the power for this new G80, it isn't likely to be missed.
An available adaptive suspension uses a front camera to monitor the road and respond for rapidly to anticipated road imperfections. We look forward to trying this feature on the pothole-laden street leading to our Auto Test Center.
Safety & Driver Assist Systems
The G80 will come standard with forward collision warning and automatic emergency braking with pedestrian detection. This latter system can detect vehicles approaching from the side. The G80 also includes blind spot warning with active features to counteract a potentially dangerous situation.
There is also an artificial intelligence component to the adaptive cruise control system that Genesis explains can learn one's driving style to provide more customized assistance.