7 Massage Guns Evaluated
CR evaluated percussive massagers based on handle ergonomics, ease of use, and the postural stress they put on the body. A percussive massager—sometimes known as a massage gun—offers a way to mimic the pressure or force you might get from a deep tissue massage. And you can use one from your own home, without needing to enlist a massage therapist. These powered devices have a pulsating tip that you can use to dig into muscles, working out knots and relieving pain. 
"Some people like to use massage guns as warm-up devices, some people like to use them for post-exercise soreness reduction," says Paul Ritchey, doctor of public health and a human factors and ergonomics specialist in CR's Consumer Experience and Usability Research program. In recent years, people have also begun using these increasingly popular devices to temporarily alleviate the soreness associated not only with exercise but also physical stress and stiffness from sitting in a chair all day.
Consumer Reports evaluated seven different percussive massagers, representing popular and lesser-known brands at a variety of price points: the Hyperice Hypervolt Go, Hyperice Hypervolt Plus, Reathlete DEEP4s, Renpho R3 Massage Gun, Therabody Theragun Mini (4th Gen), Therabody Theragun Prime, and Therabody Theragun Pro.
Note that though we refer to these devices as massage guns, not all of them come with the pistol grip or index finger trigger typically associated with the term.
How We Evaluated Massage Guns
In comparing these devices with one another, CR conducted an expert evaluation of the handle ergonomics on each device; evaluated the postural stress required to use the devices; graded the ability of devices to reach body areas that can be difficult to reach on your own, like the back; and looked at ease of use and noise while in use.
From an ergonomic perspective, we found grips shaped like a triangle were the easiest to hold in a variety of positions, making it easier to reach various body parts without undue stress. An adjustable arm also reduces postural stress. The more adjustable and longer devices were overall better at reaching the upper and middle back. Still, because it's hard to reach around and hold a device behind you, most people would have a hard time reaching these target areas without help. 
"I wouldn't get a percussive massager if I was trying to mainly get my upper and middle back areas by myself," Ritchey says.
Lighter devices tend to score better on handle and posture ergonomic measures because they can be more comfortable and easier to hold during use. 
When it comes to ease of use, all of the devices we evaluated scored relatively well, though some had better instructions or more straightforward designs. While the most expensive device we tested comes with an OLED display, which adds a certain "coolness factor," according to Ritchey, that doesn't really improve the usability of the device in any substantive way, he says. 
In talking with some current massage gun users, Ritchey learned that some of these devices can generate more force than the average person may need or want. Some users said they just use them on the lowest setting, he says. But that range of power could mean that these are well suited to a wide range of users, from someone who casually works out to a more serious competitive athlete.
The attachments that come with each device tend to be pretty similar, Ritchey says, though it's still worth taking a look at each device to ensure that it has whatever attachment you might want to hit a specific body region. Once you have a device, try different attachments to see what works best for you and the body area you are massaging—like a "bullet" attachment for a trigger point like the trapezius shoulder-area muscle, or a "fork" attachment for a region like your calves or hamstrings. (Read more about how to use a massage gun safely in our previous story.)
These devices appear in rank order.
Therabody Theragun Pro
Adjustable Arm: Yes
Handle Style: Triangle
Weight (lbs): 2.9
Price: $600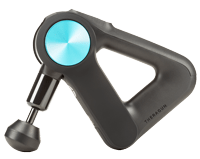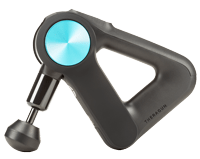 This is the loudest and by far the priciest device we evaluated, but also has one of the best ergonomic handles and is one of the best at reaching areas on the back. It has an adjustable arm, and the attachments lock onto the arm in a satisfying way that helps you know they're well attached. 
"[I love] the intensity of the massage.[ I dislike] the noise—it's loud," one participant said. This device is probably best for those using it in a professional or sports setting, or for people who really want to be able to at least somewhat massage their upper and middle back on their own.
Therabody Theragun Prime
Adjustable Arm: No
Handle Style: Triangle
Weight (lbs): 2.2
Price: $300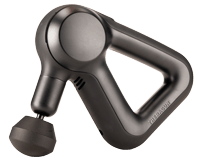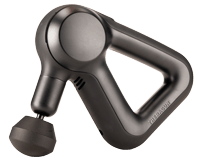 Like the Theragun Pro, the Theragun Prime comes with one of the triangle-shaped handles that we considered best for an ergonomic grip. The fixed arm makes it less adjustable than its Pro counterpart, but the handle still offers a variety of holding options, including two-handed grips. It's easy to use and has straightforward controls.
One participant said: "[What I love most is its] ergonomic grip, [and its] design promotes targeting specific spots easier, [with attachments that] provide the easiest experience on both the usability side, and providing the best experience to yield even better results on your body."
This is a thoughtfully designed device with a nice design and carry bag, though it is one of the louder devices.
Shop: Amazon, Bed Bath & Beyond, Best Buy, Macy's, Target, Theragun
Renpho R3 Massage Gun
Adjustable Arm: No
Handle Style: Pistol
Weight (lbs): 1.5
Price: $100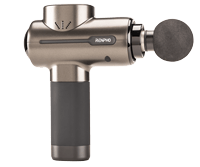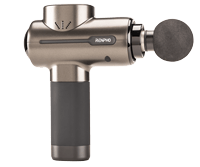 The Renpho R3 Massage Gun might be the best all-around device for most average users, as it is small and lightweight, and relatively quiet compared with other devices. However, it's not the ideal choice for people who want the most intense massage or the best way to massage areas on the back. 
"I love that it is not very big, and lightweight. I love the case that I have to carry in it and that it came with 5 different attachment heads," one user said. "Since it is smaller it can be difficult to reach areas on your back if you're doing it yourself."
The pistol grip could add some postural stress, compared with some of the other devices, though its light weight and small form factor could help alleviate stress for some. As an added bonus, this can be charged with a standard USB-C charging cable.
Therabody Theragun Mini
Adjustable Arm: No
Handle Style: Wedge
Weight (lbs): 1.4
Price: $200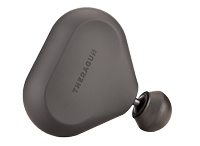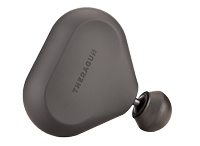 This ultraportable device was one of the quietest we tested. It has a wedge-shaped handle and was one of the best devices for reducing problematic wrist postures. But it doesn't come with any attachments, and won't be able to reach most of the back.
"I like the fact that it is small to hold, I love how easy it is to use and charge. It's compact and easily transportable," one user said. "The mini does a great job on the muscles. My only issue is that I can't reach the lower shoulders."
For overall portability and quiet, this could be a top choice.
Hyperice Hypervolt Plus
Adjustable Arm: No
Handle Style: Pistol
Weight (lbs): 3
Price: $299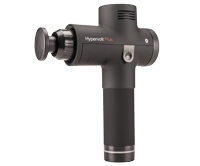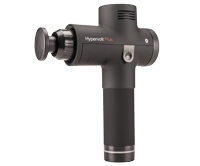 The Hypervolt Plus has a larger, pistol-grip style handle. It's somewhat unbalanced, but the length could help some users massage hard-to-reach areas on the back.
This was one of our best devices in terms of ease of use, though the weight could make it the wrong choice for people who have issues with grip, arm, or shoulder strength and mobility.
Reathlete DEEP4s
Adjustable Arm: Yes
Handle Style: Triangle
Weight (lbs): 2.6
Price: $240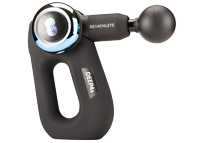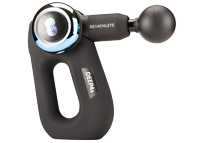 The DEEP4s comes with an adjustable arm and triangle-shaped handle, though it's not as ergonomically friendly as the Theragun devices when it comes to finding an optimal grip. By experimenting with its adjustable arm, users may be able to reach the back better with this device than with some others. But unfortunately, the display and control buttons may make this device harder to use than some others.
One study participant described it as having "very sensitive controls—easy to hit accidentally and change speed. Kind of heavy, is a little loud."
While this handle isn't the most effective of the triangle-shaped handles, it's nice to have a more affordable option with an adjustable arm.
Hyperice Hypervolt Go
Adjustable Arm: No
Handle Style: Pistol
Weight (lbs): 1.5
Price: $200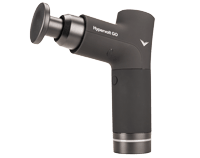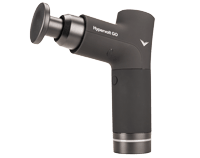 This is another lightweight device that's more portable—though it does not include a carry case. It has a pistol grip that's not the most ergonomic, and is one of the louder devices. 
Our expert says this isn't a bad option, but other devices may be quieter and easier to use for those looking for a small, portable percussive massage device.
If you can, the ideal way to choose a percussive massager would be to try it out in person, getting a sense for how it feels and works. But since that's not easily doable for all, Ritchey has some suggestions for making a choice. While our scores should help you make a pick, the right choice depends in large part on which features are most important to you. 
If you want maximum adjustability and the ability to reach your back by yourself—and price and loudness are no concern—the Theragun Pro might be the choice for you. However, this is a premium product that may be somewhat more positioned for professional use, Ritchey says.
If you are just looking for a percussive massager that's straightforward, easy to use, and relatively inexpensive, check out the Renpho R3 Massage Gun.
People with smaller hands or limited grip, arm, or shoulder strength should check out one of the more lightweight devices, like the Renpho R3 Massage Gun, Theragun Mini, or Hypervolt Go.
If grip strength is no issue, you have larger hands, and want better reach, take a look at the Hypervolt Plus, which has a longer handle.
The Theragun mini is a great choice for people most interested in portability and basic use, without the need for different attachments.
No matter what device you opt for, make sure to check out the instructions that come with the box and online. Start with the lightest setting on each device, since you may not need as much pressure as you think. It's best to keep your wrist in a neutral non-bent position when holding devices, as much as you can.
If you're concerned about the prices of these devices, you have other options—sometimes simple items like a lacrosse ball or foam roller can apply pressure to your body tissue and help work out knots.
When you shop through retailer links on our site, we may earn affiliate commissions. 100% of the fees we collect are used to support our nonprofit mission. Learn more.