When you shop through retailer links on our site, we may earn affiliate commissions. 100% of the fees we collect are used to support our nonprofit mission.
Learn more.
If you've been up late channel surfing—maybe because you're having trouble sleeping—chances are you've come across the infomercial for My Pillow. The ad for My Pillow is running "constantly somewhere in the U.S." every day across multiple networks, and 10 times per day on the Fox network alone, according to My Pillow inventor and manufacturer Mike Lindell.
The company makes some bold claims for what it calls the "most comfortable pillow you'll ever own," including an "exact custom fit." Explains Lindell, "You can adjust the My Pillow to make it fit you. The foam pieces interlock and hold that position without going flat, so you get support where you need it." That results in "deeper, longer REM sleep," according to the pillow's packaging. (Check our comparison of sleeping pills for insomnia.)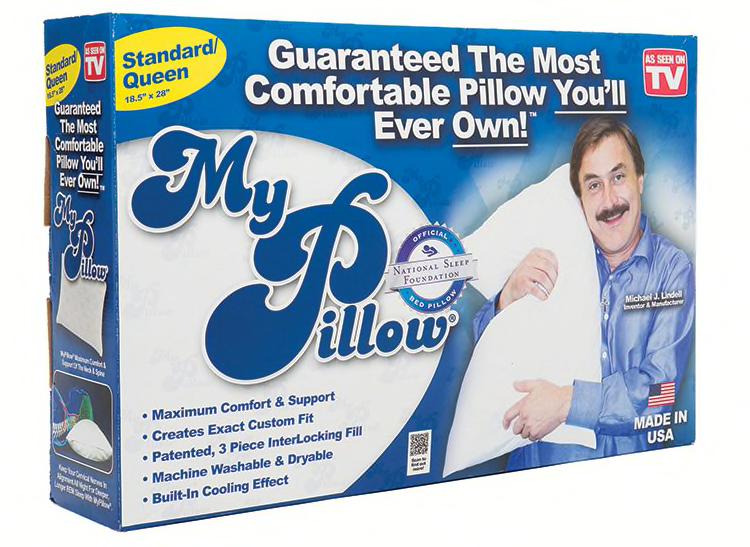 More on Sleep
Consumer Reports bought three My Pillows to test. Although we weren't able to test that REM sleep claim, we did examine them inside and out. My Pillow describes itself as having "3-piece interlocking fill," but it actually has thousands of torn polyurethane foam pieces in three sizes. We were able to shift the foam pieces around to different positions, and they did seem to stay put under pressure. The case is 100 percent cotton, and it didn't have any noticeable off smells like some new pillows can.
How does it feel? Our tester described My Pillow as "kind of lumpy, but comfortable." We also polled staffers who bought My Pillow on their own. Most said they bought it to help alleviate a sleep problem such as insomnia, neck pain, or snoring. Half of the 18 staffers said it helped a lot, 17 percent said it helped a little, and 33 percent said it didn't help at all. Only one-third of the group said they would buy My Pillow again. (Use these exercises to help stop snoring.)
The 60-day money-back guarantee means that you can return My Pillow; you'll have to pay for shipping and handling on both the original purchase and the return. Exchanges are free, however, including shipping.
In the Market for a New Mattress?
Consumer Reports tests innerspring, memory foam, and adjustable air mattresses. These CR Best Buys combine performance and value.
Innerspring
Memory foam
Adjustable air