When you shop through retailer links on our site, we may earn affiliate commissions. 100% of the fees we collect are used to support our nonprofit mission.
Learn more.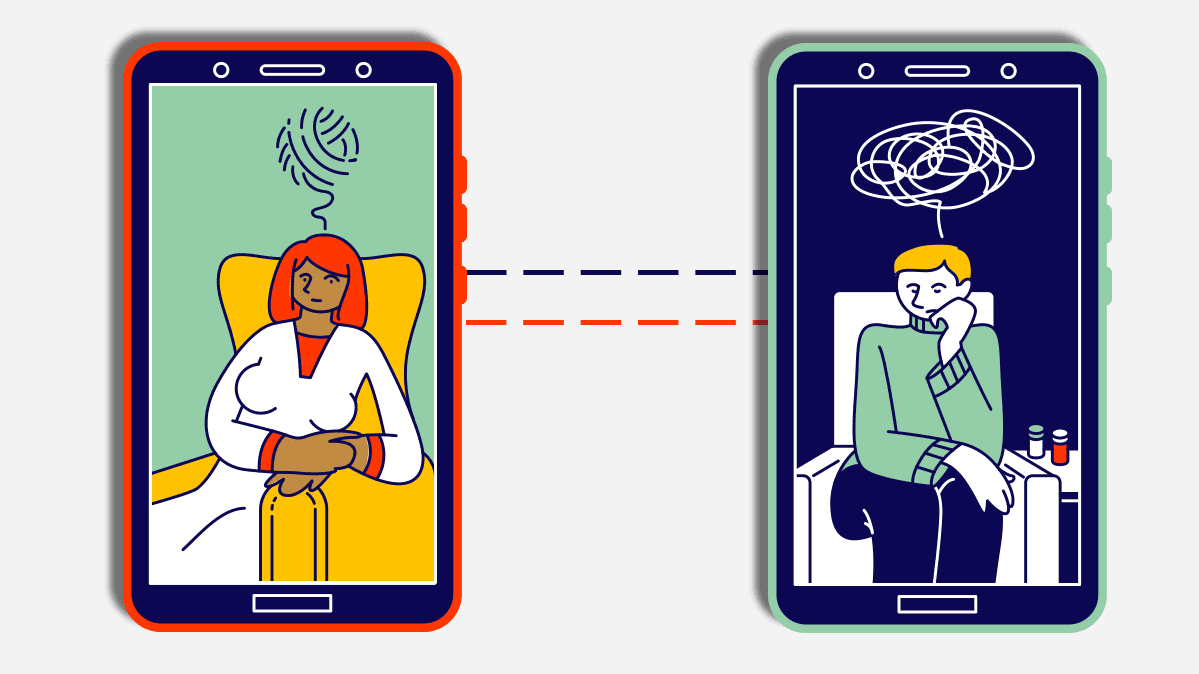 I climbed into the driver's seat of my parked car and let the late afternoon sun wash over me through the windshield. Sitting in my driveway, going nowhere, I took a deep breath and waited for my therapist to video-call me.
Normally, our sessions take place in her office, where I can ease into the inviting couch across from her. But these are not normal times.
Since mid-March, when the coronavirus pandemic forced the country into quarantine, I've been having virtual therapy sessions—usually from my parked car's bucket seat.
In this cocoon, I'm not distracted by the electronic ding of work emails, my kids' requests for snacks, or my dog's barking. With the help of my therapist, I'm able to process my worries and uncertainties uninterrupted. And while my car isn't as comfortable as my therapist's couch, our virtual sessions are as valuable to me as our in-person sessions were, particularly now, when the world seems to have turned upside down.
The pandemic, our nation's systemic challenges, and the protests raging in recent weeks have all taken a profound mental health toll on Americans across the country. This is especially true for communities of color, which have been disproportionately affected by COVID-19 and the fear and heartache of our country's deep-rooted racism.
More on Mental Health and the Coronavirus
A Consumer Reports nationally representative survey of 2,085 U.S. adults conducted in May found that 38 percent had experienced depression or anxiety as a result of the outbreak of COVID-19. And Census Bureau data collected in April and May found that at least a third of American adults are showing signs of anxiety or depression, up from an estimated 11 percent the previous year.
Crisis hotlines are also reporting a dramatic spike in calls, says Janet Sarkos, executive director of Caring Contact, a call center, based in New Jersey, that is part of the National Suicide Prevention Lifeline network. She has talked with callers worried about sick family members, overwhelmed by feelings of isolation, frustrated by the effects of quarantine on their daily lives, and terrified about their finances after getting laid off.
There's also the significant trauma many front-line healthcare providers and essential workers are experiencing. All these mental health impacts may be long-lasting, says Jay H. Shore, M.D., professor of psychiatry and family medicine at the University of Colorado Anschutz Medical Campus in Aurora. "When we have national disasters, we anticipate increasing mental health issues, particularly anxiety, depression, addictive disorders, and trauma disorders," he says.
But Shore says mental healthcare is available even now, while we're mostly homebound. In fact, therapists may be more accessible because the shutdowns have led most practitioners to transition to virtual care. Also reassuring: Research shows that teletherapy can be just as effective as traditional talk therapy.
So if you're looking for psychological support now, perhaps for the first time, you have options—via phone, video, and text messaging. Wondering how to navigate the process of finding a therapist? We have the answers.
How Can You Find a Therapist Who Will See You Virtually?
Even though most licensed mental health providers who offer talk therapy are seeing patients virtually now, it still makes sense to search for a therapist the same way you would have prepandemic, says Lynn Bufka, Ph.D., the senior director of practice and research policy at the American Psychological Association.
"I always recommend asking your primary care provider or family and friends for a referral," Bufka says.
If you have health insurance, you can also look on your insurer's website for a list of therapists covered under your plan. Other good resources include the therapist finder tools on websites for the American Psychological Association and the American Psychiatric Association.
If you don't have a referral, or don't have time to look around, several online platforms can help match people with licensed mental health providers. For instance, Talkspace, a virtual service you can access through your phone or computer, contracts with more than 5,000 licensed and credentialed therapists.
"The process starts with a consultation with a licensed therapist who assesses your goals, your condition, and your preferences, and then uses a matching algorithm to narrow down top providers for you in your state," says Roni Frank, co-founder and head of clinical services at Talkspace.
Once you settle on a therapist, you can choose a plan that allows you to text message with the therapist daily, have live video sessions, or a combination. Frank notes that since mid-March, the number of clients seeking help through the website has doubled compared with this time last year.
How Can You Vet a Potential Therapist?
It's important to get a sense of the therapist before you start sessions. If you're not comfortable with the person, you're unlikely to benefit from the therapy. So schedule a call or a videochat to get a feel for each other, and to ask about the therapist's training and approach.
There are several types of mental healthcare providers, including clinical social workers, psychologists, psychiatrists, marriage and family therapists, and mental health counselors. While all are qualified to provide therapy and must be licensed to do so, their educational requirements and the types of services they provide can vary.
A clinical social worker and a mental health counselor, for instance, have master's degrees, a psychologist has a doctorate degree, and a psychiatrist is a medical doctor who can prescribe medications.
When talking to a prospective therapist, ask about the person's years in practice, specialties, therapy techniques, and fee. Ideally the therapist you choose will be a good personality fit for you, and will be within your budget and/or covered by your insurance.
What If You Can't Afford Therapy?
Rest assured that anonymous, free mental health support is available 24/7.
It's true that some insurers have limited, or even no, coverage for mental health, and many mental healthcare providers don't participate in insurance plans. It's also true that traditional therapy can be expensive: Depending on the type of therapist and the part of the country, a session can cost from about $75 to $500.
But there are multiple ways to find free or lower-cost help.
For instance, you can call or text 211 (or go to the 211 website) anytime for a referral to a provider who offers support at no cost or on a sliding scale, based on your budget.
You can also call the National Suicide Prevention Lifeline 24/7 and ask for a referral to a local resource or provider, or ask to be transferred to their "warm line" for nonemergency calls, where you can talk anonymously to a trained professional at no cost.
If you prefer texting, message the Crisis Text Line at 741741, which also provides free confidential support via text message day or night.
Talkspace and other online programs, such as Amwell and BetterHelp, can also be options because they tend to cost less than traditional therapy. Fees range from about $40 to $100 per week. Some programs also accept insurance.
How Can You Be Sure the Therapist Will Protect Your Privacy?
All licensed therapists are obligated to abide by patient confidentiality rules, but you'd be wise to ask your therapist what measures he takes to ensure your privacy online and over the phone.
Many practitioners are using encrypted web-based platforms that are compliant with the Health Insurance Portability and Accountability Act. That means the technology meets regulatory standards to protect the privacy and security of personal health information. Ask your prospective therapist whether his telehealth service is HIPAA-compliant.
It's also a good idea to ask where the therapist intends to be when you have a virtual session. Ideally, he has a quiet room in his home or office where he can close the door and give you undivided attention.
Do You Need to Find a Provider Who Practices in Your State?
Yes. Mental healthcare providers are licensed in the state where they practice, so a therapist would typically not be allowed to treat you if you are in a different state at the time of the therapy. During the pandemic, however, some states have created temporary exemptions so patients can continue getting care virtually from their existing providers, particularly for therapists who often see patients from bordering states.
Though it's unclear how long these exemptions may last—some experts are advocating for more flexibility in licensing jurisdictions going forward—your best bet is to confirm that the provider is licensed to treat you where you're located.
Does Teletherapy Work As Well As In-Person Care?
Studies have consistently shown that teletherapy can be as effective as in-person care. What's more, virtual therapy can offer patients more scheduling flexibility, convenience, privacy, and a bigger pool of potential therapists.
"In some ways, this quarantine has been a game changer for telehealth because it suddenly became a necessity," says Shore, who is also chair of the American Psychiatric Association's telepsychiatry committee. "It was no longer a theoretical debate about when or how it could be used. Many practices virtualized in less than 48 hours because they had to."
There are some differences, though. Bufka, at the American Psychological Association, says it may be harder for therapists to pick up on some nonverbal cues when connecting virtually—but they have ways to make up for that.
"Some therapists say they attend to tone of voice and conversation pauses differently on the phone vs. via Zoom or in person," she says. But she emphasizes that regardless of the differences, "seeing a therapist virtually is always going to be better than not seeing a therapist."
Does Insurance Work the Same for Teletherapy?
It depends. Insurance coverage will vary based on your plan, your state, and the provider's license. Some states have passed telemedicine parity laws, which require insurers to reimburse for in-person and virtual care at the same rate if the care and results are comparable, Shore says. But not every state has passed that parity law. That said, during the pandemic, some regulations have been relaxed, so before you start, ask the therapist and insurer about how you will be charged and what will be covered.
Can a Psychiatrist Prescribe Medication Without Seeing You in Person?
Yes, generally. But there are some state and federal regulations about prescribing controlled substances, a subset of drugs that include stimulants such as Adderall, used to treat attention deficit disorder, and Xanax, used to treat anxiety.
"For some controlled substances, you may need to get blood work and a weight and vital signs check, but that doesn't need to be with the psychiatrist," says Jessica Gold, M.D., assistant professor of psychiatry at Washington University in St. Louis.
During the coronavirus pandemic, however, many regulations have been waived. Your psychiatrist will let you know what's doable.
How Can You Get the Most out of Virtual Therapy?
Pay attention to what works for you. If you like to write out your thoughts, texting with your therapist may be your best option. Live video or phone sessions, on the other hand, have the likely benefit of providing the calm you may need to focus on your emotions while getting real-time feedback from the therapist.
"Having therapy in the middle of a crazy moment at home with kids interrupting and laundry buzzing may not give you the psychic and physical space you need," says Melissa Cohen, a licensed clinical social worker in New Jersey. (Full disclosure: She's my therapist.)
Hence, my newfound affinity for my parked car. And it turns out I'm not the only one: "I can't tell you how many virtual sessions I have now where people are in their cars," Cohen says. "Right now, in the middle of the pandemic, you may have to get creative."
Is Teletherapy Here to Stay?
Most likely. The pandemic has shown that the demand for mental health services is growing, and virtual platforms are uniquely able to meet some of that need. They may even be able to fill certain gaps that existed in our mental healthcare system before the pandemic upended our lives, especially as regulations evolve.
"I'd love for everybody who wants mental healthcare to get mental healthcare," says Gold, at Washington University. "Now that nearly everyone is learning what it's like to live with some degree of anxiety and isolation, I hope more people begin to view mental healthcare not as a last resort when you're in crisis but as something that should be part of your regular routine."