4 Steps to Boost Brainpower
The key activities that may help you stay sharp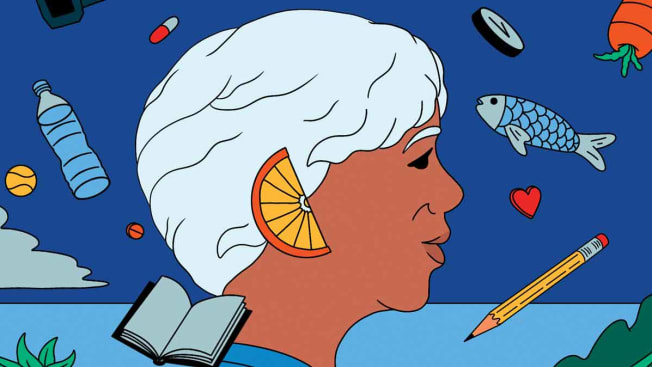 T he isolation and inactivity of the pandemic took a mental toll on some people, both those with demen­tia and those with a healthy brain. "We saw a clear decline in people who ­already had dementia, but the effects were also felt in otherwise healthy older adults without any preexisting cognitive issues," says dementia specialist Joel Salinas, MD, of the NYU Grossman School of Medicine in New York City.
As social activity revs up, however, many seniors—including some with cognitive problems—are reporting improve­ments in memory and thinking, he adds. And, he and other experts say, you can do plenty in your own life to see similar improvements.
If you've let routine medical appointments slide—especially those to check on chronic health conditions, such as high blood pressure or type 2 diabetes—schedule them. Ensuring that these problems are under control is key for brain health. "We know that diseases like hyper­tension and type 2 diabetes damage the small blood vessels in the brain, affect­ing parts that you need for thinking and memory," says Gary Small, MD, chair of psychiatry at Hackensack University Medical Center in New Jersey and author of "The Memory Bible" (Hachette, 2002).
"We know that regular aerobic exercise boosts blood flow to your brain and also increases the size of your hippocampus, the part of your brain that's involved in verbal memory and learning," says Zaldy Tan, MD, MPH, medical director of the Jona Goldrich Center for Alzheimer's and Memory Disorders at the Cedars-Sinai Hospital in Los Angeles.
In fact, a study done by Tan—where about 2,000 people older than 60 had MRI scans—found that the more physically active study subjects were, the larger their hippocampus. In the study, published in 2017, the most protective ­effects of exercise were seen in those older than 75.
If you've been inactive, be aware that simply walking can provide plenty of benefits: Sedentary people older than 55 who walked three times a week showed improvement in thinking after just six months, according to a study published in 2019 in the journal Neurology. Aim for 30 minutes of aerobic exercise most days, Tan says.
Focus on strength and balance, too. A study published in 2020 in the journal NeuroImage: Clinical found that older adults with mild cognitive impairment who did strength training for 90 minutes two to three times a week showed improve­ments in their thinking ability. In addition, "the stronger your muscles and the better your balance, the lower your risk of a bad fall that could potentially cause a head injury"—which is not good for cognitive health, Small says.
A Mediterranean-style diet—rich in produce, whole grains, nuts, beans, and healthy fats from foods such as fatty fish and olive oil—appears most protective for brain health, Salinas says. A 2019 analysis of about 7,700 older people, published in the journal Alzheimer's & Dementia, found that those who stuck most closely to this type of diet had a lower risk of cognitive impairment. And people with the highest rates of fish consumption had slower rates of cognitive decline. Aim for two weekly servings (3.5 ounces cooked) of fish, particularly fatty fish like salmon.
As for those widely advertised brain health supplements, there's little evidence that they can help older adults who consume a balanced diet, Salinas says. However, vitamin B12, which is impor­tant for cognitive function, is often absorbed less efficiently with age. Some older adults may be deficient, he says. If your doctor finds that your B12 levels are low, ask whether a supplement may help.
And keep drinking in check. Heavy drinking can kill brain neurons and accel­er­ate memory loss, Small says. He recommends less than two drinks a day for men and less than one for women.
You don't need brain-training games or unusual new hobbies to keep your gray matter sharp. "Find what you love, and do more of it," Borson says. "If you ­really don't want to learn a new language but think you 'should' do it, you'll lack motivation to stick with it."
Even ordinary pastimes, like reading the paper every day or playing Monopoly with grandkids, can bring benefits. A Chinese study of more than 15,000 people older than 65, published in JAMA Psychiatry in 2018, for example, found that those who regularly engaged in pursuits such as reading, and board and card games, had a significantly lower dementia risk. Ideally, look for activities that stimulate you and have a social component, Tan says, and try to do them face to face. "Virtual activities were a great way to stay connected during the pandemic, but there are other benefits to in-person events, like the fact that you'll walk around more and get more exercise," he adds. "This way, you incorporate several ways to keep your brain healthy."