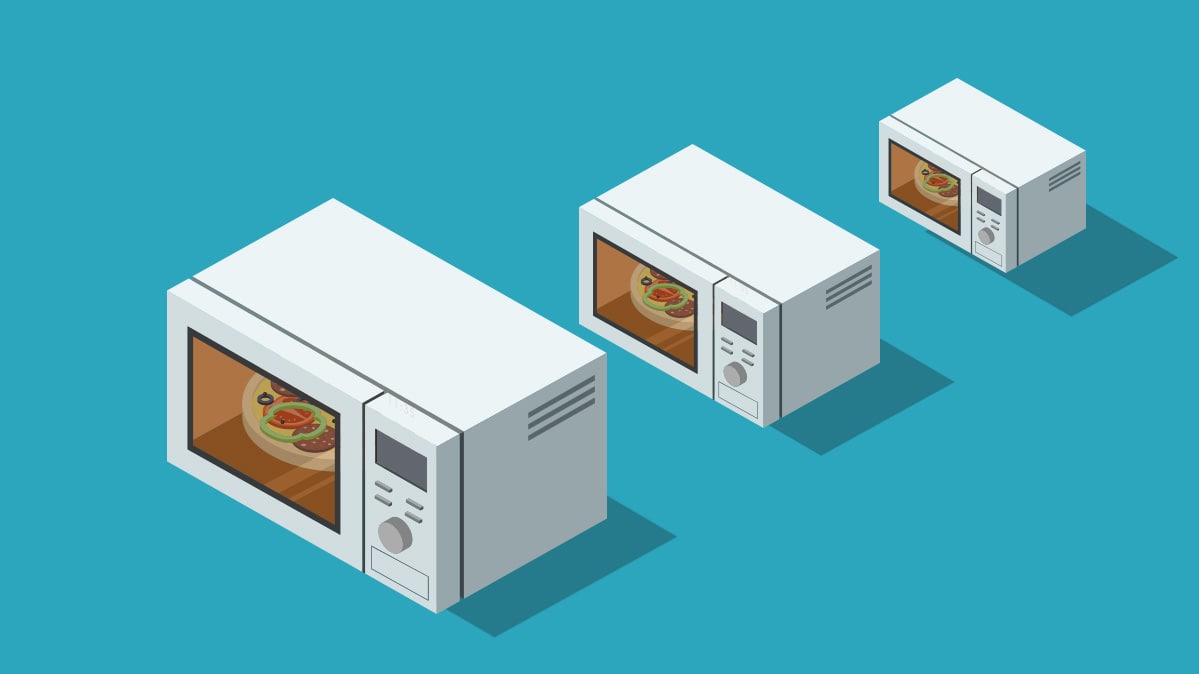 Your kitchen counter might be the most valuable real estate in your home. Between prep space, cooking tools, and small appliances, there's a lot vying to occupy it.
So if you're shopping for a microwave, take a minute to consider all factors. Even if you have plenty of space, does it make sense to fill it with the largest possible microwave? That depends how important the appliance is to your life.
"You can use a small microwave and a large microwave to heat the same things," says Ginny Lui, who oversees Consumer Reports' microwave tests. "It's just a question of how much time it might take."
When trying to determine the right microwave size for your home, consider how you typically use the appliance: Do you just reheat coffee, or do you cook entire meals in there? Is your microwave mainly a popcorn-maker or an integral part of life? Do you cook ahead and count on the microwave to quickly warm dinner for the whole family? Because size and performance are intertwined, the real question is: How much microwave do you need?

How We Test Microwaves
Whatever the size, every CR-assessed microwave is tested to see how fast it heats a bowl of water, how thoroughly it pops a bag of popcorn, and how evenly it defrosts a pound of frozen ground beef. For the defrost test, the microwave is plugged into a software program that records its time and heat settings.
Once the microwave has finished the cycle, our testers remove the beef and quickly separate and weigh the portions that are cooked, defrosted, and frozen. The test is run several times to get an average.
With more than 150 microwaves in our ratings, you'll have plenty of options.
Small Microwaves
For the first time in several years, Consumer Reports recently tested small microwaves—models typically less than 11 inches high, about 18 inches wide, and 14 inches deep. As a group, these are not powerful machines.
Small microwaves are only okay at defrosting and heating food; because they're low-powered, they tend to be slow. Some models we tested even failed our popcorn test, meaning they didn't pop enough of the kernels in a 3.5-ounce bag. Still, if you live on ramen noodles and don't use a microwave much, a small model could fit the bill.
Who they're right for: Folks with tiny kitchens, dorm dwellers, tea or coffee drinkers in a hurry.

Models to consider: Both the Sharp SMC0710BB/BW, $80, and the Panasonic NN-SD372SR, $150, did well in our defrosting tests and can cover basics like reheating and popcorn.
Midsized Microwaves
Appliances in this category are about 2 feet in width, a foot tall, and a foot or more deep. Along with extra capacity, you'll also get much more power for the buck: The wattage of midsized models jumps drastically from an average of 700 watts for the little guys to around 1,000 watts.
Most of these microwaves won't struggle with a bag of popcorn, but some of the better midsized options are still not zippy enough to earn top scores.

Who they're right for: Small households that use a microwave to reheat a two-person meal, popcorn lovers, those who don't have enough counter space for a larger model.
Models to consider: The LG LCS1112ST, $120, makes defrosting meat a breeze and has simple-to-use programmable buttons. You might also consider springing for an Avanti MO1250TW, $179; an all-around solid performer, it scored above-average on most of our tests.
Large Microwaves
There aren't standard dimensions that differentiate medium and large microwaves, but with a larger microwave you can expect a few more inches in all directions—so picture a foot or more in height, roughly 18 inches or more in depth, and around 2 feet in width.
A few models provide enough interior space for a Cornish hen or a 9x15-inch baking pan; most fit a large casserole dish.

Who they're right for: Big families, folks with kitchen islands who might not need counter space for food prep, spaces lacking a conventional oven.
Models to consider: The Oster OGG61403, $135, is fantastic at defrosting—but it doesn't have a sensor, so you'll have to program it using its touchpad. Or you could opt to invest in the LG LCRT2010[ST], around $200, which does have a sensor—and also aced CR's tests across the board.
Consumer Reports is an independent, non-profit organization dedicated to helping consumers. We make it easy to buy the right product from a variety of retailers. Clicking a retailer link will take you to that retailer's website to shop. When you shop through retailer links on our site, we may earn an affiliate commission – 100% of the fees we collect are used to support our mission.
Learn more.
Our service is unbiased: retailers can't influence placement. All prices are subject to change.