When you shop through retailer links on our site, we may earn affiliate commissions. 100% of the fees we collect are used to support our nonprofit mission.
Learn more.
Honda's new Odyssey minivan shows that more conveniences and modern features can transform a neighborhood commuter into a vehicle fit for road trips.
As its evolutionary styling suggests, the core formula remains the same, but it's clear upon first entering the Honda Odyssey that this is a thorough modernization. The dash is dramatically updated, with abundant soft-touch materials in the Elite model that we rented from Honda. The instrument panel on all versions is full color, which is the case in other recent Honda models.
Center stage is an 8-inch-wide screen showcasing the latest in infotainment and connectivity. (The base LX has a less impressive 5-inch screen.) This new high-resolution color display is a welcomed replacement for the complicated two-screen, blue-themed infotainment system used in the last generation of Honda products.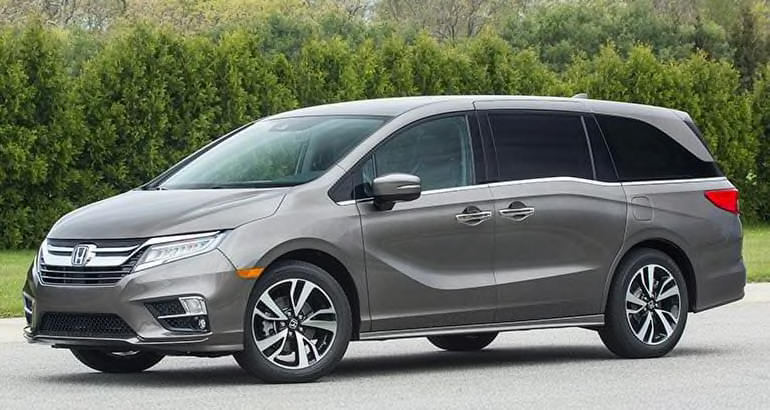 That new system overflows with features, though we found it easy to deal with them, thanks to good steering-wheel controls and programmable, permanent onscreen shortcuts. Major functions are color-coded, making it easy to visually distinguish, say, audio controls from phone features. Much like using a tablet or smartphone, key infotainment functions are essentially apps running in this Android-based operating system. Each app graphic tile can be moved or hidden to allow drivers to simplify their display, focusing on just their most-used features.
The navigation system uses improved voice recognition, allowing for addresses to be entered all at once rather than through a series of fill-in-the-blank data fields (street, city, etc.). As with some Garmin portable nav devices, this system renders 3D buildings in major cities. Android Auto and Apple CarPlay are standard in EX and above, and we found the integration to be seamless.
To help drivers communicate with rear passengers, EX-L (with Navigation), Touring, and Elite models (with the rear entertainment system added) provide a clever intercom feature called CabinTalk. It allows the driver to speak into a microphone and have the voice come out of the speakers and/or system-connected headsets, while lowering the music volume. This could be helpful for reaching kids watching a movie, for instance, in the back.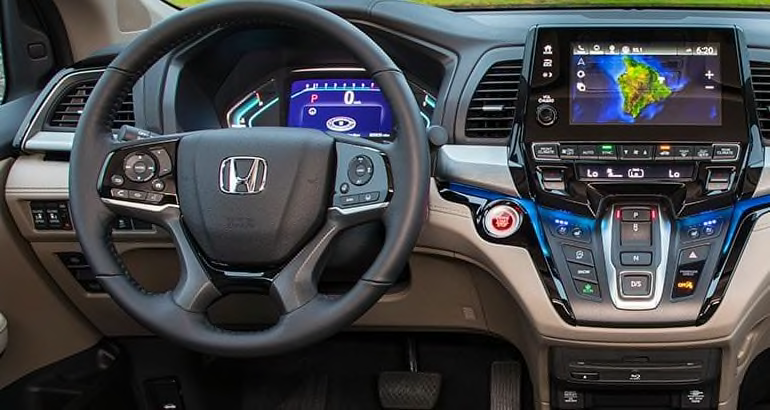 There is also a modern twist on the convex child-monitoring (or "conversation") mirror called CabinWatch in the Touring and Elite models. It uses a video camera to see the rear seats, allowing parents to monitor their children, with video displayed on the main dash screen. The position and angle of the camera can be helpful in letting parents see even rear-facing babies in car seats. The infrared function lets drivers see in low light or at night without needing to turn on the (potentially child-awakening) cabin light.
Beneath the infotainment system are the frustrating transmission push-button controls, similar to those experienced in other Honda and Acura models. This nonconventional setup comes across like a child's developmental toy, as each action operates slightly differently. It requires careful attention when making a selection, proving cumbersome during parking maneuvers.
The front seats are wide and mildly bolstered, with long-distance comfort helped by the power-adjustable four-way lumbar support. These perches continue Honda's trend of investing in higher quality seats, addressing a notable shortcoming in many previous-generation models. The multilayered storage console between the seats is no longer removable, due to the myriad electric wires running through it, including an available wireless phone charging mat (Elite models only).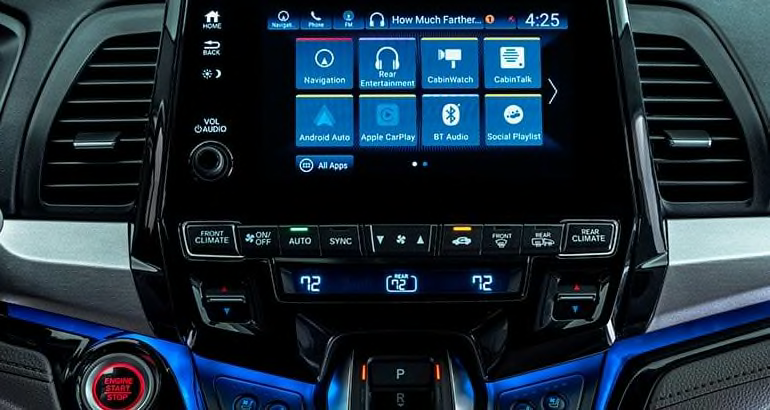 Second-row seats can slide side to side, as well as forward and back. This flexibility makes it easier to accommodate long objects, provide convenient third-row seat access, and even separate feuding children. Small pockets on the back of the front seats should help young travelers keep tabs on their smartphones and gadgets.
The third row provides decent room for average-sized adults. As before, it can fold flat forward and be tucked into the deep storage well in the back, creating a large, flat load floor. At the rear, nestled in the left-side cargo wall is a vacuum on Touring and Elite models—convenient for on-the-go cleanups.
A ceiling-mounted, rear entertainment system is available with a 10.2-inch screen. This system can play movies off Blu-ray, via HDMI input, or stream them via through a built-in AT&T 4G LTE connection or by using WiFi via a mobile hot spot. Abundant USB ports should be able to keep all of your family's devices charged and ready to go. Passengers in the back can use either wired or wireless headphones.
Making road trips more interactive, passengers can share music via the Social Playlist. And there is an app to provide passengers control of the rear entertainment system, climate control, and even input navigation destinations. Models with the rear entertainment system have a cute "How much farther?" app that serves as a cartoon flight tracker to avoid a litany of "Are we there yet?" questions.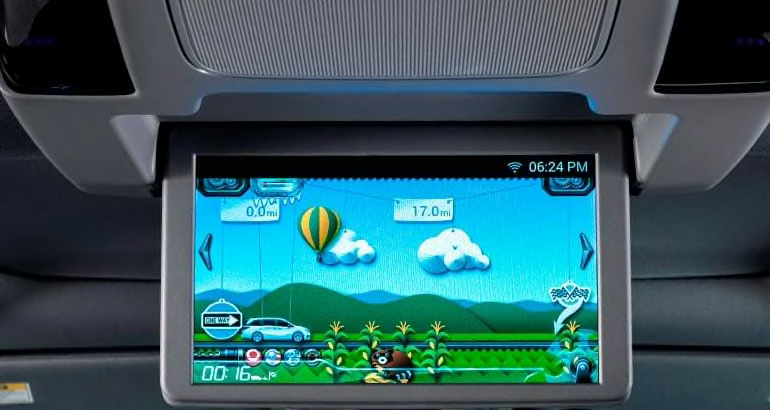 Behind the Wheel
When it's fully packed with people, drivers will appreciate that the new Odyssey has 280 hp, up 32 from last year. This updated engine is paired with a nine-speed automatic in most versions. The Touring and Elite versions get a new, slick 10-speed automatic transmission—a world first in a front-drive vehicle, according to Honda. Odyssey powertrains have always been smooth, but this makes clear advances, with more low-end power and seamless shifts (with the 10-speed we sampled). Acceleration is swift, and around-town cruising is effortless and well-mannered.
With its 10-speed transmission comes a start/stop feature that shuts the engine off when at a standstill. Most systems like this simply choose when to turn off, sometimes doing so at an awkward time, such as when you intend to pull into traffic. The Odyssey system concedes control to the driver, allowing the vehicle to hold at a stoplight with a gentle push of the brake pedal, leaving the engine on. Press just a bit firmer and the minivan turns off. This proved to be welcomed compromise and very natural to operate.
The EPA fuel economy rating of 19 mpg city and 28 mpg highway is the same for the 2018 Odyssey with either transmission. (The 2017 Odyssey was EPA-rated at 19 and 27 mpg, respectively.)
The minivan's ride is very comfortable, lending it a premium feel. Most pavement flaws are easily absorbed. Handling is sound and responsive. By contrast, this Odyssey makes the recently tested Toyota Sienna seem old, noisy, and outclassed.
The base LX model is expected to comprise just 5 percent of overall sales. This makes sense, because not only does it have a basic level of equipment but it also is lacking key advanced safety features that would have particular appeal to minivan drivers. All EX and higher trim models will be equipped with forward-collision warning with automatic emergency braking, lane-keep assist, blind-spot warning, rear cross-traffic alert, and adaptive cruise control.
There are many trims offered for 2018, spanning from the basic LX ($29,990) all the way to the luxurious, and pricey, Elite ($46,670). Most shoppers are likely to choose from the EX ($33,860) and leather-upholstered EX-L ($37,360), benefiting from a strong roster of standard equipment, including the safety suite and infotainment system, while keep the price below $40,000. Destination charges are $940.
We will buy an Odyssey to test after it goes on sale in late spring and see how it matches up against the Chrysler Pacifica, the top-rated minivan based on our tests.