When you shop through retailer links on our site, we may earn affiliate commissions. 100% of the fees we collect are used to support our nonprofit mission.
Learn more.
Consider the case of Edwin the Duck. Little, yellow, and rubbery, Edwin looks identical to the millions of his kind who patrol soapy bathtub waters. He capably floats. But the duck, created by a company called Pi Lab and already on the market, is a connected toy that contains motion sensors, a speaker, and a Bluetooth chip. When you move him, his digital double mimics the action on a paired smartphone or tablet screen; the companion app allows Edwin to tell stories, sing, and lead children in gesture-controlled games.
To the thousands of gadget and gizmo makers currently gathered in New York for the Toy Fair, the industry's largest annual trade show, incorporating Internet technologies into traditional toys like rubber ducks is seen as a possible salvation from the threat posed by app-rich smartphones and tablets. The trend has many strains and is represented by catchphrases like "connected play," "toys to life," and "the Internet of Toys." Play, like seemingly every other aspect of human life, is going digital.
There's opportunity and peril. Hello Barbie, released this past fall by Mattel, has a Siri-like capability to carry on conversations with children, backed by sophisticated artificial intelligence and language processing capabilities housed in the cloud. Security researchers have shown that connected toys can be compromised; in 2015 hackers demonstrated how they could get a conversationally capable doll named Cayla to say dirty words.
Responding with bug bounties and security countermeasures, toy makers are hardening toy targets from cyber attack, and almost nobody at the Toy Fair thinks that the digital trend will die. "I truly believe that if you fast forward 10 to 15 years, every toy will have some connected element," says Jesse Sutton, a toy industry consultant.
Consumer Reports will continue to report on privacy and security issues emerging for both toys and the larger Internet of Things. Meanwhile, here are six of the most innovative new connected toys expected to migrate from the Toy Fair to kids' playrooms in 2016.

CogniToys Dino
CogniToys, $119, June 2016
Dino has a generic happy dinosaur look, like Barney, but an endearingly gruff and distinctive voice. He does all of the prerequisite tasks for a contemporary talking toy, telling jokes and stories and playing games on command.
Powered by the artificial intelligence platform of IBM's Watson, which Dino accesses via Wi-Fi and an Internet link, the connected toy can also have back-and-forth conversations with children, at least to a limited degree.
Like its closest and only real competitor, Hello Barbie, Dino chats on pre-planned tracks; if you jump to a random topic Dino won't follow. But unlike Hello Barbie, the toy's content isn't all scripted and prerecorded; with the help of Watson, Dino can roam the Web to find answers to questions, such as, "How far away is the moon?"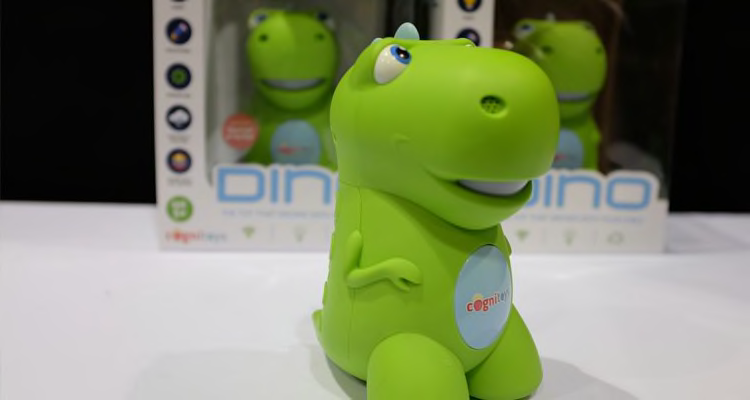 Barbie Hello Dream House
Mattel, $299, fall 2016 release
What to give a doll that has everything? How about a connected smart home, with lights and appliances that activate automatically when Barbie is placed in different rooms?
Wi-Fi linked and powered by ToyTalk, the same artificial intelligence company that gives Hello Barbie the ability to converse, the Dream Home responds to a limited range of commands: A kid can tell it to lower the elevator, get breakfast started in the kitchen, or fire up the lights and music for a dance party.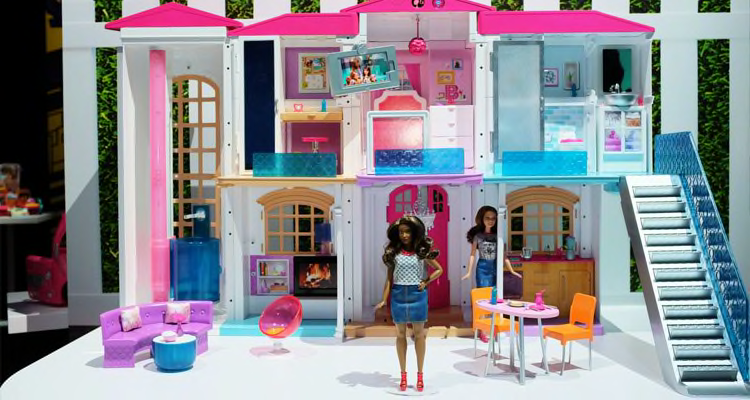 Love2Learn Elmo
Hasbro, $69, October 2016
Red, furry, and robotic, with a mouth that opens and shuts widely as he talks, Elmo is both adorable and vaguely scary.
The Muppet connects via Bluetooth to a companion app with educational games and activities, and, following the prevailing trend in connected toys, it has multimodal controls. This means that preschoolers can tap and swipe the screen, and also interact with the games by squeezing Elmo's nose, clapping his hands, or using them to pat his belly.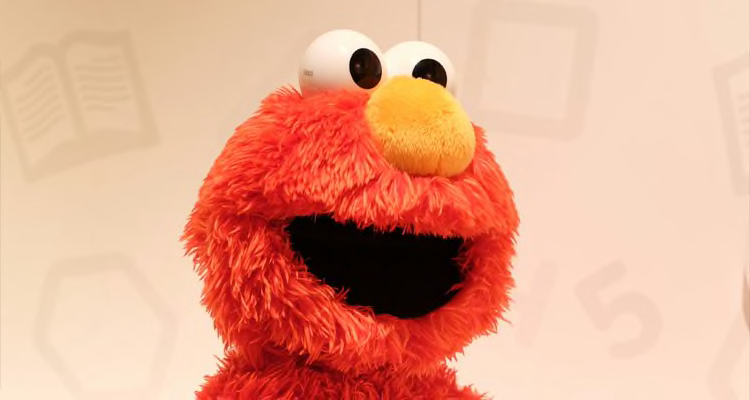 Dino Mundi Triceratops Interactive Racetrack Set
Immplay, $49.99, currently available
Cars speed along a plastic racetrack, under the looming maws of a triceratops. Dino Mundi also allows kids to point a smartphone or tablet at playing cards around the track that then morph into moving dinosaur animations onscreen. It's an example of how toys can employ augmented reality, a suite of technologies that combine real-world objects with digitally generated pictures and sounds.
The dinosaurs are magical the first time you see them, but only a child can report on how quickly the novelty fades with repeated play.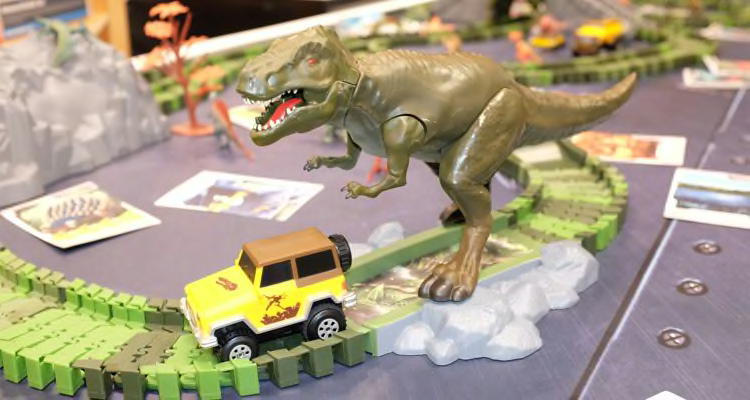 Sky Viper Streaming Drone
Skyrocket, $99.99, August 2016
It flies; it films. You can pick a point on a digital map and send the Sky Viper drone there automatically. The Sky Viper being shown at the Toy Fair is an updated version of a recently introduced drone; the new model streams images via Wi-Fi to a phone or tablet. This appears to be an affordable way for kids to tap into the creative potential of drone photography—or, potentially, drone snooping.
Turtle Mail
AE Dreams, $99.99, winter 2016
One of the Toy Fair's most graceful integrations of the digital and physical realms is Turtle Mail, a tiny wooden mailbox that you put on a child's shelf or bedside table. The mailbox has Wi-Fi. A parent at work or on a business trip, or a grandparent who lives across the country, uses the Turtle Mail app on their phone to send a kid a short message or cartoon drawing.
On the child's end, there is no screen to display it. (The toy industry, for all of its loving embrace of technology, seems keen to peel children away from screens.) Instead, a petite thermal printer outputs the message on paper that emerges from a little slot; rather than a text message, it feels more like mail.