Twenty-five years ago, Mazda took the idea of the charmingly eccentric British roadster and infused it with Japanese reliability. By remaining true to its nature of fun and affordable performance, the Miata has thrilled and inspired hundreds of thousands of buyers, from money-conscious workaday drivers to weekend racers. With its handling agility, revvy four-cylinder engine, easy-to-fold manual top, and precise manual shifter, it's the quintessential modern roadster.
Read our complete Mazda MX-5 Miata road test.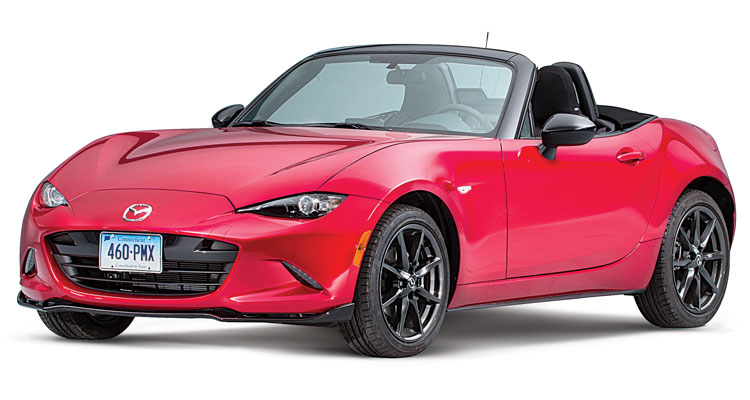 The cheeky, lithe, and zoomy Mazda MX-5 Miata convertible is the epitome of the expression, "It's more fun to drive a slow car fast than a fast car slow."
For a quarter century, the MX-5's sparkling combination of nimble fun, thriftiness, and reliability has made it a favorite at our test track—and the redesigned 2016 model holds to the standard.
The 2016 Mazda MX-5 Miata is a completely impractical car. It seats two (tightly), it will barely haul a load of groceries, and it's loud inside. Yet we're smitten with this plucky ragtop.
There isn't a better fun-per-dollar performance car on the market that delivers the Miata's magic. After a long winter's nap, the 2016 Mazda MX-5 Miata will revive your senses the first spring day you drop the top and hit the curvy roads.
This Mazda is one of the last intimate driving experiences; you feel like part of the machine that's melding with the road. The Miata's steering gives immediate turn-in response, and the car remains playful and predictable even when pressing the limits of the tires.
You'll have all the power you need from the smooth-revving 2.0-liter four-cylinder engine. And while 155 horsepower doesn't sound like much in a world of high-priced competitors offering almost double that, the svelte 2016 Mazda MX-5 Miata weighs only a whisker over 2,300 pounds. That power-to-weight ratio, helped by well-chosen gear ratios, brings responsiveness and a ready smile to all who pilot the MX-5.
Unlike some turbocharged four-cylinders, power delivery in the 2016 Mazda MX-5 Miata is a bit gaspy at low-engine RPMs, but it ramps up rapidly as the revs build. The deep exhaust sound belies the small powerplant under the hood.
Sprinting to highway speed is more enjoyable when you work the short, stubby shifter and effortless clutch. And although an automatic is available, the only proper choice is the manual transmission, a keen indication of the quality of the Miata's shifter.
A bonus is that the 2016 Mazda MX-5 Miata delivers a frugal 34 mpg overall, albeit on premium fuel.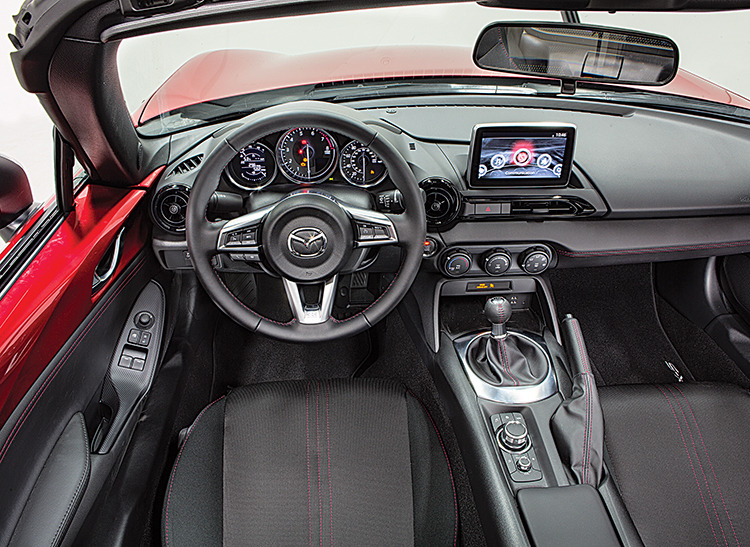 HIGHS: Agility, shifter, easy manual top, fuel economy
LOWS: Ride, noise, tight quarters, access
POWERTRAIN: 155-hp, 2.0-liter 4-cyl.; six-speed manual; rear-wheel drive
FUEL: 34 mpg
PRICE: $25,735-$32,090
But all is not perfect in the Miata metropolis. Think twice about using this wee roadster as a daily commuter, particularly at highway speeds, because the ride is so stiff that you'll wonder whether Mazda ran out of shock absorbers. The wind, road, and tire noise that permeates the cabin and invades the thinly insulated top will also try your patience.
And although Mazda carved out slightly more space inside the cabin, the Miata still fits like a shrunken pair of skinny jeans. We strongly advise taller drivers to try it on for size before signing any ownership papers.
Our affection for the Miata doesn't extend to its rudimentary seats; the car deserves better. The Club trim's front buckets feel designed for weight savings, not comfort, with minimal padding and adjustability. Opting for the Grand Touring's leather seats may help out here, but that puts you well past $30,000.
The tight quarters lead to some other compromises. The placement of the console-mounted control knob for the infotainment system is right where you would rest your wrist when shifting—resulting in accidental changes in radio stations or other settings. And the removable cup holders are a contortionist's dream, located behind your right elbow.
The Club version is the Miata that delivers the best value, but the Grand Touring may make sense for those who don't envision weekends at an autocross course. The GT addresses many of the shortcomings with a softer suspension, heated leather seats, and blind-spot monitoring, but it gives up a bit of handling sharpness.
Yes, one has to put up with some compromises. But we still have big love for the Miata.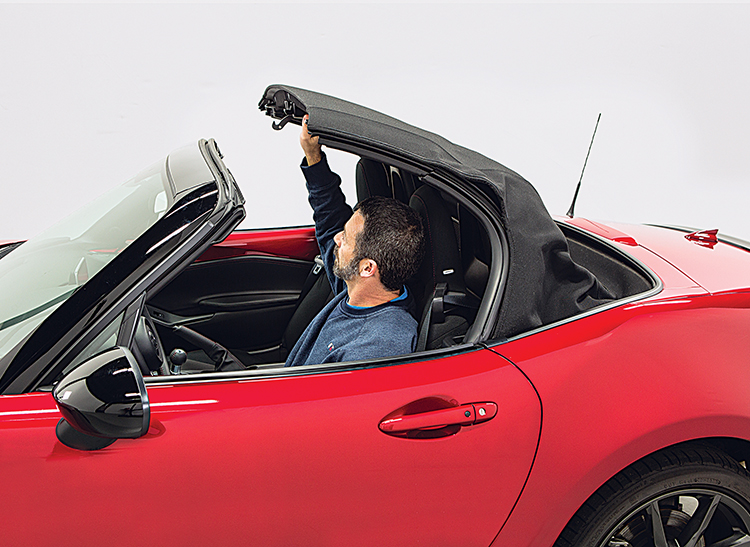 Consumer Reports is an independent, non-profit organization dedicated to helping consumers. We make it easy to buy the right product from a variety of retailers. Clicking a retailer link will take you to that retailer's website to shop. When you shop through retailer links on our site, we may earn an affiliate commission – 100% of the fees we collect are used to support our mission.
Learn more.
Our service is unbiased: retailers can't influence placement. All prices are subject to change.