When you shop through retailer links on our site, we may earn affiliate commissions. 100% of the fees we collect are used to support our nonprofit mission.
Learn more.
When a teenager gets a driver's license for the first time, it can be exciting yet scary. This key milestone brings with it many fresh worries, including choosing the right car for an inexperienced driver.
Most families are budget-conscious, factoring in the likelihood of dings and dents. It's important for parents to empower their children, and with driving, that means having a vehicle that helps avoid collisions and limits injuries should a crash happen.
The reality is that driving risk is highest at age 16, according to the Insurance Institute for Highway Safety. Its data shows that the fatal crash rate per mile driven for 16 and 17 year-olds is about three times the rate for drivers 20 and older. This underscores the importance of keeping teens safe during those first driving years as they gain maturity and experience.
Buying a used car or giving a child a hand-me-down is the natural choice, especially if college costs may be on the horizon. We have recommendations for the best used cars under $20,000, with many available for less than $10,000.
But there's another path. Rather than give your teen an older model, buy him or her a new car, even if that means driving an older model yourself. This strategy isn't for everyone, but it has its merits.
"It can be tempting to buy a tiny, bare-bones model for a teenager," says David Harkey, president of the IIHS. "But we know that teenagers are among the riskiest drivers, so it's important not to skimp on safety. Spending a bit more for state of the art crash protection and crash avoidance features is a worthy investment in your child's future."
All drivers would benefit from a car with those features, but an inexperienced driver would benefit most.
"While buying a new car for a young driver is less common than buying used, new cars provide the opportunity to give a young driver an advantage in terms of providing the latest in both crash avoidance and crash protection technologies," says Jennifer Stockburger, director of operations at CR's Auto Test Center. "If you're putting out the additional money to buy new, why not choose the safest models and configurations available?"
Of course, new cars come with a comprehensive bumper-to-bumper warranty. And they have the promise of being dependable through high school and beyond, a time when young adults have other things to focus on than worrying about roadside emergencies and potentially expensive repairs.
We understand that this path is the exception rather than the rule.
To help families considering the new-car strategy, we've joined forces with IIHS to develop a list of cars that balance accident avoidance, crash protection, performance, and reliability. These selections are ideal for teens, but they can serve any shopper looking for a vehicle that excels in those areas.
These best new cars for teens range from $22,000 to $37,000, less than the price of the average new car ($38,035), according to the National Automobile Dealers Association.
To make the cut to be considered among the best new cars for teens, vehicles must have:
A Consumer Reports recommendation, meaning that it meets our stringent standards for reliability, safety, and road-test performance, including achieving particular thresholds for braking and handling.
Standard forward collision warning and automatic emergency braking.
A curb weight over 2,750 pounds. This rules out the smallest vehicles, which tend to be most vulnerable. We also omitted large SUVs, which can be hard to handle and often have long braking distances, and sports cars, which can encourage dangerous driving.
A designation as either a Top Safety Pick or Top Safety Pick Plus by the IIHS based on the model's performance in key crash, accident avoidance, and headlight tests.
A rating of Good or better by CR for controls that are easy to use.
Four or five stars from the National Highway Traffic Safety Administration (if rated).
All of the vehicles listed below are 2020 models. Selected trims or option packages include those where the headlights were rated Good or Acceptable in IIHS' headlight tests, qualifying them for the Top Safety Pick designations.
The list excludes vehicles that had substantially higher than average insurance claim rates under medical payment or personal injury protection coverage in recent model years and haven't been redesigned.
Click on the model names for complete road tests, reliability and owner satisfaction ratings, pricing, and much more.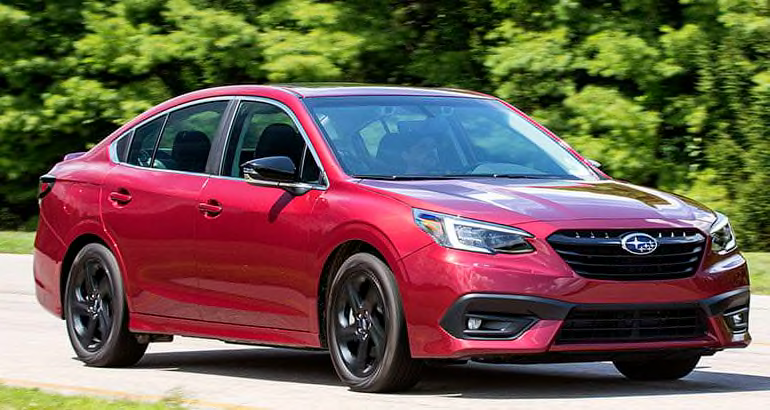 Best New Cars for Teens
| | |
| --- | --- |
| Make & Model | Price |
| SMALL CARS | |
| Honda Insight | $22,000 |
| Mazda 3 hatchback or sedan | $22,100 |
| Toyota Corolla (XLE/XSE sedan + Advanced Lighting; XSE hatchback + Preferred package) | $23,400 |
| MIDSIZED CARS | |
| Subaru Legacy | $22,100 |
| Honda Accord (excluding Touring 2.0T and Touring Hybrid) | $23,300 |
| Mazda 6 | $23,800 |
| Nissan Altima (SR, SV, SL, Platinum) | $24,900 |
| SMALL SUVS | |
| Mazda CX-3 | $20,700 |
| Subaru Forester | $23,900 |
| Honda CR-V (Touring and all hybrid trims) | $24,800 |
| Mazda CX-5 | $25,200 |
| Chevrolet Equinox (LT only) | $27,000 |
| Lexus UX (with Triple-Beam LED Headlights with Auto-Leveling) | $32,800 |
| Kia Sportage (SX Turbo only; built after September 2019) | $33,000 |
| Toyota RAV4 (Hybrid Limited only with Adaptive Front Headlight System) | $36,900 |
| MIDSIZED SUVS | |
| Hyundai Santa Fe (SEL trim with Premium package or Limited trim) | $32,700 |
| Mazda CX-9 (built after December 2019) | $32,700 |
| Subaru Outback (built after October 2019) | $25,900 |
Prices are rounded to the nearest $100 and reflect Kelley Blue Book New-Car Fair Purchase Prices for the least expensive trim level that qualifies for the recommendation. If a particular options package is needed, the manufacturer's suggested retail price for that package has been added to the price.
Some listed models include a "built after" date. This applies when a manufacturer makes changes to improve safety in the middle of a model year. Information about when a specific vehicle was manufactured can be found on the certification label, usually affixed to the driver door or near it.
CR Car Testing: The One-Day Road Trip
A lot goes into testing a car, both on the track and in real-world situations. On the "Consumer 101" TV show, Consumer Reports expert Mike Monticello reveals to host Jack Rico how CR puts a vehicle through its paces.