When you shop through retailer links on our site, we may earn affiliate commissions. 100% of the fees we collect are used to support our nonprofit mission.
Learn more.
Fighting High Rx Drug Costs
Americans paid $2 billion extra for their meds last year
When gas prices soar, drivers cut back on the miles they drive and find their way into more fuel-efficient vehicles. When beef prices heat up, grillers flip to chicken. And when electricity prices rise, the AC gets the cold shoulder. But when prescription drug prices jump, what alternatives are available for the people who need them?
One of Consumer Reports' top priorities is to make healthcare available and affordable for all Americans, so we set out to understand what's driving high drug costs and how it's affecting the public's wallets.
We found that consumers are caught between two mammoth industries: drug companies that are able to charge or raise prices without any restrictions, and insurance companies all too willing to pass those high costs on to their beneficiaries. Consumers have almost no regulatory protection, and bear an increasing financial burden.
Consumer Reports' special report, "Is There a Cure For High Drug Prices?" published free online at ConsumerReports.org/drugprices and in the August issue of the magazine, found that the rampant rise of drug costs is putting a heavy burden on Americans. In our nationally representative survey of 2,139 adult consumers, conducted in March, one out of every three people said that in the last 12 months they had experienced a price hike on the drug they routinely take, spending an average $63 extra out of pocket. Some people were socked with bills that were $500 or more.
Those costs caused people to take some dangerous actions: some didn't fill prescriptions, others split pills without the OK from their physicians. People sacrificed in other ways: they skimped on groceries, reported relying more heavily on credit cards, put off paying bills, and postponed retirement in order to maintain their healthcare coverage.
Consumer Reports' work didn't stop with the report. The day the magazine was published, a senior policy counsel from our Washington, D.C. office testified at a Senate hearing on drug pricing competition and generic drugs. He spoke in favor of a bipartisan bill designed to end certain delay tactics drug manufacturers may use to block competition from more affordable generic drugs. And the editor of the report participated in a panel discussion on the problem of high drug costs at the Aspen Ideas Festival.
Until regulation makes lower-cost generics readily available to consumers, you can research your options for free at https://www.consumerreports.org/cro/health/drugs/index.htm. Our Best Buy Drugs program presents price and cost data alongside the effectiveness, safety, and side-effect data so consumers can discuss the best course with their doctors.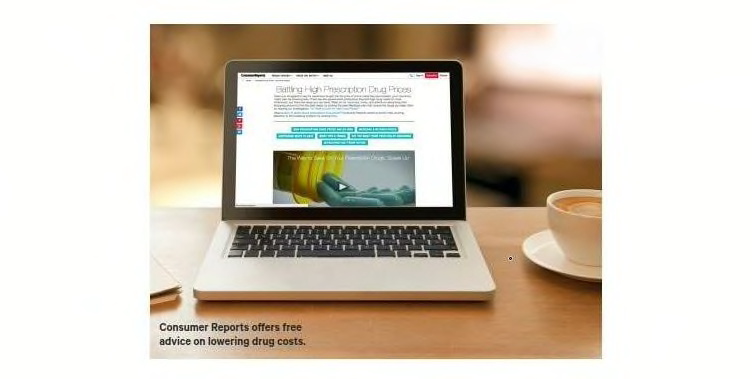 ---
Right On Track
It's more than hairpin turns at our state-of-the-art auto test center
At our 327-acre test track in Connecticut, it's never just business as usual. Along with the standard evaluations we run on some 60 vehicles a year, there's always something new happening. Here's a look at some recent events and developments.
Hackathon takes center stage
In June, we hosted our first external hackathon, demonstrating our commitment to innovation, privacy, and external collaboration. We partnered with security experts and several universities including George Washington University, Harvard, MIT, and the University of North Carolina. Some 20 students tested for vulnerabilities arising from the connections between cars and the outside world. In one activity, they checked to see if signals exchanged between a key fob and a car could be "seen," duplicated, and accessible to a hacker. (We'll release results at a later date.) Over several days, the hackers focused on five cars, representing a range of manufacturers and a variety of potential paths for vulnerabilities, including systems like Bluetooth, WiFi, OnStar, and location signals used in navigation.
2017 Tesla Model X arrives
It's natural to compare the Tesla Model X with the Model S, especially given that both cars share the same basic platform and electric powertrain. Comparatively austere and purposeful in design, the Model S earned the highest road test score ever in Consumer Reports' testing. Below-average reliability lowers its Overall Score, however, and prevents us from recommending it.
To its credit, the Model X drives very similarly to the Model S, though with a higher seating position, making it one of the sportiest-driving SUVs available. But the Model X is also one of the most gimmicky SUVs you can buy; many features seem designed to maximize its show-off-to-your-neighbors potential. Chief among them are the falcon-wing rear doors; while they provide an enormous opening, these complex portals require some patience and can cause plenty of frustration.
Stay tuned as we accumulate the miles on this newest and funkiest electric vehicle yet.
New fuel-consumption meters
New fuel-consumption meters Consumer Reports has a long history of delivering the most accurate fuel economy testing in the business. And now we have new meters that improve the precision even more.
We perform our own fuel-economy tests, independent of the government's often-quoted EPA figures and the manufacturers' claims. Using a precise flow-measuring device spliced into the fuel line, we run the vehicle on two different circuits. One is on a public highway at a steady 65 mph; the course is run in both directions to counteract any terrain and wind effects. The second is a simulated urban/suburban-driving test on our track, with predetermined acceleration and deceleration rates, as well as a set amount of idle time.
From those we derive overall fuel-economy numbers, and we believe they give consumers more accurate information than any other figures available.
Expert training on the latest in active safety
New technologies are being incorporated into cars at rates we haven't seen in our 80 years of testing, and we're working to ensure that our evaluations remain as accurate as they can be. To that end, one of our safety engineers is currently in training to learn more about the latest in active safety technology and enhance our testing and evaluations.
Manufacturers are building cars with systems that can help you avoid or mitigate a crash in all sorts of situations, such as closing in on another car too quickly, changing lanes into an unseen car in a blind spot, or simply backing out in a busy parking lot.
Some active safety technology we're seeing:
• Forward-collision warning, with or without auto brake, should be on top of your new-car wish list.
• Backup cameras, which we highly recommend, are increasingly common. By 2018, they will be standard on all cars.
• Blind-spot warning and rear-cross traffic alert are commonly bundled together, and are much appreciated among CR staff.
• Lane-departure warning and lane-keep assist can help keep the car on the right track—especially helpful if you're not paying attention or briefly take your eyes off the road. The Insurance Institute for Highway Safety says the combination of forward-collision warning with automatic emergency braking has proven to reduce rear-end crashes by about 40 percent.
We've long championed—and pushed regulators to require—safety technologies with proven benefits, such as seat belts, ABS, and backup cameras. The more we learn about life-saving features, the more we'll be fulfilling our mission to help consumers stay safe.

---
Consumer Champions
Join a group of dedicated Consumer Reports supporters who are committed to fighting all year for consumer protection.
Your automatic monthly gift provides a consistent, reliable source of income to Consumer Reports, so that we can fund our product-testing program, which ensures safe and reliable products for all.
Visit ConsumerReports.org/crchampion. to learn more about our Consumer Champions program and how you can enhance your support to make the marketplace better for all consumers.
---
---