5 Asian Vegetables to Try Now
Tasty and nutritious, they add variety to your plate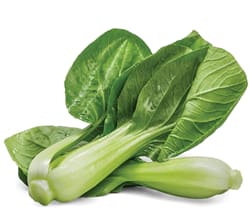 Bok Choy
Nutrition Notes
For a mild-tasting vegetable, this green with crunchy stems and leafy ends packs a lot of benefits. Available in different sizes, all bok choy varieties are members of the cruciferous family. One cup cooked also provides about half of your daily need for vision-protecting vitamin A and antioxidant vitamin C.
How to Use It
"Asian families usually stir-fry bok choy with minced garlic and cooking oil," Kong says. You can also add the veggie to noodle soups. Slice and soak it in three changes of water to get rid of any grit that may be hiding between the leaves before any preparation.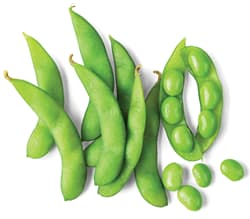 Edamame
Nutrition Notes
You may have tried these immature soybeans at sushi restaurants, where they are often served steamed and lightly salted. Just ½ cup has 9 grams of protein and 4 grams of fiber, and there is evidence that traditional soy foods like edamame and tofu may lower the risk of breast cancer, according to the American Cancer Society.
How to Use It
Boil shelled edamame (frozen or fresh) and mix with sesame oil, vinegar, and a little soy sauce for a simple salad, says Asako Miyashita, RDN, a dietitian based in New York with Japanese Medical Care. Or sauté the beans with garlic, sprinkle with Parmesan, and serve as a side dish.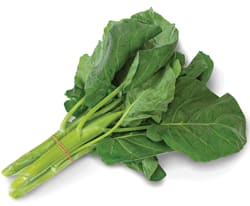 Gai Lan
Nutrition Notes
Though it may be called Chinese broccoli or Chinese kale, gai lan stands apart from both, with thick stems, flat leaves, and small florets, and a slightly bitter flavor. Like other crucifers, it contains glucosinolates, compounds that may protect against the cell damage that can cause age-related diseases. Plus, it supplies a hefty dose of the antioxidants beta carotene and lutein/zeaxanthin.
How to Use It
Like bok choy, gai lan works well sautéed or stir-fried. For the perfect texture, Kong suggests separating the stems from the leaves; sauté stems until they're 80 percent cooked, then add the leaves until soft. Flavor with reduced-­sodium oyster sauce and garlic, or with ginger and lime juice, and toss with soba or whole-wheat noodles, adding peanuts if you like.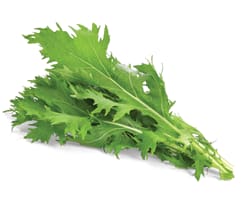 Mizuna
Nutrition Notes
This leafy cruciferous vegetable, with its mild peppery flavor (similar to arugula but less spicy), can be eaten raw or cooked. Either way, it's packed with benefits. You get 15 percent of your daily need for calcium and 40 percent of vitamin A in 2 cups of the raw greens.
How to Use It
Use it in place of arugula in any salad or sauté it the way you would spinach. For a mizuna salad, Miyashita recommends chopping the greens into 2-inch pieces and mixing with ground sesame seeds, sesame or olive oil, lemon or vinegar, and salt and pepper to taste.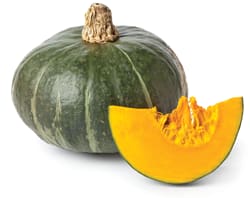 Kabocha
Nutrition Notes
This pumpkin-shaped Japanese squash tastes a little like a sweet potato mixed with chestnut, and has a drier texture than butternut squash. "Kabocha has a nutty flavor with sweetness," Miyashita says. "It is great for dessert." And while you can't go wrong with any squash, ounce for ounce kabocha has fewer calories and carbs and more potassium compared with its more common cousin, butternut.
How to Use It
You can pan-fry or roast it, then top with a drizzle of honey or maple syrup and a scoop of plain yogurt for breakfast or dessert. Or mash the baked squash and use it as a side dish where you might otherwise use sweet potatoes.