Eat Healthier, Even During a Pandemic
COVID-19 has changed the way we eat. Here's how to incorporate nutritious and delicious food into your new normal. There are few aspects of our lives that COVID-19 hasn't affected. But one of the most fundamental shifts is how it has prompted many of us to practically reinvent what, where, and how we eat.
"There's no doubt Americans' relationship with food has been transformed," says Jane Manweiler, who led two recent nationally representative surveys for Consumer Reports that addressed eating habits (PDF) and food shopping patterns (PDF), each involving more than 2,000 American adults.
At the pandemic's start, many of us stumbled into a new way of life that necessitated eating every meal at home with just those who lived there. About 80 percent of Americans say they've made at least one change in the food they eat or the way they source or prepare it, CR's surveys found. Initially, we all viewed those changes as a stopgap. But as the weeks turned into months, we realized we had developed new patterns that could have lasting consequences.
Like everything about this pandemic, different groups have been affected in various and often unequal ways. "Some people are doing extremely well, and others are declining in their health," says Jagdish Khubchandani, PhD, a pro­fessor at New Mexico State University and lead author of a study on U.S. eating practices during the pandemic.
Before the pandemic, Emoré Campbell, a wedding planner in Charlotte, N.C., was accustomed to dinners out, happy hour drinks, and frequent travel. But once the single 29-year-old realized she'd be steering clear of restaurants, bars, and airplanes for a while, she decided to overhaul her approach to food shopping and cooking.
"I'm a down-South girl, so I know how to fry some chicken and I can make a mean potato salad," Campbell says. "But now I'm expanding, taking it up a notch, trying a range of recipes—things that my mother never made, like beef bourguignon and soy mushroom burgers."
At the same time, she wanted to be able to prepare foods that would support her immune system and keep her fit—and do so without breaking the bank.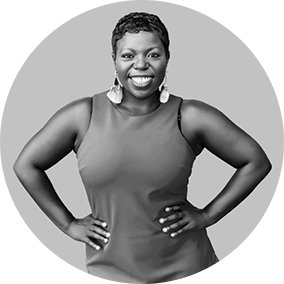 I'm trying a range of recipes.
Emoré Campbell, a wedding planner in North Carolina
"I've always liked fresh fruit and vegetables, but now I want to get as many nutrients as I can," she says. So she invested in a juicer, which she packs with a variety of fruits and vegetables, and an air fryer so that she can cook chicken wings, fish, and meatballs with less fat.
Campbell says she's looking forward to showing off her new cooking skills after the pandemic. "I want to be known for making great meals for my family and friends."
CR's Advice
"There are many benefits to cooking at home," says Emma Laing, PhD, director of dietetics at the University of Georgia. It can give you "more control over the ingredients," and "it can be soothing to engage all of your senses in a purposeful activity." To make the most of home cooking, try these tips:
Buy extra and freeze. Many foods can be frozen, so put your freezer to work. For example, freeze berries and grapes on a cookie sheet lined with wax paper or parchment, then place them in an airtight container in the freezer. Or blanch veggies in boiling water, then run them under cold water before freezing in an airtight container.
Plan your meals. Campbell says she often reads recipes online and plans meals for the week so that she can take fewer supermarket trips while making her food budget go further.
Buy in bulk. To keep prices down, Campbell says she buys some groceries with a friend. "It's much more affordable to buy a 'family size' package of meat or chicken or a big bag of broccoli and split it," she says.
Cook once, eat twice. Make double or triple portions so that you have several servings of a healthy meal. Dishes like vegetable soup, chili, pizza, and lasagna freeze well. Divide into one or two servings so that you can pull out only what you need.
Reversing Unhealthy Eating Habits
Shaniqua Williams didn't have much time to stock up on groceries for her family of five when stay-at-home orders went into effect in her hometown, Harrisburg, Pa. "I did my regular shopping, but after a week or so, we needed more food, and we were hesitant to go to the store."
Plus, convenience was key. The 32-year-old, who runs her own marketing agency, and her husband were working from home while their daughters, ages 11, 8, and 5, were in school online. So they were short on time and motivation to cook well-rounded meals.
The family got into the habit of ordering in, often choosing pizza, fried chicken, or "anything that was satisfying," Williams says. For snacks, she opted for easy options so that she wouldn't have to stop work every time the kids got hungry. "It was what the kids would grab and eat on their own." Chips, ice cream, cheese sticks, and doughnuts became the norm.
Without the constant pressure to cook, the family did have time to hang out and bond, Williams says. But after several months, Williams saw a downside, too. "In August we noticed that we were gaining weight, and we were out of shape," she says. "I felt unhealthy, and the kids were literally snacking all day long."
So Williams instituted family exercise time, including walks, bike rides, and backyard trampoline sessions.
She also decided to gradually change the family's eating habits. "We tried to make it more of a lifestyle change vs. a diet because I never can stick to a diet," Williams says. "Instead of all those chips, I went to farmers markets and bought a lot of produce. I might buy a bag of chips now, but when it's gone, it's gone."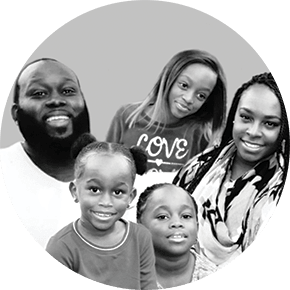 We noticed we were gaining weight.
Shaniqua Williams (far right), a marketing agent in Pennsylvania, and her family
Williams made other substitutions that didn't require a lot of time and effort. She ordered in less and cooked more grilled chicken and fish. She traded regular pastas for noodles made of cauliflower or zucchini, and swapped ice cream for yogurt smoothies topped with fruit and granola. Instead of juice boxes, she invested in a water cooler.
The efforts paid off. She and her husband are getting back in shape, and their daughters adapted surprisingly easily to eating more whole foods. (It helps that her girls don't realize they're eating veggie noodles, not traditional pasta.)
They've even started to enjoy cooking themselves. "Now if the kids want pizza, we'll make it together in a healthier way," Williams says.
CR's Advice
In CR's survey, 22 percent of people said they were eating healthier now than they were a year ago. But almost a third reported weight gain, and in that group, 37 percent said their eating habits had worsened.
As the Williamses experienced, spending so much time at home—with the fridge only steps away—can blur the boundaries around food, says Lisa Young, PhD, a nutrition and food studies expert at New York University. "When people have less structure in their day and more access to the kitchen, it leads to more snacking and nibbling," she says. Though it can be hard to change and adopt new habits, a little planning can help.
Create a schedule. That includes general times for three meals and one or two snacks. To keep everyone in check, post a schedule and maybe even set a timer for the kids. Knowing when you'll be eating again can fend off the urge to snack on empty calories.
Make it easier to grab a healthy snack. Put together individual snack packs in advance, preferably with some protein, carbs, and fat, which can help keep you full.
Don't use takeout as an excuse to eat unhealthy food. Order dishes with lean protein, plenty of vegetables, and whole grains. If you just can't bypass more indulgent fare, get one decadent dish to share, and round out the meal with healthier picks. Go for the small pizza, for example, but also order a salad, grilled fish, and sautéed vegetables. Serve everyone a portion of each dish.
Plan your treats. "I call it delay, don't deprive," Young says. Know that you're going to get your coveted food at an appointed time in the day. "Depriving yourself completely backfires," she says, because it often leads to overindulgence at the wrong times.
Coping With Food Insecurity
Alyssa De Leon, a 24-year-old college student in Corpus Christi, Texas, and her husband relied on her job at Old Navy to make ends meet. When she was furloughed due to the pandemic, the couple went from two incomes to one, and De Leon, who has type 1 diabetes, found herself grappling with an impossible choice: "I had to decide between buying insulin, paying the bills, and buying food."
She turned to a local food pantry, where she could pick up canned beans and vegetables, cereal, grains, dairy, and other items. The pantry also has a section for people with diabetes that offers fresh vegetables and fruits.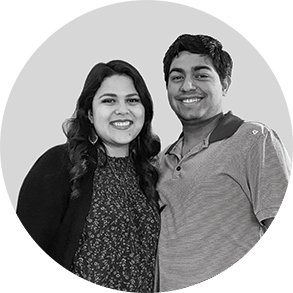 I had to decide: Pay bills or buy food.
Alyssa de Leon, a college student in Texas, and her husband, Brandon
Experts there even offered classes on how to cook healthy meals and store them so that they last longer. In the process, De Leon learned how to adapt some of her family's Mexican recipes to be healthier by cutting down on salt and tortillas, for instance. She also cut out sugary drinks.
Despite the hardships, De Leon remains positive and plans to incorporate what she's learned into a career as a dietitian. After graduating, she hopes to one day "help a young girl who has been diagnosed with type 1 diabetes, telling her what I lived through," she says. "I feel that's going to make a difference in somebody's life."
CR's Advice
De Leon is one of a growing number of people who have used food pantries during the pandemic, a reality that's had the biggest impact on people of color. In CR's survey, 35 percent of Black people and 22 percent of Hispanic people said they had used a free food service since the pandemic began vs. 15 percent of whites.
For recent immigrants, the learning curve at food pantries can be steep because they may not be familiar with many of the items available, says Nazirber Maduro, a bilingual registered dietitian-nutritionist in New York City. "For example, brussels sprouts are not a Latin American food," she says. "So they come to me with questions about what to do with them."
Whether you're looking for help or you're interested in helping others, here's how to make the experience better for you and your community.
Know where to find help. The Department of Agriculture can direct you to a food bank or pantry near you. Also check to see whether you're eligible for the federal Supplemental Nutrition Assistance Program (SNAP).
Ask for advice. Food pantries may have dietitians, nurses, or other trained educators who can advise you on how to store and prepare healthy foods.
Make flavors work for you. If you aren't getting foods you usually eat, try putting your own cultural twist on them. Maduro suggests seasoning chicken or canned tuna with herbs and spices you'd typically use in your cooking, for example, or making a vegetable chili with canned beans or soup with rice and chicken.
Shop smart. "It's easier than you think to eat healthfully on a budget," says Yang, the NYU nutritionist. She notes that these items are often both inexpensive and nutritious: frozen and canned vegetables, canned or dried beans, whole-wheat pasta, and canned tuna or sardines.
Volunteer or donate. Food banks need more help now than ever. If you're not comfortable volunteering in a building, you could deliver to people's doors. Or donate money or food. Bring healthy foods like whole grains, shelf-stable milk, and canned beans, fish, or vegetables.
When the coronavirus hit, Manhattanite Martha McPhee knew exactly where she wanted to be: her childhood home in rural Ringoes, N.J., where her mother still lived. She'd be sheltering with her husband and two kids, ages 20 and 16, and knew it would be easier to live there. And it meant she could care for her mother, who has dementia.
After moving in, McPhee, a novelist and professor, decided to raise chicks and plant a vegetable garden. "I under­stood that this pandemic was going to go on for a long time," she says. "I wanted to create my own food source."
McPhee remembered hearing that planting a garden had buoyed her grandmother during the 1918 flu pandemic. That survivalist instinct ran deep. "When my kids were little, we played a car game called 'What would you bring to the zombie apocalypse?' And I always said, 'seeds,' " McPhee says. When the shutdowns started, "I knew we weren't quite experiencing an apocalypse, but I could sense that it was really bad."
McPhee went all-in, planting arugula, radicchio, kale, garlic, beets, radishes, tomatoes, zucchini, beans, eggplant, peas, peppers, blueberries, and more. "I started with onions, and they came up right away. It was thrilling," she says.
The harvest provided the family, as well as friends and neighbors, with a steady supply of produce well into the fall.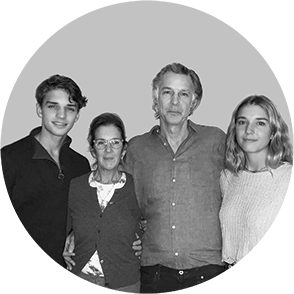 I wanted my own food source.
Martha McPhee (SECOND FROM LEFT), a novelist and professor in New Jersey, and her family
Taking care of the chickens proved to be a stress reliever—even the dirty work. McPhee's mother spent hours watching the chicks, and her daughter named them and cleaned the coop. "I can't tell you how exciting it was when the first egg came in July," McPhee says. The flock now lays about nine colorful eggs each day.
The family's meals are now fresh and varied, and they never want for eggs. In addition to McPhee's quiches, her son has perfected his hollandaise sauce with egg yolks, her daughter learned to make angel food cake with egg whites, and they're all enjoying noodles made with fresh eggs.
Another bonus: McPhee is now more aware of the season­ality of produce. "We're so used to going to the store and getting what­ever we want whenever we want," she says. But now she delights in what's new and ripe.
CR's Advice
Supermarket shortages, hikes in food prices, and having to stay home have led many consumers to find alternatives to going to the supermarket. Some rely on deliveries. In CR's survey, the percentage of people who said they used grocery delivery or pick-up services went from 27 percent pre-pandemic to 49 percent. Like McPhee, 15 percent of Americans said they grew fruits and vegetables more, too. If you don't have the inclination or the space for a garden, you can take advantage of other people's farms.
Support farms. Farmers markets have always been a grocery store alternative, and because they're often outside may be safer. Or you can join a CSA (community supported agriculture) program. You pay the farmer at the start of the season and receive a share of the harvest weekly or biweekly.
Consider mail order. Companies such as D'Artagnan Foods, Porter Road, and White Oak Pastures sell meat and poultry from animals they've sustainably raised themselves or partner with small farmers.
Grow your own. Plant vege­tables in containers on a patio, deck, balcony, or windowsill. Research suggests that garden­ing increases mental well-being, and that kids who eat homegrown produce tend to consume more fruits and vegetables per day.
Editor's Note: This article also appeared in the February 2021 issue of Consumer Reports magazine.