When you shop through retailer links on our site, we may earn affiliate commissions. 100% of the fees we collect are used to support our nonprofit mission.
Learn more.
As Diane Harris set out to vote in the presidential primary in Arizona on March 22, she had no idea of the grueling odyssey she was in for. She and a friend ended up driving to five polling sites. At each one they encountered long lines and no parking available within a half-mile of the door. Harris, 62, a retired paralegal who was using a cane that day, and her friend Helen, who was in a wheelchair, spent almost 3 hours traversing the Phoenix area until they arrived at a polling site 20 miles from home, where the wait was only 20 minutes. "It was all so frustrating," Harris recalls.
More Participation
Considering the importance of elections in the U.S., the country sure does make voting a challenge. National elections are held on a Tuesday in November, a workday for most people. In 11 states and Washington, D.C., you can register to vote on Election Day. (Maryland allows same-day voter registration only for early voting.) Other states have registration deadlines of eight to 30 days before an election.
Some states have expanded voting by mail, online registration, absentee voting, and similar practices. But others have become more restrictive: 33 states request or require voters to show identification at the polls, and 17 of those states request or require a photo ID. And voters in places like Maricopa County in Arizona, where budget cutbacks have significantly reduced the number of polling spots, can find crowded conditions more reminiscent of a Depression-era breadline than a polling site in the Internet Age.
Why, then, when everything from buying airline tickets to filing federal income taxes is routinely done online, is voting for most Americans still such a manual, show-up-in-person, paper-ballot-based process?
We're in the midst of a dramatic political year, one that's raising questions about elections in the U.S., including how parties assign delegates and the rules of primaries.
Leaders are also questioning the very act of how we vote. At the SXSW Interactive Festival in Austin, Texas, in March, President Barack Obama questioned why voting technology hadn't advanced in step with Internet-based commerce.
"We're the only advanced democracy in the world that makes it harder for people to vote," he said, adding, "how do we redesign our systems so that we don't have 50 percent or 55 percent voter participation on presidential elections, and during off-year congressional elections, you've got 39 or 40 percent voting."
Both Democrats and Republicans have experimented with online voting. In the 2000 presidential primary, the Arizona Democratic Party offered online voting to registered Democrats. And in the Utah GOP's presidential caucus this year, registered Republicans were able to vote online.
Consumer Reports is a nonpartisan organization that doesn't endorse any candidate or party, ​but it does believe the voting process should be simple, safe, and secure. But are American voters ready for online voting? Are they even interested? To find out, the Consumer Reports National Research Center surveyed 3,649 voting-age U.S. citizens in March 2016 (PDF).
The results showed that a considerable number of respondents were receptive to the idea. Thirty-nine percent of likely voters said they would choose the option to vote by computer, tablet, or smartphone in the 2016 election rather than vote by traditional methods. The Internet option was especially popular with ​people under 30.
Diane Harris doesn't fall into that demographic, but after her ordeal, she says she'd like to vote online, too. "I hope [it] becomes the norm," she says. "We do our banking online, pay our bills online. It just seems like we should be able to."
But is Internet voting really a pragmatic solution to low turnout and other electoral concerns? Or is it on the order of a nuclear-powered can opener—a technological step forward but perhaps more trouble than it's worth? Our survey found that there were significant concerns among respondents about the privacy and security of an online voting system.
And even though the survey found that many people would choose to vote online, it also suggests that the option might increase the number of likely voters by only 7 percentage points. That may seem like a small bump, but the popular vote in several modern presidential contests has been close. For example, in Bush vs. Kerry in 2004 and Obama vs. Romney in 2012, the margins were 2.47 and 3.86 percent, respectively.
A Toe in the Online Waters
Some forms of Internet voting already exist in the U.S. All 50 states and D.C. send ballots to overseas voters electronically, and 32 states and D.C. allow electronic ballot returns via fax, email, or the Web from some voters, although those voters may have to waive their right to a secret ballot. In 2012 Alaska was the first state to establish an electronic voting system for all absentee voters, whether overseas or not. Alabama recently unveiled a system that allows residents who are overseas at election time to vote on a special website.
Alabama's secretary of state, John Merrill, a Republican, says the program ensures that those in the armed forces will have their voices heard without having to rely on the postal service to return their ballots on time.
"I'm enthusiastic about what we're doing about our military men and women," Merrill says. "We need to take care of them and make sure their vote is counted."
Everyone Counts, the company that created the software used in Alabama, is one of a number of firms marketing Internet-based voting systems. Lori Steele, the company's founder and CEO, says demand is about to take off. "All the people saying why can't I vote on my tablet or mobile phone actually can," she says. "And governments are tired of not being able to give it to them."
Steele argues that in addition to making voting easier, her company's system offers multiple advantages over traditional methods. For one thing, she says, "security is exponentially increased over any other kind of voting because each ballot, as well as the electronic ballot box, has military-grade encryption."
She also claims that Web voting is more accurate—no more hanging chads or marks on a paper ballot that may be difficult to interpret. Web systems can also save money and can be upgraded or reconfigured as laws change, Steele says.
Online voting is already further along elsewhere in the world; about a dozen governments have explored the technology. The boldest adopter is the Baltic nation of Estonia, which began offering voters the option of casting their ballots from a website in 2005. With a population of about 1 million, Estonia provides a case study of how such a system might work. Voters use their national identity smart card and PIN with a card reader when they log in to the website to vote. Internet voting is quite popular, with almost 25 percent of eligible voters going digital.
In addition to letting its citizens vote in their pajamas, Estonia has changed other fundamental mechanics of elections. For example, people voting online can change their vote multiple times, right up to when the polls close.
Hacking the Vote
Whatever the political system, efforts to introduce Internet voting face the same overriding issue: how to make sure ballots aren't subject to manipulation or fraud by hackers or compromised by a system failure.
Pamela Smith, president of Verified Voting, a nonpartisan and nonprofit advocacy group in Carlsbad, Calif., that works for improvements in the management of elections, argues that the Web isn't necessarily the safest voting booth.
"Let's face it; the number of cyberattacks is increasing, not decreasing," Smith says, citing the Pentagon and Sony hacks, to name just two. "Part of it is the Internet was not really designed with fundamental security in mind. It was designed as an open communications platform."
Smith says that online banks and stores are plagued by enough fraud to give anyone pause about adopting Internet voting. (Worldwide, cybercrime costs about $445 billion annually, according to the Center for Strategic & International Studies.) "They're willing to do it because they're still making enough money," she says. "It's just a cost of doing business."
Moreover, with online banking and commerce, if something goes awry either through malfeasance or malfunction, it can generally be corrected, given that there's an identifiable account that can be scrutinized. By contrast, voting depends on the anonymity of the ballot. No outside party should ever be able to check to see whether your vote was properly recorded.
"When it comes to elections, the question is how many votes you could afford to lose to fraud or malfunction and still call it a legitimate election," Smith says. "You need something a lot closer to a zero tolerance policy."
Steele contends that's what her company's software provides. "We've been busy building a good solution," she says. "You can't be in this decade and pretend that technology hasn't advanced."
In addition to the progression of encryption, Steele says, there are logistics and processes to deter any hacker bent on, say, stealing a national election in the U.S. Because there are about 8,200 local election jurisdictions in the U.S., "it's not one election, it's 8,200 elections," she says. "You can't take down a country."
But Aviel Rubin, a professor of computer science at Johns Hopkins University, says hackers could try to steal a presidential election by manipulating the tally in a few key districts. And the cyberattacks wouldn't need to be that sophisticated. Rubin says all the attackers would need to do is identify counties in a battleground state where the candidates they oppose might have strong support. Using a technique known as a distributed denial of service, they could flood servers with Internet requests to impede access to them.
"What I would do is drop their Internet service by maybe 80 percent, so that some small fraction of voters would give up in frustration," Rubin says. "Some people are just not going to bother."
And some computer-science experts say that experience has shown that voting online is a dangerous practice. A case in point: In 2010 the District of Columbia planned to introduce online balloting for overseas absentee voters. In the run-up to the election, officials invited people to try to hack the system by what's known as "penetration testing." The results were disquieting. It took a team from the University of Michigan only 48 hours to seize almost complete control of the election server and successfully change every vote and reveal the identity and vote of almost every voter. And as it was rummaging around the server, the team observed attack traffic from such places as Iran and China.
Can any of those vulnerabilities be readily fixed? Not in the foreseeable future, according to Rubin and other computer experts. "I'd love to be able to vote on my phone, but I don't see how it could be done securely," he says. "It would mean completely changing systems on our devices and how our networks are configured."
If anything, Rubin adds, the potential vulnerabilities of the Internet are looming larger than ever before. "I think it's much more likely that in the future we'll have to stop online banking," he says, "than it is that we'll have online voting."
Steele dismisses the naysayers. "We know the bad guys work hard all the time to make it harder to stay secure," she says. "That's why we work hard all the time."
Merrill seconds that sentiment, insisting that any qualms about security are exaggerated. "We have some people who are opposed to anything until it's 100 percent secure," he says. "If that were the case, we wouldn't have a lot of the inventions we have today."
Surprisingly, though, Merrill has no desire to see online voting expanded to the entire electorate. To him, the real danger isn't security; it's that it might make the process so easy it might be taken for granted. "I'm not supportive of electronic voting for just anybody, just because somebody's too sorry to get up and cast a ballot," he says. "I think you should have to show a little initiative."
Would Internet Voting Make You More Likely to Vote?
We commissioned a survey to find out how the option to vote online would affect the 2016 presidential election if the technology were widely available. We asked 3,649 U.S. citizens of voting age whether they would be more likely to vote if they could cast their ballot via the Internet from wherever they choose.
The survey results suggest that Internet voting would increase the number of likely voters by 7 percentage points. That may not seem like a lot, but eight presidential elections since 1916 have had popular-vote margins under 5 percent. Our survey didn't collect enough responses at
 a state level to determine how these new voters might affect the electoral map.
Our survey also found that women, younger adults, Hispanics, and Independents had a higher representation within the group of new potential voters than in the overall voting-age population. (You can read the full results of the survey as a PDF here.)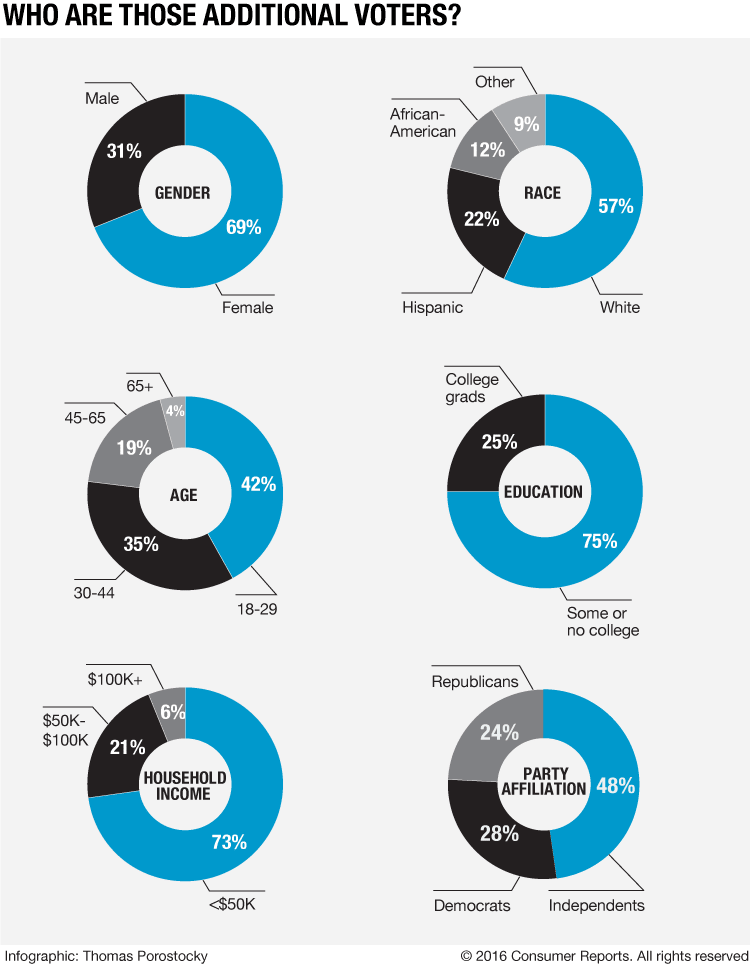 Editor's Note: This article also appeared in the July 2016 issue of Consumer Reports magazine.