Uh oh, I'm out of milk.
"Alexa . . . "
Shoot, I'm at work. I can't tell my Amazon Echo to order more.
The Alexa-enabled headphones from ONvocal offer a solution to what is, admittedly, a First World problem. Just tap a button on the headset and, after the tone, tell the Alexa digital assistant what you want or need, whether you're near your Echo or not.
Much like the Echo, ONvocal OV headphones let you use voice commands to cue up your favorite tunes, turn off your lights, or add that oh-so-important milk to your Amazon Fresh order.
But all that convenience isn't cheap: $400, to be exact. And that seems pretty steep considering an actual Echo costs just $180 and Consumer Reports' top-rated wireless noise-canceling headphones, the Bose QuietControl 30, will run you $300.
I'll leave the evaluation of the headphones' sound quality to our testers, but here's what I learned about the ONvocal OV's Alexa features.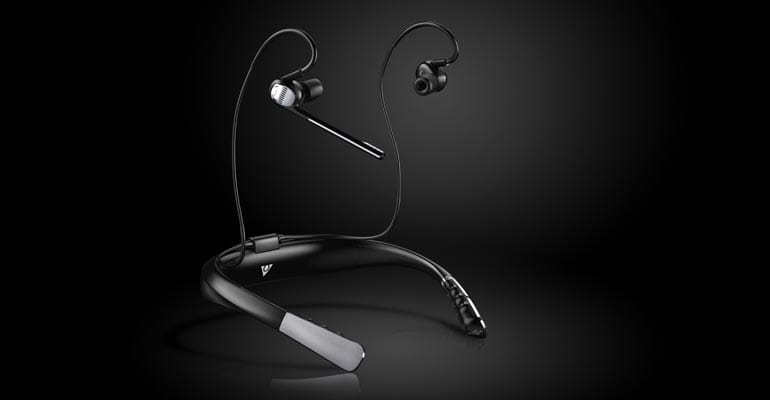 How the Headphones Work
There's a bit of a learning curve to the hardware, which was designed before ONvocal inked its deal with Amazon. The headphones' collar houses processors, batteries, and the device's controls. The earbuds are attached with a rubbery cord.
Affixed to the right earbud is a small boom-style microphone—about 2 inches long. It reminds me of the goofy headset I use with my desk phone at work. The OV didn't have any problems fielding my commands—the mic does a pretty good job at picking up your voice.
There are three tiny buttons on each end of the collar. On the left are the power/Alexa button and on/off buttons for ambient noise and your voice. The headphones don't offer noise-canceling software, but the isolating design eliminates much of the sound from the outside world. Those last two buttons allow you to filter some of that sound back into your ears via microphone.

And that's really useful. While out walking and listening to music on Consumer Reports' campus, I almost was hit by a golf cart I didn't hear coming. Using the OV mobile app, you can choose how much ambient noise you want to hear. The same goes for your own voice. You can turn off the feature so that you don't hear your own breathing through the headphones when you're listening to music, or you can use the app to turn the music down and your voice up when you're taking a call.
The right side of the collar holds traditional controls for playing and pausing music tracks and adjusting the volume.
There's also a button tucked away on the right earbud that activates Google Voice or Apple's Siri, depending on the make of your smartphone. This is actually kind of annoying, because every time I tried to push the earbud into my ear, I accidentally set off Siri, forcing me to pull out my phone and shut her off.
Given ONvocal's focus on Amazon's Alexa and services, it seems odd that this button didn't activate those features.
Stuart Nixdorff, ONvocal's CEO, says those issues stem from the fact the headphones were designed before the Alexa deal, which forced company engineers to find a way to incorporate the technology into the existing hardware, rather than create all new hardware to accommodate Alexa. Forthcoming software updates will allow users to program buttons as they see fit, he adds.
So How Does Alexa Fit In?
To activate Alexa, there's no need to summon her by name; you just tap the power button. When you hear a tone, tell her what you want her to do. After a brief delay, you'll hear another tone and Alexa will respond.
It took me a few tries to get the hang of this. Sometimes when I pressed the button, Alexa didn't respond. But once I got the basics down, I could do a lot of the same things I do with my Echo. I asked Alexa to play me the latest news, tell me the weather, shuffle and play my Amazon Music and, of course, add milk to my Amazon Fresh order.
I even managed to use the digital assistant to access the Consumer Reports Alexa skill and ask it what the top-rated coffee maker is, something that could come in handy if you're wearing your ONvocal OV headphones when you're out shopping.
What can't you do? Right now, you can't use Alexa to make a voice call, though you can get around that by using Siri or Google Voice. The voice commands for popular music apps such as Spotify or Google Music are also unavailable. To listen to music from those services, according to Nixdorff, you have to cue it up through the respective app on your smartphone, at least for the time being.
From a technical standpoint, these headphones are capable of doing those things right now, he explains, but the company is still going back and forth with Amazon to get the features activated. As capabilities are added, the model will get software updates.
Though it's comforting to know that a $400 pair of headphones won't be obsolete in a few months, it does make the OV feel more like a work in progress than a finished product.
Are They Worth It?
Did I mention the OV headphones cost $400? That sets the bar pretty high for me.
Nixdorff attributes the above-average price to the multiple processors and microphones needed for the headphones to perform all of their various functions. He adds that the company will introduce less expensive models for the end-of-year holidays, including one that will cost $100 to $130. Those models won't have the same fancy audio controls, but they will have Alexa connectivity.
I liked being able to access Alexa away from home. Honestly, I used the ONvocal headphones more than my actual Echo while I was putting the OV through the paces. And it was fun to play with the audio controls. When I went walking in noisy areas, it was nice to be able to decide how much ambient noise I wanted to hear, especially when there was traffic nearby.
But those are expensive perks, and this feels like an incomplete product. At $100—or even $200—something like it might make for a good gift, even if it had less sophisticated audio features. But $400 is really pushing it.
If you're a heavy user of your Echo and voice commands, you might be happy to shell out for the OV. Otherwise, wait for the less expensive models.
Consumer Reports is an independent, non-profit organization dedicated to helping consumers. We make it easy to buy the right product from a variety of retailers. Clicking a retailer link will take you to that retailer's website to shop. When you shop through retailer links on our site, we may earn an affiliate commission – 100% of the fees we collect are used to support our mission.
Learn more.
Our service is unbiased: retailers can't influence placement. All prices are subject to change.