When you shop through retailer links on our site, we may earn affiliate commissions. 100% of the fees we collect are used to support our nonprofit mission.
Learn more.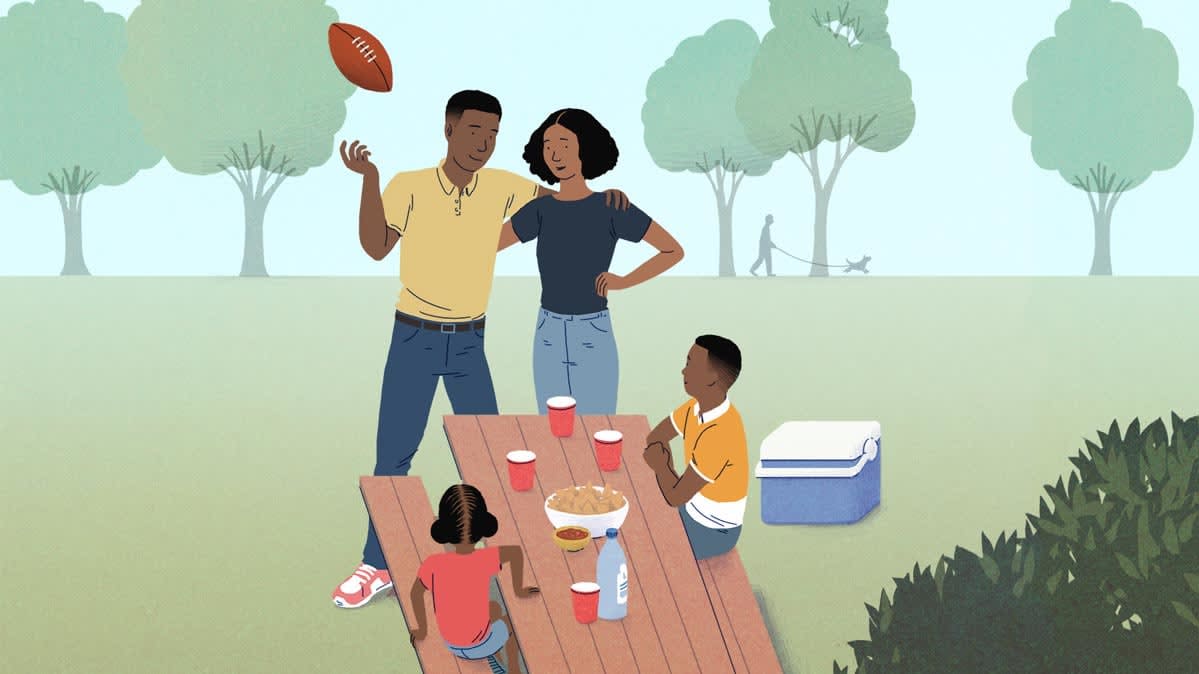 Illustration: Michael Kirkham
Pulling off a family gathering at a park or campground is easier than you might think. All you really need is a portable grill for the cooking, and some wireless speakers for music. The speakers we recommend below should play for 8 to 24 hours between charges. (You can recharge most speakers using your car's USB port or an adapter in the cigarette lighter.)
If you need a power source, the DeWalt DXGNI2200 Recreational Generator ($650, below) was exceptionally quiet in our tests, runs 4 to 10 hours, and puts out 1,700 watts—plenty for a sound bar, movie projector, laptop, fan, and even a few phone chargers.
Want to keep drinks ice-cold? The Zojirushi 16-ounce vacuum insulated mug ($28) got a top score for temperature retention in our tests.
To protect against insects and ticks, consider Ben's Tick & Insect Repellent Wipes ($6, below) or Total Home Woodland Scent Insect Repellent ($6.50, below) sold at CVS. Both did very well in our testing.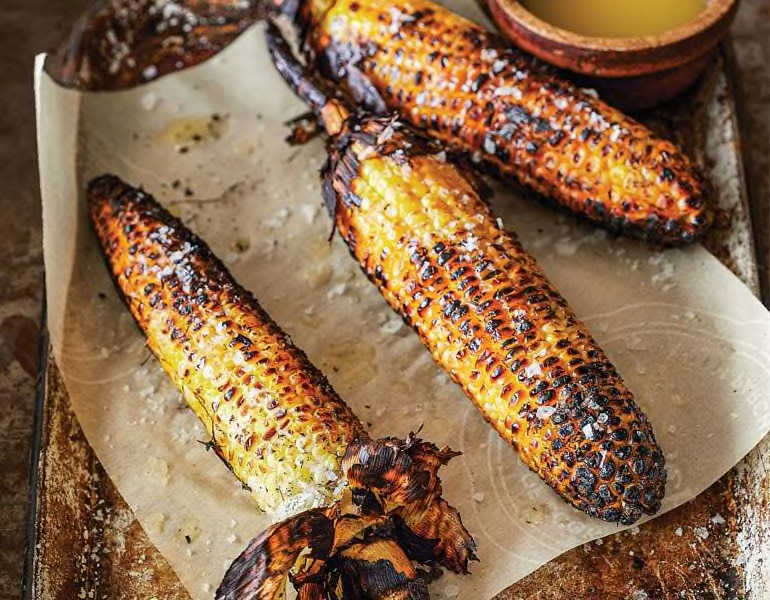 The Food
American Fare With an Italian Flair menu:
• Classic burgers with seeded potato buns, cheese, and condiments
• Emilia-Romagna "Elote" grilled corn with garlic, basil, and cheese
• Homemade brownies
This standard menu has a delightful twist: grilled corn with garlic, basil, and cheese—a recipe adapted for park-friendly grilling from "How to Grill Vegetables," by the grill master Steven Raichlen (Workman Publishing, 2021). "You may hear some popcornlike crackling" as the corn cooks on the grill, he says.
Steven Raichlen's Emilia-Romagna "Elote" Grilled Corn
Ingredients
Vegetable oil for oiling the grill grate
4 ears of sweet corn in the husk
4 tablespoons (½ stick) unsalted butter
1 clove garlic, peeled and minced
4 basil leaves, cut into thin slivers
Coarse salt (sea or kosher) and freshly ground black pepper
¾ cup freshly and finely grated Parmigiano-Reggiano or Pecorino Romano cheese

1. Set up your grill for direct grilling and heat to high. Brush or scrape the grill grate clean and oil it well.

2. Meanwhile, husk the corn: Cut the tapered ends off and strip back the husk as though you were peeling a banana. Strip them all the way back so you expose the entire ear, including the last inch at the bottom. Tie the husks back with butcher's string—the idea is to make a handle for eating the corn. Alternatively, use one or two strips of husk to tie off the handle. Pull off and discard any silk (the fine filaments between the husk and the ear). Skip this step if your corn comes already husked.

3. Melt the butter in a small saucepan. Stir in the garlic and basil, and cook over medium-high heat until fragrant, but not brown, about 2 minutes.

4. Lightly brush the corn on all sides with the garlic-basil butter and season with salt and pepper. Arrange the ears on the grate, sliding the foil grill shield under the tied-back husks to keep them from burning. Grill the corn until the kernels are darkly browned, rotating the ears every minute or so to ensure the ears cook evenly. You may hear some popcorn-like crackling—cool! Baste the corn with more garlic-basil butter as it grills. Total cooking time will be 8 to 12 minutes.

5. Transfer the corn to a platter or plates and brush one final time with the garlic-basil butter. Sprinkle the corn on all sides with the grated cheese and dig in.
The Fun
The speaker below present two very different approaches to making your music mobile.
The Bose SoundLink Color II is a 1.2-pound, toss-in-your-bag accessory with powerful sonics that belie its modest size and moderate price. The controls are easy to use, and it pairs quickly with a phone through Bluetooth.
The Braven XXL-2, which resembles the classic beatboxes of the 1980s, is a tailgating-worthy monster machine with ample power for a sizable socially distanced party. It's a hefty 17 pounds, with much of the weight coming from a beefy battery that provides up to 18 hours of music and can even power other devices. The XXL-2 pairs strong bass and volume aplenty (a must in the great outdoors) with a refined midrange and extended highs. It will do equal justice to Motown and Mozart, and the built-in bottle opener is a handy touch.
The Flame
A portable grill makes it easy to cook hot food for a day at the park, whether you're going for simple burgers, or the whole menu we've highlighted above.
Portable Grill
Price: $80 to $420
Size: Small (18 or fewer burgers)
Temperature range: 150° F to 500° F
Best for grilling: Anything you'd cook on a regular gas grill.
Pros: Light and compact, many are built to be used on a tabletop. No table? Choose one with tall legs, like the model below, so you don't have to cook on the ground. (Check our portable grill ratings for more options.)
Con: Many run on 1-pound propane cylinders, which last only 1½ to 2 hours.
Grilling tip: Take a few extra propane cylinders, or choose a model like the one here, which takes a 20-pound tank. Telling people that they can't have a burger because you've run out of propane before everyone's been fed is a sure way to spoil a cookout.
Editor's Note: This article also appeared in the June 2021 issue of Consumer Reports magazine.