Considering an Outdoor Rug? Here's What Makes a Good One
Experts weigh in on how to choose the right materials for many types of outdoor spaces As the weather warms up, and after a year's worth of pandemic precautions, many people have realized just how valuable any extra stretch of outdoor square footage can be. If you're looking to up the ante on your alfresco setup, there's a handful of additions that can refresh the area, but few bring a space together quite like an outdoor rug.
Your typical array of outdoor furniture and decor like sofas, coffee tables, and patio umbrellas can last for many years, but rugs are a different story, and that's why it's important to choose wisely. Their useful life can be particularly short—around three to seven years, says Lisa Wagner, a National Institute of Rug Cleaners (NIRC) certified rug specialist and creator of RugChick.com. For people who live in humid or subtropical climates where mold and mildew tend to wreak more havoc, their outdoor rug's life would more likely be on the shorter end of that range.
To help you with your search, we turned to the pros to find out what makes a quality outdoor rug and how to maintain one. (Spoiler alert, you might want to skip the jute.)
Beyond considering a rug's color and size, think about the material and finish of the surface it will live on. It can have a major impact on both the longevity of the rug as well the area where it's placed. Here's what to consider based on common outdoor areas:
Concrete: Unless it's sealed, concrete can be porous and could present challenges for some outdoor rugs, Wagner says. If a rug doesn't allow moisture to evaporate, it can lead to mildew, so opt for a breathable one if you can.
Grass: Similar to concrete, topping a grass surface with a rug is essentially trapping moisture in place. So even if the rug is breathable, it's still sitting on wet ground, which will gradually affect its integrity by inducing the growth of mold and mildew on its backing. Consider putting down temporary flooring, such as click-lock tiles, which are usually made of plastic or a wood composite. That can serve as a base and help the rug dry after it gets wet. Or, periodically hang the rug and allow it to thoroughly dry in the sun.
Steel: Balconies and decks with metal flooring are typically prevalent in urban or coastal settings, and while they may seem more durable, they can still fall prey to rust and corrosion, especially in humid climates and rainy weather. Click-lock tiles installed underneath the area covered by the rug can be a useful workaround here.
Tile: If your outdoor space is covered in either ceramic or porcelain tile, moisture trapped by a rug can be potentially damaging to the grout, especially if it is rubber-backed. Be sure that the grout is well sealed to avoid the growth of mold and mildew.
Wood stained deck: Any rug, natural or synthetic, can impact the surface of a stained deck, says Rico de Paz, CR's test engineer for paints and stains. After it rains, the rug will inevitably remain wet for some time. That would keep the deck area under the rug damp longer than the rest of the deck, encouraging mildew growth in the covered area. "A natural fiber rug will absorb water, while synthetics like polyester will not, perhaps making the mildew problem worse," de Paz says, adding that, while mildew is a nuisance, it can be removed with a bleach solution.
Pro tip: Because sun exposure can cause fading or discoloration, especially to areas left uncovered, de Paz suggests applying a stain specifically engineered to resist color change. Also, keep an eye out for a mildew-resistant finish. (Our guide to wood stains has you covered on that.)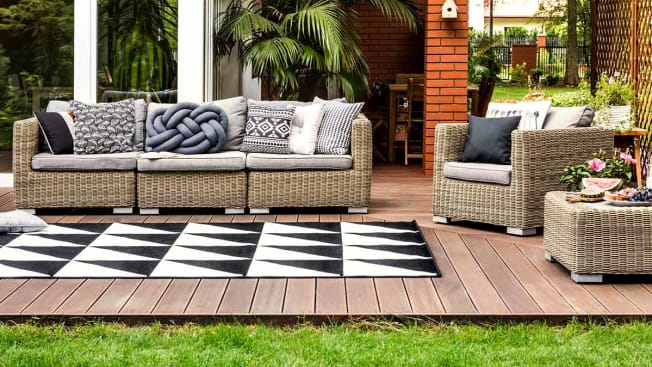 According to Wagner, outdoor rugs should be considered more or less disposable because weather degrades them over time. The average cost of an 8x10 outdoor rug (which can fit a modest setup including a sofa and a coffee table) will generally start around an average of $125 and could cost more than $1,000, depending on its style and construction.
Traditional hand-knotted textiles often cost exponentially more because making them is labor-intensive. Synthetic fibers are petroleum-based and inexpensive to make, so they shouldn't be as expensive to buy, Wagner says.
"Regular maintenance and knowing how to protect against damage and deterioration can extend the life of those rugs, but they are made to be used regularly, and to be replaced regularly," she says.
Where and how you intend to use the rug will dictate the best size for you. If you want one as a base for your outdoor furniture, make sure it's large enough to go under both the seating and a table. The same goes for dining setups. As a rule of thumb, leave at least 6 inches of rug to spare on all sides of your outdoor furniture so it's safer and easier to move on and around it. You wouldn't want someone to trip if their chair gets caught on the edge when sliding it to sit at the table.
If you're looking for a smaller option, you can choose a rug that frames the coffee table and holds at least the two front legs of the sofa. For a narrow balcony, opt for a runner that extends down the length of the area for a total cover-up.
What's It Made of and How Was It Made?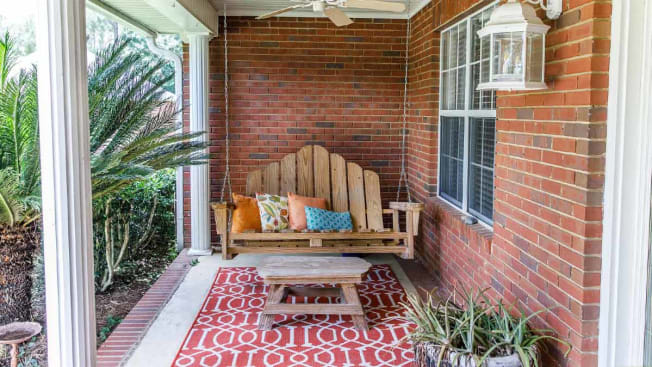 From "fade-resistant" to "weatherproof," outdoor rugs come with a host of desirable characteristics. So which ones are worth paying attention to and which tags are simply marketing terms?
"No rug is weatherproof, but a rug can use UV-treated polypropylene yarns to resist fading," says Carmen Barbee, merchandise buyer for Ballard Designs and a board member of the International Textile Alliance.
Below, you'll find out more about the most common outdoor rug materials.
Synthetics
For outdoors, Barbee recommends polypropylene, also called olefin. It's composed of plastic and commonly used in the production of sportswear, rope, and even straws. It's known for breathability and moisture wicking. Polypropylene rugs are also fade-resistant and stain-resistant, which means they can survive a significant amount of spills, splashes, and even Mother Nature.
Alternate synthetics include nylon, acrylic, and polyester, but their durability can vary. In general, though, these materials tend to be more resilient than 100 percent natural fibers. However, synthetic rugs often contain natural fibers, such as cotton or jute, which can be a home to fungi and bacteria. (You'd be able to identify this if you smell strong odors or see dark shadows on the underside of the rug.) So, in theory, synthetics can be mildew or water-resistant on the outside, but the inner layers may not be.
All-Natural Fibers
It may be tempting to outfit an outdoor space with a natural fiber rug but it can often do more damage than good. Plant-based fibers such as sisal, jute, and seagrass are often depicted in catalogs and ads as outdoor staples. Seagrass is the softest of the bunch; sisal and jute are typically used for a braided or open weave style to promote airflow and evaporation, Wagner says. But they are often created with either outer fabric borders, an added glue-based backing, or a rubber backing glued on, which will all capture and hold moisture. If you have your mind set on buying a natural fiber rug, remember to regularly dry it out by hanging it in the sun to promote air circulation.
Pro tip: There's a difference between "sisal" and "sisal-style weave," Wagner says. Sisal is a natural fiber, but sisal-style can be made from wool or synthetics.
A sisal weave, which is often an open weave such as a braid or a basket weave style, can allow for airflow, Wagner says. In a synthetic fiber, this can be a good outdoor choice.
Where to Shop for Outdoor Rugs
Here's a non-exhaustive list of brands and retailers where you can find outdoor rugs in a range of styles and prices.
Amazon: This mega-retailer's rug selection is truly comprehensive. Aside from the basics, you can filter your search by material, pattern, pile height, and even construction style to find the option that's best for your setup. Keep an eye out for return policies, including restocking fees, as they can differ by merchant.
Home Depot: Home Depot has a solid selection of outdoor rugs, and you have the option to shop in-store if you prefer it. The retailer carries a variety of brands, and its website allows users to sort by price buckets, materials, weave styles, and pile height. It's worth noting that certain rugs may not have a free delivery option and others will require in-store pickup.
RugsUSA: This rug retailer aims to simplify the buying process, which is instantly apparent when you visit its website. RugsUSA has an extensive selection, free shipping, and a 30-day return policy. With a convenient browsing layout, it's easy to narrow your search. An 8x10 will average around $300, but with frequent flash sales, you can snag them at discount prices starting from $120.
Target: Target's rug collection showcases both style and affordability with a wide array of picks that can cater to decks, patios, and even oddly shaped balconies. You can shop in-store, or explore Target's website, filtering by style, color, or shape, and snag a landing pad for as little as $20. Larger pieces, measuring around an 8x10, will average around $150.
Wayfair: This filter-heavy shopping platform has some major pluses. You can choose based on construction type and technique, color combinations, general style, material, and pile height. Users can even set a cap on rug width or length. Since the retailer's selection can be overwhelming, use the filters to narrow down your search.
West Elm: West Elm has you covered on contemporary style with a selection of outdoor rugs that are colorful and patterned yet primed for the elements. This retailer's collection is split into rugs made from synthetics or from recycled materials that can also be used indoors. An 8x10 rug made from recycled plastics can be pricey, around $600, while smaller versions, like a 4x6, will cost anywhere from $100 to $200. All items, with the exception of those that are made-to-order, are returnable.
When you shop through retailer links on our site, we may earn affiliate commissions. 100% of the fees we collect are used to support our nonprofit mission. Learn more.