When you shop through retailer links on our site, we may earn affiliate commissions. 100% of the fees we collect are used to support our nonprofit mission.
Learn more.
More than half of the largest 25 fast food and fast casual restaurant chains in the U.S. now have policies in place that either limit or eliminate the use of antibiotics in the production of the meat and/or poultry they serve, according to a new report out today.
"Chain Reaction III: How Top Restaurants Rate on Reducing Use of Antibiotics in Their Meat Supply" (PDF) was produced by Friends of the Earth, Natural Resources Defense Council, Center for Food Safety, Food Animal Concerns Trust, U.S. Public Interest Research Group, and Consumers Union, the policy and mobilization arm of Consumer Reports.
"Fast food restaurants are major purchasers of meat and poultry," says Jean Halloran, director of Food Policy Initiatives at Consumers Union. "When they switch to meat and poultry raised without antibiotics, it can affect the entire supply chain."
The 14 restaurants on this year's list that have made commitments to reduce antibiotic use represent two-thirds of all fast food industry revenue.
Among the restaurants that made improvements this year, changes in chicken policies were responsible for all of the progress. The availability of "no-antibiotic" beef and pork at fast food chains is still very limited, according to the report.
More on Antibiotic Resistance
For decades, antibiotics have been given to healthy food animals to help prevent the diseases they might contract in crowded, unsanitary factory conditions. This practice significantly contributes to antibiotic resistance, in which the bacteria that can cause illness don't respond to drugs, rendering them ineffective.
Nearly two-thirds of consumers report being extremely or very concerned that giving antibiotics to animals raised for food can create new bacteria that cause illnesses that antibiotics can't cure, according to a 2016 CR nationally representative survey of more than 1,000 people.
"In the U.S., more than 70 percent of antibiotics that are important for human medicine are sold for use on animals, not people; and most of those are routinely given to animals that aren't sick," says Lena Brook, M.E.S., a food policy advocate at the Natural Resources Defense Council, one of the co-authors of the report. "When you use antibiotics in this routine way, resistance happens, and that resistant bacteria can then escape from farms and find their way into communities."
"Consumers have enormous influence over the behavior of companies," says Brad Spellberg, M.D., chief medical officer at the Los Angeles County and University of Southern California Medical Center. "If consumers demand 'no-antibiotic' meat, this will lead to reduced antibiotic usage in agricultural settings, which will slow the spread of antibiotic resistance."
How the Restaurants Scored
The six consumer, environmental, and health organizations mentioned above have produced the Chain Reaction Report as well as the accompanying Scorecard on Antibiotic Policies and Practices (see below) annually since 2015. The goal of the report is to encourage companies to adopt good policies that prohibit routine antibiotic use in healthy animals across all the meats they serve.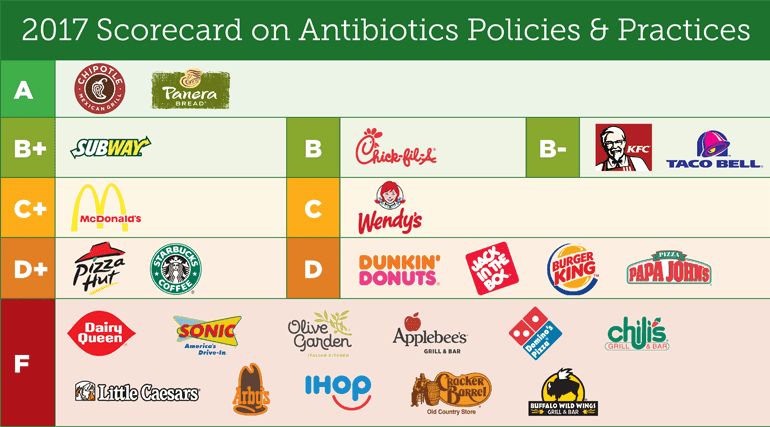 The 25 companies were sent a survey, and their responses—along with public statements by the companies either in the press or on their websites—were used to calculate the grade on the scorecard.
Several factors are part of the grade. Forty percent of the score is based on a company's antibiotic use policy and having a timeline for implementing it. Implementation accounts for 32 percent of the grade. The remaining 28 percent of the score is based on transparency (using outside inspectors to verify that they're using and adhering to their policy and keeping consumers regularly apprised of progress) and responding to the survey, which 16 of the 25 companies did this year.
The number of fast food and casual chains that received passing grades this year was triple the number in 2015, the first year of the report.
Panera Bread and Chipotle lead the pack with A grades, for the third year in a row. Nearly all their meat and poultry are raised without any antibiotics. Subway upped last year's B to a B+ after converting all chicken it serves to "no antibiotic." It plans to do the same for turkey by 2019 and beef and pork by 2025.
Chick-fil-A, McDonald's, Taco Bell, and Wendy's earned B's and C's for their strong antibiotic policies in chicken. McDonald's recently announced that it wouldn't serve chicken raised with antibiotics most valuable to human medicine in restaurants worldwide by 2027. (It currently does not sell chicken raised on antibiotics important in human medicine in the U.S.)
KFC notably upped last year's score from an F to a B- after committing to only serve chicken raised without medically important antibiotics by the end of 2018.
Some smaller chains not represented on the scorecard are also making progress. For example, all of the chicken served at Dickey's BBQ is no-antibiotic, as is all of the beef, pork, and poultry served at Cheesecake Factory.
Burger King, Dunkin' Donuts, Jack in the Box, and Starbucks were upgraded from last year's F to a D, joining the likes of Papa Johns and Pizza Hut. These chains received a "D" grade for having limited policies on antibiotics, or for not fully implementing them yet.
Applebee's, Arby's, Buffalo Wild Wings, Chili's, Cracker Barrel, Dairy Queen, Domino's Pizza, IHOP, Little Caesars, Olive Garden, and Sonic earned "F" grades for having absolutely no antibiotics policies in place at all.
We reached out to the National Restaurant Association for comment and will update this story with any response.
Charging Ahead on Chicken
Techniques for raising chickens without antibiotics are better developed than those for beef or pork, says Halloran, and the chicken industry has made great strides toward eliminating the routine use of the drugs. According to the report, half of the chicken in the U.S. today is either produced under an antibiotics stewardship program or will be before 2020.
Panera Bread and Chipotle are the only chains to limit antibiotic in beef and pork as well as chicken. Subway is the only other company that has made a public commitment to source "no antibiotic" beef and pork. McDonald's recently said it plans to reduce antibiotics in beef and pork worldwide but didn't provide details or set a timeline for achieving this goal.
"We know that when big buyers like the McDonald's, Subways, and even the KFCs of the world step up, it sends a really clear message to producers that not only is the demand for responsibly producing meat and poultry there," says Brook, "but also that the changes are meaningful to health."
If being able to more easily purchase meat and poultry raised without antibiotics is important to you, Halloran has this advice: "Wherever you eat, ask restaurant managers about their meat sourcing policies and practices and make sure they know that you're looking for options that are healthier not only for you but for the animals and the environment, too—including meat produced without the routine use of antibiotics."