When you shop through retailer links on our site, we may earn affiliate commissions. 100% of the fees we collect are used to support our nonprofit mission.
Learn more.
Who doesn't like a bargain? But sometimes it pays to spend a little more. The pros at Consumer Reports searched the labs and Ratings to find products for the home that are worth the extra money. Here's a look at five everyday products. The good news is you don't have to spend that much more to get something better.
Skillets
Drop $30 on the Rachel Ray 10-inch Open Skillet and you'll get an aluminum nonstick pan that released food quickly, was easy to clean, with a handle that was comfortable without getting too hot. But the handle wasn't too sturdy, cooking evenness was only good, and the nonstick surface had scratches at the end of our durability test.

Pay a little more: The $40 Calphalon Simply Nonstick 10-inch aluminum pan is a CR Best Buy and was excellent at evenly heating and releasing food. The handle stayed cool to the touch and the nonstick surface withstood our durability test in which steel wool is rubbed over a pan for up to 2,000 strokes. A 10-year warranty is part of the deal. For more choices see our cookware Ratings.
Steam Irons
For $15 the Continental CE23111 steam iron will get the job done, but will take longer since it doesn't provide a lot of steam. Worse, it doesn't have an auto shutoff feature. This turns off the iron when it's motionless after a bit, sensing that you've forgotten the iron is on. Auto shutoff isn't a required safety feature, but it's well worth every cent.

Pay a little more: Spend an extra $5 on Walmart's Black & Decker Xpress Steam IR08X and you get auto shutoff and plenty more steam. We've tested dozens of irons and our iron Ratings tell the full story.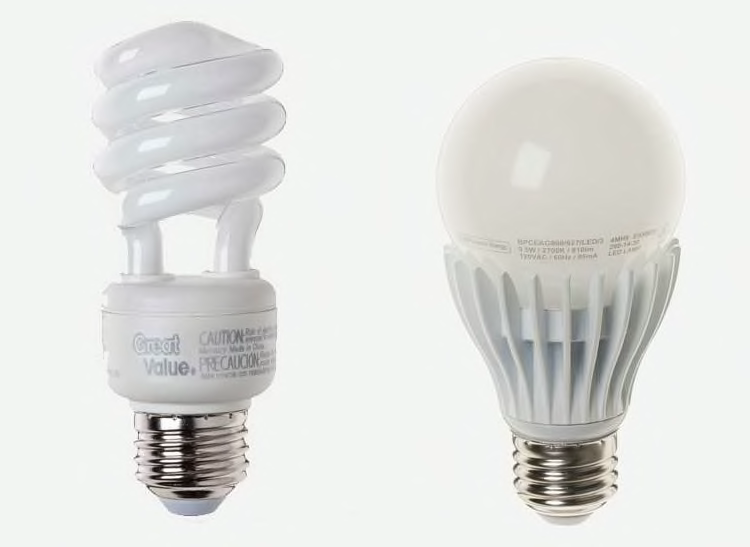 Lightbulbs
Walmart's Great Value 14W Soft White CFL is $1.25 and casts a bright, warm yellow light. That's as bright as a 60-watt incandescent while using just 14 watts. This CFL is supposed to last about 9 years when used 3 hours a day. But like all CFLs, it takes time to fully brighten—about 26 seconds—and you can't dim it.

Pay a little more: At $7, the top-rated Feit Electric 60 Watt Replacement LED instantly delivers warm light, uses even less energy, is claimed to last 23 years, and dimmable. Our lightbulb Ratings offer more details.
Interior Paint
Buy the cheap stuff and you may wind up applying more coats since they often don't hide old paint well, making them less of a bargain. At $17 a gallon, Walmart's Color Place Interior Paint is the least expensive in our interior paint Ratings and the worst. And unlike most tested paints, Color Place isn't self-priming.
Pay a little more: For $32 a gallon you can buy a self-priming paint that was impressive at hiding old paint, such as Ace Hardware's Clark+Kensington Enamel. If Ace isn't your go-to paint place, then see our interior paint Ratings for other good choices.
Laundry Detergents
All Stainlifter liquid detergent is just 10 cents a load but was just good at cleaning—it left ring-around-the collar stains.

Pay a little more: For a penny more a load, Kirkland Signature Free & Clear liquid detergent from Costco was better at cleaning. Not a Costco member? Then check out Wisk Deep Clean. It's 14 cents a load. You can use these detergents in any type of washer, and the laundry detergent Ratings rate dozens of products. Note the user reviews too. Some people have strong opinions about strong detergent scents.
Any questions? Email me at kjaneway@consumer.org.