Best Paper-Towel Alternatives
After a lifetime of obsessive paper-towel use, a CR editor explores greener options for his mess-prone family of five (plus a dog)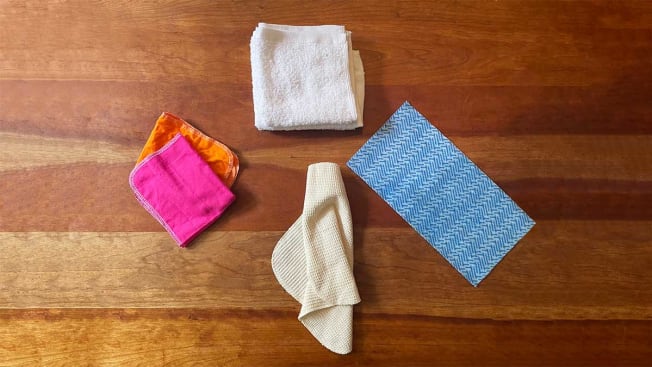 For as long as I can remember, paper towels have been a household staple. Starting at the age of five, it was my job at the supermarket to head over to the paper goods aisle and hunt down a few rolls of Bounty Select-A-Size for my mom's cart each week. While my family used cloth napkins, recycled religiously, and barely turned on the air conditioner, we seemed to draw the line at paper towels.
What Are Paper-Towel Alternatives Anyway?
Beyond the basic shared goal of helping folks kick a paper-towel habit, paper-towel alternatives—aka reusable paper towels—are not all that similar. Some, at about 12 inches by 12 inches, are basically smaller versions of kitchen hand towels. Others are a range of sizes, made from a host of recycled or sustainable materials, including cotton, polyester, viscose, or cellulose. The majority are either biodegradable or compostable (as are unused paper towels and certain soiled ones), but a handful aren't, which offsets their environmental benefits once they eventually end up in a landfill.
Nevertheless, most fall into one of two categories: Those that are absorbent right from the pack, and those that need to be wet and wrung out before they pick up a drop of liquid. I staunchly favor the former. If I've got damp hands or oat milk spilled all over my counter, the last thing I want is the added step of wetting then wringing out a towel. If a towel can't be used in an instant, particularly for an emergency, then it's just too tempting to grab an actual paper towel. 
How I Evaluated Paper-Towel Alternatives
With encouragement from my partner, who was pretty appalled at my nearly roll-a-day habit, I set out to kick it once and for all. The biggest challenge would be finding a suitable alternative, because my family and I weren't going to get any neater or tidier. The teens were still going to make syrupy drinks on the counter. My five-year-old would still insist on pouring his own milk for cereal. Our dog would still track in god-knows-what from the outdoors. 
My criteria were simple, albeit challenging: Any good paper-towel alternative should have the same characteristics as my beloved rolls of Bounty: absorbent, abundant, and equal parts pliable and strong. There is nothing I despise more than those brittle paper towels in public restrooms, the ones that somehow leave your hands damper than they were before you tried to dry them. The towels sampled in this article were chosen because they are popular and seemed promising as suitable replacements for traditional paper towels.
After ordering each online, I evaluated their performance in my kitchen for dinner prep (cleaning veggies, cutting up meat, and even trying a few for draining bacon). I also used them for hand drying, table wipe-downs, and spilled water. In addition, I simply lived with each option in rotation for a few weeks at a time to tackle real messes as they emerged, taking note of how my family used them and how they held up in real life. Lastly, I dove into the fine print and specifics of each pack, noting those that provide 60 or even 80 towels versus those with only 10 or 12. (After all, if you were to use just two per day, 10 isn't nearly enough to get you to your weekly laundry day.) Naturally, I considered the price per towel, too. Here's what I found.
Editor's Choice: Utopia Towels Washcloths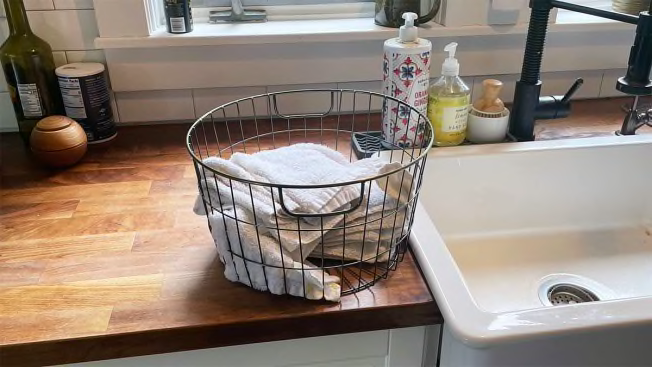 Cost: $43 for 60
Where to buy: Amazon
Material: Cotton
Surprisingly, the best alternative to paper towels is the only choice that isn't meant to replace them at all. There's something effortless about the cotton Utopia washcloths. With 60 in a pack we've always got one on hand. They're endlessly absorbent, even when dry, and at 12 inches square, they're the perfect size for wiping up spills or drying your hands. A few of us even started to use them as napkins—they're definitely as soft as the cloth variety. 
When they get gross, we just toss them in with our other laundry. And since we opted for white (there are 17 colors available) they're also safe to bleach if you really wanted to sanitize them. They do tend to show stains more than some of the other options, though. But I'm okay with that—a handful have gotten really gross, so I just repurposed them into outdoor cleaning rags, kept in a garage bin, for our patio table and grills.
Great Value: Aidea Reusable Cleaning Cloths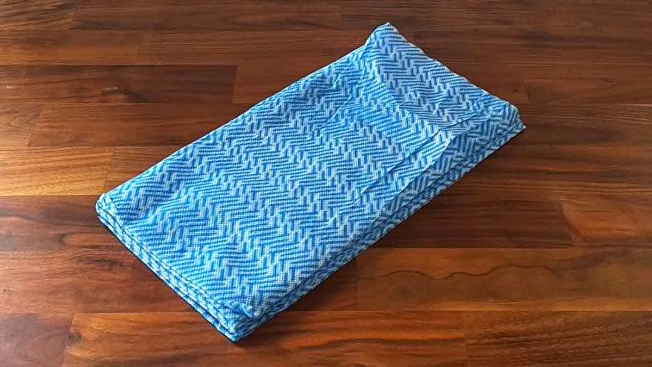 Cost: $13 for 80
Where to buy: Amazon, Walmart
Material: Polyester and viscose
I love these wipes for all of the same reasons I love the Utopia washcloths, above. Abundant and absorbent even when dry, they hit the sweet spot between disposable and reusable. And at roughly $.16 a piece, you won't be heartbroken to toss one or two if they fall apart. 
They're double the size of the Utopia towels, 12 by 24 inches, but because they're very thin, they don't hold as much liquid. They can feel a little scratchy, so while they certainly work to dry hands, I'd never suggest using them as a napkin. 
They're also arguably the least environmentally friendly option of the bunch. Because they're made from polyester, they aren't biodegradable, and they have a limited life cycle (the manufacturer claims they can be washed up to 25 times in a regular cycle; I haven't gotten there yet). In theory, many of the cotton options can be kept indefinitely, as long as you wash them periodically. 
Nice, But Pricey: MioEco Reusable Paper Towels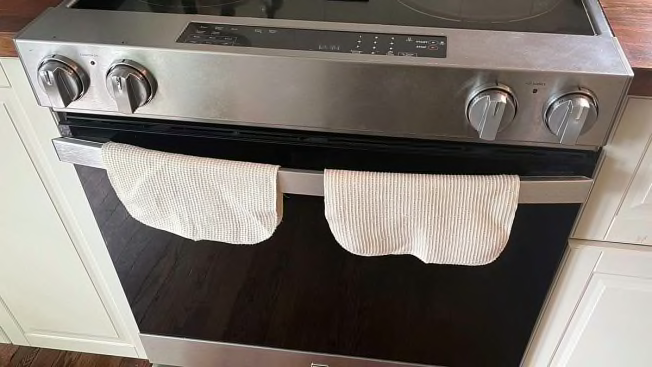 Cost: $20 for 10
Where to buy: Amazon
Material: Organic Cotton
At around $2 a piece (slightly less if you buy the 20-pack), the MioEco are about triple the price of the Utopia towels, and no more absorbent. But they're soft, and the basketweave design does seem to help with soaking up spills and scrubbing pans. Because they're white, stains can show up, though not as noticeably as with the stark-white Utopia towels. 
What you're really paying for is a more environmentally friendly product. They're made from unbleached organic cotton, and the manufacturer claims to use carbon-neutral manufacturing processes. In my assessment, they were soft enough to use as napkins, strong enough to scrub, and satisfyingly absorbent. They're a stellar choice if you're willing to pay a bit more for a towel that's more environmentally friendly than the competition. 
Only If You Really Want Cute Patterns and Colors: Marley's Monsters Unpaper Towels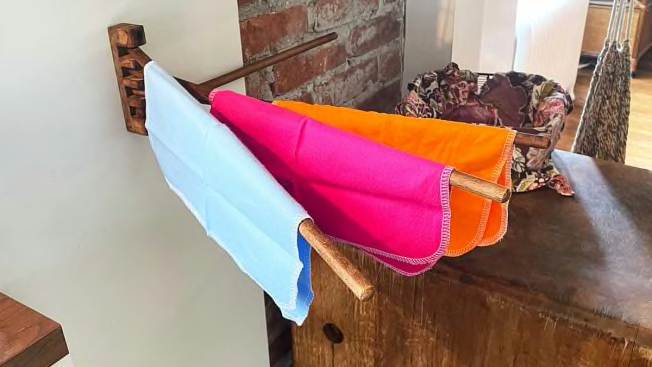 Cost: $30 for 12
Where to buy: Marley's Monsters, Zero Waste Store
Material: Cotton flannel
The Unpaper Towels are just a bit too pricey to be taken seriously. At $30 for a 12-pack ($54 for a 24-pack), you'd have to shell out around $150 to get the same number of towels you'd get from Utopia's 60-pack. (It's understandable—Marley's Monsters towels are handmade in Oregon.) Worse, the Unpaper Towels are not as absorbent.
Still, they're far more absorbent when dry than some of the options below, and their best attribute may be their softness—the cotton flannel feels so gentle on the skin, you almost don't want to use them on something like spilled jelly. They could certainly sub in for a napkin, and they're great for hand drying. Available in tons of colors and patterns (cacti, miniature mustaches, and more), they're the cutest option here if that matters to you—though they may not stay cute forever; cotton stains easily with tough spills. Because they're flannel, they tend to stick together from static electricity—so if you're motivated, you can wrap them one at a time around a tube and dispense them as you would regular paper towels. 
Swedish Wholesale Swedish Dishcloths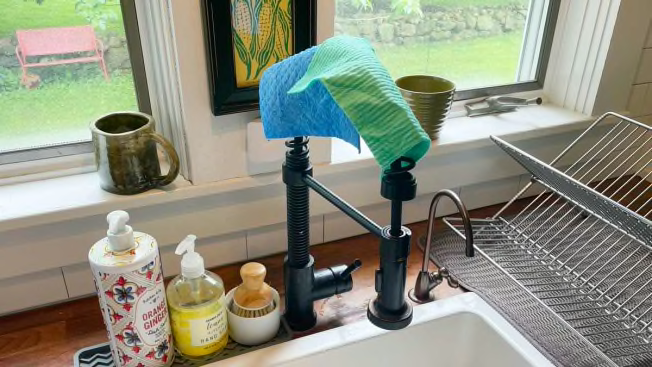 Cost: $18 for 10
Where to buy: Amazon
Material: Cellulose and cotton
These wildly popular Swedish dishcloths are the darling of sustainability blogs, and a top seller on Amazon, but I just couldn't get what the fuss is about. When dry, they feel like a dehydrated sponge, and wipe up spills only reluctantly. To be fair, they're not designed to work from a dry state; you're supposed to wet them, wring them out, and then wipe, but even then, they don't seem as absorbent as most of the other options. 
On top of that, it's tough to wring them out to the point where they'll actually leave a dry surface behind. That's especially annoying on a dining table—it's like being in a busy diner where the tables are barely swiped clean between customers. 
Like all of the other options, they can stain but they're machine washable, too. They're also biodegradable, which is good, because I foresee a fair number of these not cutting it in busy households. 
Wowables Reusable & Biodegradable Paper Towels
Cost: $20 for a roll of 30
Where to buy: Amazon
Material: Wood pulp and cotton
Aside from absorbency, the fatal flaw with the Wowables is that their best feature—being dispensed from paper-towel-style roll—is actually their biggest downfall. It didn't even occur to my family that they might be reusable and, as a result, routinely tossed them after a single use. I can't blame them. You've got to wet these towels to wipe up most spills, and even then, they feel rough, brittle, and less absorbent than the Swedish cloths. Worse, they're not as tough. Despite perforations every 12 or so inches, they routinely tore off the roll in irregular shapes instead of in a perfect Bounty-style square. 
They also came apart in the wash more easily than the other options here. My stepson nailed it when he used a Wowable to dry his hands and said simply, "What is this?" I don't have a great answer for him, other than to say it's not something he, or anyone else in the house, needs to get used to. 
How I Ultimately Kicked My Paper-Towel Habit
The trick to switching to reusable paper towels is to make them abundantly available and easy to grab. For our family, the Utopia washcloths were the easiest way to make that happen. I bought a 60-pack of the Utopia towels and kept them in bowls placed strategically around our kitchen, including one bin that deliberately blocked access to the cabinet containing a lone roll of real paper towels. 
I kept that roll of Bounty on hand for tasks I deem too gross for reusable towels—wiping drippings from raw chicken, for instance, or mysterious goop from our dog's paws. By making it easy to access reusable cloths, and a little harder to get to real paper towels, I found it easy to curb my habit, and I'm happy to report, I'm down to just one or two rolls per month. 
This product evaluation is part of Consumer Reports' "Outside the Labs" reviews program, which is separate from our laboratory testing and ratings. Our "Outside the Labs" reviews are performed at home and in other native settings by individuals, including our journalists, with deep subject matter experience or knowledge and are designed to offer another important perspective for consumers as they shop. While the products or services mentioned in this article may not currently be in CR's ratings, they might eventually be tested in our laboratories and rated according to an objective, scientific protocol.
Like all CR evaluations of products and services, our "Outside the Labs" reviews are independent and free from advertising. If you'd like to learn more about the criteria for our lab testing, please visit the Research and Testing page on our website.
When you shop through retailer links on our site, we may earn affiliate commissions. 100% of the fees we collect are used to support our nonprofit mission. Learn more.