When you shop through retailer links on our site, we may earn affiliate commissions. 100% of the fees we collect are used to support our nonprofit mission.
Learn more.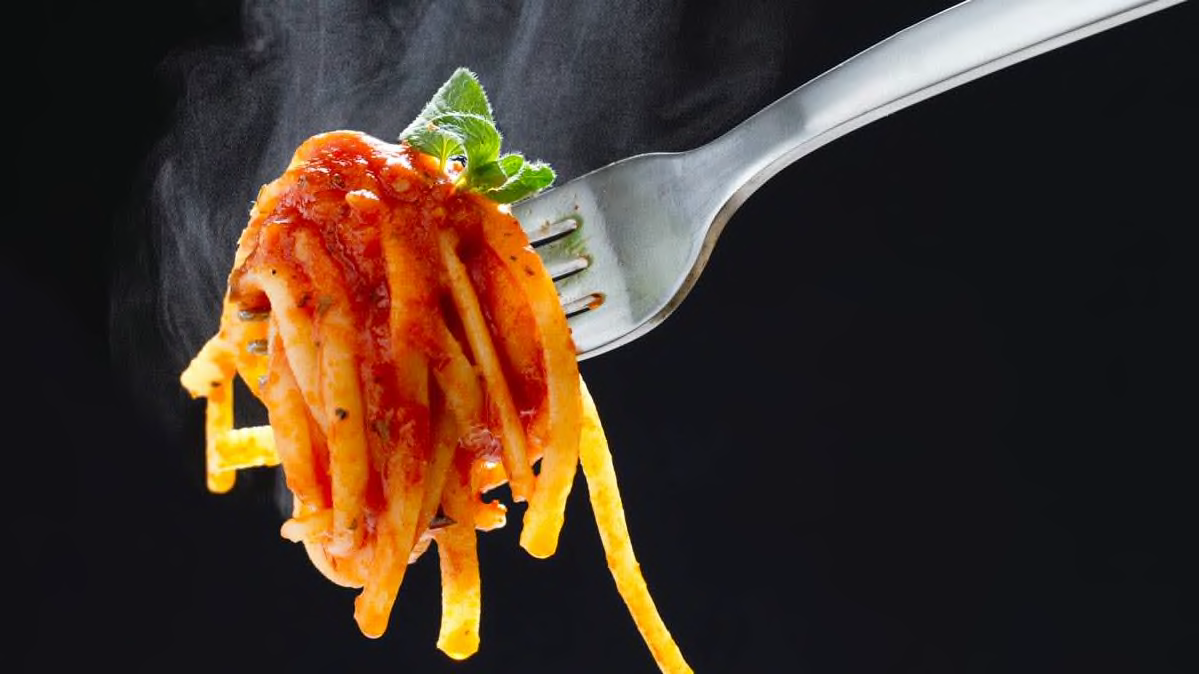 A plate of pasta is not only comforting and tasty but also one of the easiest dinners you can make, especially if you're not making the sauce yourself. In fact, 61 percent of consumers say they've used ready-made sauce in the past six months, and Americans spent about $2.6 billion on them in 2017, according to market research firm Mintel.
If you're one of them and have worried that you're trashing your diet, don't. The jarred-sauce shortcut can be a healthy option. Nutritionally, tomato sauce counts toward the recommended 2 to 3 cups of vegetables you should have per day, and more low-sodium, no-sugar-added sauces are on supermarket shelves than there used to be.
"Many jarred sauces aren't that different from what you would make yourself," says Dana Hunnes, Ph.D., R.D., senior clinical dietitian at the Ronald Reagan UCLA Medical Center in Los Angeles. "Look for ones with simple ingredient lists of things you recognize, such as tomatoes, olive oil, and herbs."
But with dozens of brands and flavors on the market, finding a good one can take a lot of label reading. To help you speed up your shopping trip, CR's team of nutritionists and professional food tasters rated 35 tomato-based sauces—the most widely sold type—for nutrition and taste.
Is Sauce a Superfood?
Almost 70 percent of the sauces in our tests received at least a Very Good score for nutrition. Tomato sauce supplies vitamins A and C, plus lycopene. Tomatoes are one of the few foods high in this antioxidant, which, in addition to giving tomatoes their red color, has been linked to a lower risk of cardiovascular disease, prostate cancer, and other diseases.
Cooked tomatoes have far more lycopene than raw "because the heat during cooking changes the chemical shape of lycopene, making it much more easily absorbed," says Xiang-Dong Wang, M.D., Ph.D., director of the Nutrition and Cancer Biology Laboratory at the Jean Mayer USDA Human Nutrition Research Center on Aging at Tufts University in Boston.
And a little fat in your sauce can further enhance lycopene absorption. Most of the sauces we tested had fewer than 5 grams of total fat per serving and no saturated fat. Even among the higher-fat sauces, the source of the fat was almost always olive oil. "The monounsaturated fats that make up the majority of the fat in olive oil help protect against heart disease and stroke when they're part of a healthful diet," says Amy Keating, R.D., a Consumer Reports nutritionist who led the testing.
Sodium and Sugar Shock
Like many packaged foods, jarred sauces can be packed with sodium, and getting too much in your diet can increase your risk of developing high blood pressure and, ultimately, cardiovascular disease. In fact, a high sodium intake is the leading dietary component linked to death from cardiovascular disease (responsible for nearly 10 percent of deaths), according to a 2017 study published in the Journal of the American Medical Association.
Half the sauces we tested were salt bombs, containing 400 mg of sodium or more per ½ cup. You should have less than 2,300 mg per day. Three of the sauces—Mezzetta Napa Valley Homemade Tomato & Sweet Basil, Trader Giotto's (Trader Joe's) Traditional Marinara, and Hunt's Traditional—clocked in at more than 500 mg per serving.
"A manufacturer may hesitate to lower the sodium because they believe that consumers won't accept lower-sodium versions," Keating says. "But in our tests, the two sauces at the top of the ratings were low in sodium." The Silver Palate Low Sodium Marinara (with 115 mg of sodium per ½ cup) and Victoria Low Sodium Marinara (120 mg) scored an Excellent for nutrition and a Very Good for taste.
"Although some higher-sodium sauces got excellent scores for taste, the differences were so slight that it makes sense to choose lower-sodium," Keating says. "And sprinkled with a little cheese, you probably wouldn't notice any difference in flavor between a lower- and higher-sodium sauce of similar overall quality." If you're having trouble adjusting to less salt, Keating suggests stirring ¼ teaspoon into an entire jar of low-sodium sauce. That still keeps the sodium count lower than it is in most of the worst offenders. Or try Rao's Homemade Sensitive Marinara. With 290 mg of sodium per serving, it was the lowest-sodium sauce among those that rated an Excellent for taste.
All tomato sauce gets a touch of sweetness from the natural sugars in tomatoes, tomato purée, or tomato paste. Certain products have added sweeteners, though, such as sugar, cane sugar, and high-fructose corn syrup. "Keeping added sugars to a minimum in your diet is important for weight control and reducing your risk of heart disease and type 2 diabetes," Keating says. Don't worry that you'll be sacrificing flavor if you skip sauces with added sugars. Just two of the 18 sauces that received at least a Very Good taste rating in our tests contained added sugars.
Simplicity Wins
With the exception of added sugars and sodium, the majority of the tested sauces had clean ingredients lists, meaning few of them contained preservatives or added flavors. Still, those at the top of the ratings were more likely to be made with just a few whole-food ingredients, such as tomatoes (whole peeled, rather than diced or puréed), olive oil, fresh onion, garlic, and basil. The lower-scoring sauces were typically made with tomato paste and dehydrated garlic, onions, and spices.
However, better-quality ingredients will cost you. "While three of the top 10 scoring sauces cost less than $1 per serving, in general the lower-priced sauces fell to the bottom of the ratings," Keating says. "But pasta sauce is a staple that regularly goes on sale at the supermarket, with significant savings." For example, our shoppers paid $9 for a 24-ounce jar of Rao's Homemade Marinara, but we've seen it on sale for as little as $5.
Vodka, Pesto, Alfredo & More
Craving something more creamy or complicated than a tomato marinara? It will cost you in calories and fat. A typical tomato sauce has fewer than 100 calories per ½ cup and a healthier nutritional profile than these have.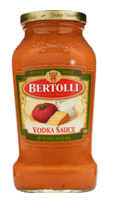 Bertolli Vodka Sauce
It's tomato-based, but the cream and cheese add sodium and saturated fat.
½ cup*
Calories:

140

Fat:

10 g

Sat. Fat:

5 g

Carbs:

10 g

Fiber:

1 g

Sugars:

9 g

Sodium:

610 mg
---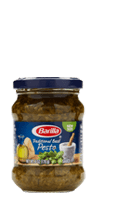 Barilla Classic Basil Pesto
While most of its fat is unsaturated, it's still high in calories and sodium for such a small serving.
¼ cup*
Calories:

200

Fat:

19 g

Sat. Fat:

2.5 g

Carbs:

5 g

Fiber:

1 g

Sugars:

0 g

Sodium:

600 mg
---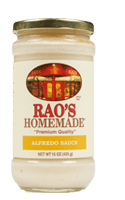 Rao's Homemade Alfredo Sauce
It looks better nutritionally than the vodka sauce, but that's only because the serving size is smaller.
¼ cup*
Calories:

100

Fat:

9 g

Sat. Fat:

6 g

Carbs:

2 g

Fiber:

0 g

Sugars:

1 g

Sodium:

410 mg
---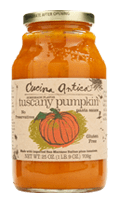 Cucina Antica Tuscany Pumpkin Sauce
It has healthy pumpkin but also cream and butter, which bump up the saturated fat.
½ cup*
Calories:

90

Fat:

6 g

Sat. Fat:

3.5 g

Carbs:

9 g

Fiber:

2 g

Sugars:

6 g

Sodium:

340 mg
---
*Recommended serving size.
Editor's Note: This article also appeared in the January 2019 issue of Consumer Reports magazine.
Shop Like a Nutritionist
Eating well isn't always easy—or fun. On the 'Consumer 101' TV show, Consumer Reports' expert, Amy Keating, heads into the grocery store to show you how to make healthy decisions when it comes to food.