Smarter: Should You Use Bar Soap or Body Wash? This week I have bar soaps, shower gels, and body washes facing off in a suds-filled arena to see which will emerge from the fray awash in victory. Also in this issue: Do spare tires expire, and which is better for your oral health, an electric or manual toothbrush?
THE BIG STORY
'Not on My Wash'
When it comes to bath products, I'm an agnostic. I was raised with bar soaps, but I've also dabbled in body washes and experimented with shower gels every now and then. I have no firm preference for any of the three, which means whenever I'm shopping for a new bath product, I often end up in a state of analysis paralysis.
Should I go with bar soap, an old friend, or should I slather myself with shower gel or body wash for the next four weeks? Which is better for my skin, and which is more sustainable for the environment? I hem and haw. I pace around the bath products aisle for such a long time it's probably irritating for any store clerk who has the misfortune to watch me.
When it comes to bath products, a lot of people have their personal favorites. Some may be soap devotees, while others are strict followers of the body wash faith. We asked our social media followers which product they like using in a shower the most. Here's what you said.
On both Twitter and Instagram, the majority of people voted for bar soap, while body wash followed in second and shower gel trailed in a more distant third.
And don't think I missed the fact that there is a tiny but undeniable representation of people who said they only use water. On Twitter, it was 0.5 percent of our voters, but on Instagram, it was 2 percent. To each their own, I say. And I fully support your right to shower however you want, as long as you do bathe.
Here's a look at the, dare I say it, unusual way CR tests how effective sunscreens are.
Which kind of container do you think gets recycled the most in the U.S.?
A. Plastic bottles
B. Aluminum cans
C. Glass bottles

(Answer is at the end.)
Which is better for cleaning your teeth, an electric toothbrush or a manual toothbrush?
🦷 Here's the verdict: Electric toothbrushes have the edge over manual toothbrushes when it comes to cleaning away plaque and reducing gingivitis, a common form of gum disease, according to clinical research.
🗑️Does this mean I should throw away my manual toothbrush? Not necessarily. There's no need to switch if you're getting good checkups and your dentist believes you're doing a thorough job brushing your teeth with a manual toothbrush.
👄How often should I brush my teeth? Twice a day and a full 2 minutes each time, which is longer than you might think, because most people (me) only brush their teeth for around 45 seconds on average.
ASKING FOR A FRIEND'S CAR
Do spare tires ever expire? 
Can you delete 100,000 emails from your Gmail account in two days? Unbelievably, yes.
The answer is B, aluminum cans. Fifty percent of aluminum cans in the U.S. are recycled, higher than the recycling rates of glass bottles (40 percent) and plastic bottles (29 percent).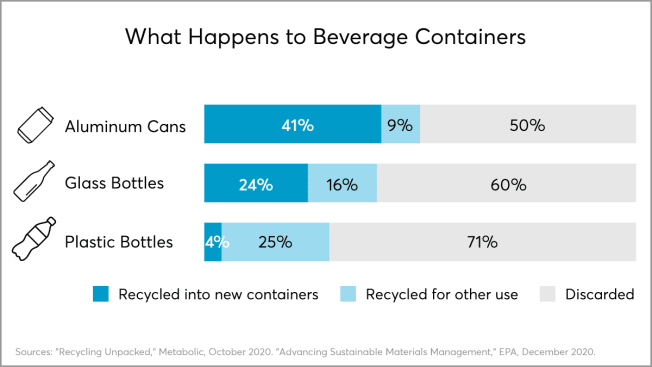 ♻️Here's a small recycling tip: Don't crush your cans! Up to 25 percent of aluminum cans that make it to recycling centers are missorted—in part because they're crushed so thin they mistakenly end up in the paper collections.
"I got good news and bath news."