When you shop through retailer links on our site, we may earn affiliate commissions. 100% of the fees we collect are used to support our nonprofit mission.
Learn more.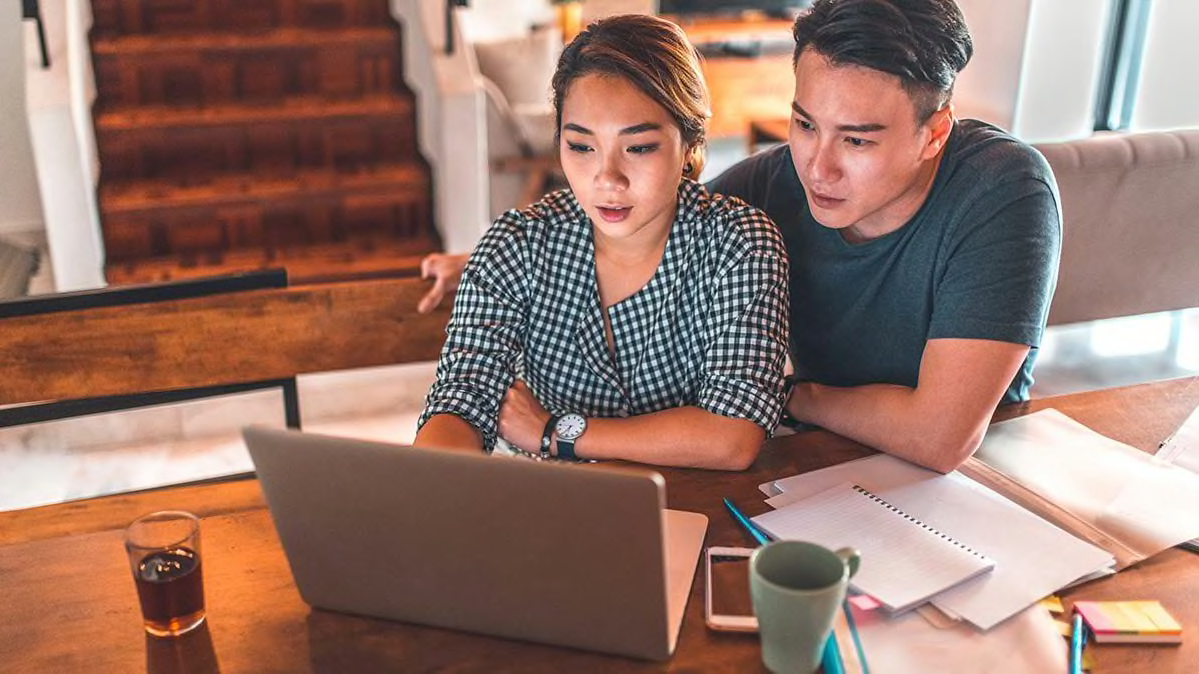 Welcome to February—when cold winter weather in many parts of the country makes it the perfect time to stay indoors.

And while you're there, why not get your financial house in order?
Here are some steps you can take this month.
Get a Jump on Your Taxes
Tax experts say it's generally a good idea to file your taxes early. That way, if you're owed a refund, you'll receive it faster and you can put it to work sooner.
Filing early can be a good idea even if you owe money to the IRS because you'll give yourself more time to figure out how to pay the amount you owe.
Because this tax season is the first time many Americans will see how the new Tax Cuts and Jobs Act affects them, it's a good idea to hire a professional tax preparer to help you file. To make sure you're hiring the right person, it's important to follow these guidelines.
Check the tax preparer's credentials. Anyone with a preparer tax identification number can handle and file your taxes, but it's best to find someone who also can handle audits, IRS collections, and appeals. Only a certified public accountant or an enrolled agent—another type of tax professional—can represent you before the IRS in those situations.
The IRS' Directory of Federal Tax Return Preparers is a good place to find tax pros with credentials and select qualifications. If you live in California, Maryland, or Oregon, ask the preparer to see a current license, which is required by law in those states. It's also a good idea to look for a preparer who's a member of a professional organization such as the American Institute of Certified Public Accountants.
Ask for a price quote. Often, a tax preparer will say that he can't tell you what he'll charge until he determines which forms you'll need. But you can try to pin down an answer by presenting the forms you completed last year or by asking for a list of fees for various types of tax help. Avoid preparers who base their fees on a percentage of your refund. A preparer who does so is violating IRS rules.
Get a Free Credit Report
The Fair Credit Reporting Act requires each of the nationwide credit reporting companies—Equifax, Experian, and TransUnion—to provide you with a free copy of your credit report, at your request, once every 12 months.
We suggest you order one credit report from a different major credit bureau each quarter, which allows you to take a peek at your credit files several times a year at no cost. The bureaus don't collect exactly the same information, so getting one from each gives you a more complete picture of your credit history. You can order your first free report for 2019 at AnnualCreditReport.com.
Find Ways to Pay Less
If you haven't yet taken a close look into your spending habits, start by seeing where you can reduce some of your monthly expenses.
Here's where you may be able to cut back:
Paying too much for your cell-phone plan. A typical American household with four wireless phones pays about $118 per month for a plan, according to the CTIA, the wireless industry association.
If you've been using the same carrier for years, shopping around for a new plan could add up to big savings.
In fact, consumers can slash their bill by haggling with their providers or simply switching to a cheaper data plan. However, you may have to pay a fee to make the switch.
But if you stream lots of music and movies, you may find yourself going over your monthly data limit frequently, and overage charges can really add up. Upping your data plan could help you save money by avoiding those charges.
Paying too much for car insurance. Once your car is about 10 years old, the cost of collision coverage can be more than the vehicle is worth. Check your car insurance policy to see whether their premium and deductible for collision coverage equal or exceed the car's value.
With car insurance, loyalty doesn't always mean cheaper rates. Once again, it pays to shop around, especially if you've been with the same insurance company for years.
Pay Down Holiday Credit Card Debt
Because of rising interest rates, it's becoming more expensive to carry credit card debt. If you haven't paid off your holiday purchases yet, it's a good idea to do so as quickly as possible.
Here are a few tips:
Pay your credit card bill more frequently. Many people don't realize that credit card companies will accept more than one payment a month. If you're paying interest on an outstanding average daily balance, you'll pay less over time if you send in money when you have it rather than waiting until you receive the next monthly bill.
Look for a lower interest rate. Many credit card issuers offer 0 percent interest balance transfer cards, which can make paying off a balance easier. But take into account any fees that may be charged by your balance-transfer card. Your best bet would be to get a fee-free balance transfer card. If you go with a balance-transfer card, pay the minimum due on time every month. Being late often terminates the 0 percent deal and can eliminate any savings on interest.
Save on a Gym Membership
While gyms often offer discounts to prospective clients in early January, many offer even better rates later in the month and in February.
Here are some steps to make sure you get the best deal possible:
Sign up for a trial run. Call fitness clubs that interest you to ask for a no-commitment trial. Most clubs will give you a one-week pass to try out the facility.
Negotiate a deal. When you decide which club you'd like to join, speak with a manager instead of a salesperson. Managers are more likely to be able to negotiate a better gym membership price for you.
Be flexible. A club may offer you a discount as long as you agree to use the facilities only during off-peak hours or on certain days. The restrictions may be worth it, especially if you can easily fit these hours into your schedule.
Buy Products on Deep Discount