When you shop through retailer links on our site, we may earn affiliate commissions. 100% of the fees we collect are used to support our nonprofit mission.
Learn more.
If a timeshare fits your lifestyle, does it make financial sense to buy into a resort or to simply book a hotel room on demand? We compared the costs of vacationing at a similar unit at a similar time at Disney World's Polynesian Village Resort in Orlando, Fla.
For ownership, we took into consideration the buy-in price of $25,200 (150 points at $168 per point); maintenance fee of $903; and closing costs, $575. We chose a 150-point plan because it would allow us to have a timeshare vacation for a week or more during the least expensive dates on the calendar (at 16 points per night). That would also give us residual points that could be used for an additional stay or to vacation at more in-demand times, such as over the holidays, which can cost up to 36 points per night.
Next, we calculated the cost to book a similar room for four (Deluxe Studio, standard view) at the Polynesian for seven nights. The rate: $2,844 plus tax, for a total of $3,200. (See the infographic and "How We Did the Math," at bottom, for details.)
More on Timeshares
We found that it's far cheaper to stay as a guest in the early years. For the first seven years, we estimate that you'll pay as much as $2,500 more in a single year to own—when you take into account the loan and interest payments, closing costs, and other front-end expenses.
The tide turns in year eight, when booking a room becomes more expensive than taking a timeshare vacation. But it will take four or so years longer before the cumulative costs of renting and owning even out. Over the first seven years, we estimate that ownership expenses would have topped $40,000 vs. only about $25,000 had you booked the room.
By the end of year 13, there's no more catching up to do. The balance tilts firmly in favor of ownership. Year 13 is when we project that owners would have recouped all of the extra money they paid out in previous years. By year's end, owners would have spent around $47,000 since day one on timeshare vacations, renters almost $50,000.
Assuming you continue to enjoy your timeshare vacation, the savings pile up with each passing vacation. If we look down the road—which involves some educated guesswork—after 30 years the cost of ownership would be less than half of renting a similar hotel room. Overall, we reckon Polynesian owners would have paid roughly $70,000 over those three decades, based on our assumptions. By contrast, those who opted for the hotel experience would have spent around $152,000.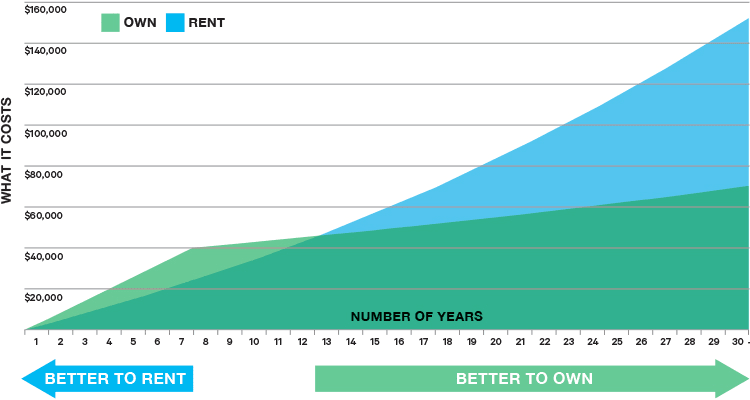 How We Did the Math
Because most buyers finance their timeshare, we looked for typical terms and found a seven-year loan at around 8 percent interest. We allowed for a conservative 2 percent increase in the annual dues. (Disney said dues rise 2 to 3 percent per year, below the industry average.) We factored in a 3 percent annual increase in room rates, slightly lower than industry trends, based on data from PricewaterhouseCoopers. We did not include the cost of travel, transportation, meals, etc. Though we project that a timeshare vacation would pay for itself in year 13, breakeven could occur sooner, if you wanted out and were able to find a buyer on the resale market.