5 Ways to Upgrade Your Mask in 2021
With more contagious coronavirus variants spreading, a simple cloth mask might not be enough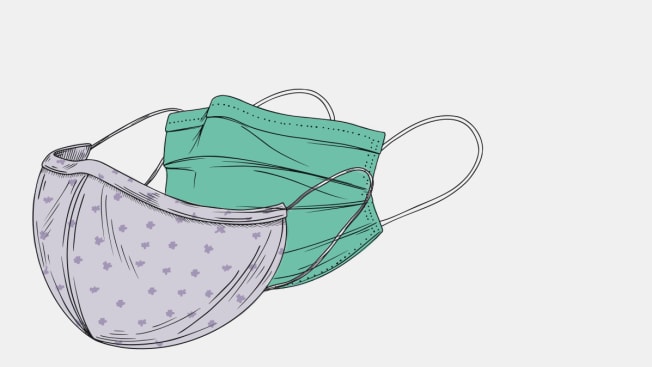 More contagious variants of SARS-CoV-2 are now spreading in the U.S., with one potentially poised to become the predominant strain in this country by March, according to the Centers for Disease Control and Prevention.
That means that now is the time to double down on steps to protect yourself from COVID-19, including investing in a mask upgrade. Just this week the CDC released a new study with guidance about which mask tweaks are the most effective, such as tightening the fit of a surgical mask and layering a cloth mask on top of a surgical one.
"There are certain situations where a basic cloth mask is fine, like if you're socializing with friends outside," says Monica Gandhi, MD, an infectious disease physician at the University of California, San Francisco. But if you spend most of your day with others indoors—for example, in a workplace or at school—or are at higher risk for complications for COVID-19, then more protection is warranted, she advises.
"The right fit can go a very long way even with just a simple cloth mask," Gandhi says. A mask should have a sturdy nose wire to help it fit the natural contours of your face.
But there are other tweaks you can make to improve the effectiveness, adds Phillip Clapp, PhD, a post-doctoral researcher at the Center for Environmental Medicine, Asthma, and Lung Biology at the University of North Carolina at Chapel Hill and co-author of the December JAMA study.
For instance, his study found that simple steps such as tightening ear loops (either by tying them or fastening them with a claw-type hair clip placed behind the head) and tucking in side pleats significantly improved a surgical mask's filtration rates. "Anyone can do that in 15 seconds, and it doubles its efficiency," he explains.
The new study from the CDC reinforced Clapp's findings. It found that a surgical mask with knotted ear loops that's tucked in on the sides to create a tighter fit reduced exposure for the wearer by 64.5 percent if a simulated cougher was unmasked, and by 95.9 percent if both the cougher and the receiver were wearing these modified, snugly fitted surgical masks.
To make sure your mask is snug enough, Clapp advises that you try this simple self-test: Cup your hands around your mask and see if you can feel the places where air is escaping. "You also don't want to see gaps around your nose, the sides of your cheeks, or under your chin," he says. If you do, you'll want to tighten up.
"Ultimately you want all the air you inhale and all the air that you exhale to go through some sort of filtration device," Dickerson says. "If it doesn't—if it goes out the sides or through a vent—then you might as well not be wearing a mask."
Anthony Fauci, MD, the director of the National Institute of Allergy and Infectious Diseases, recently said that he often wears two masks. But if double masking is not done the right way, it may backfire. You don't want two thick, loose fitting layers with air "spilling out the sides," says Richard Martinello, MD, an infectious disease expert at the Yale School of Medicine in New Haven, Conn.
For best results, wear a cloth mask on top of a surgical one. "The surgical mask will act as a filter, and the cloth mask will provide an extra filtering layer and improve the fit," Gandhi says.
A January study she published in the journal Med found that this combination can filter out over 90 percent of particles larger than a micrometer, "which is about the size of most respiratory aerosols that transmit COVID-19," she says. "But a cloth mask over a cloth mask won't offer that much more protection, and it can make it a lot more difficult to breathe or for people to hear you, which makes it more likely you'll pull it down to talk, which defeats the purpose entirely."
Combining a cloth mask and a surgical mask also lets you leverage two types of protection at once, Dickerson says. Think of a basic cloth mask as a chain-link fence, a more tightly woven one as a screen door, and a viral particle as a gnat, he says. Layers of screen doors stacked on top of each other are going to be hard for a gnat to get through. But adding an electrostatic filter or a medical mask provides an additional layer of protection because anything that tries to get through the tiny pores will also be pulled toward the pores' edges by the electrostatic charge.
The CDC study found that if an infected person and an uninfected person were both wearing cloth masks over surgical masks, the uninfected person's exposure could be reduced by 96.4 percent. (That number was about 83 percent if the infected person was unmasked.)
When shopping for masks, focus less on whether it has two or three layers and more on the quality of the fabric. This is especially important if you do not have access to a medical mask, or if you are wearing a cloth mask on its own, without a filter or another layer. "You want a mask with a thread count of at least 200 TPI [threads per inch]," Gandhi says.
A study published last year in the American Chemical Society's journal ACS Nano compared the filtration efficiencies of different fabrics and found that a high-thread-count (600 TPI) cotton fabric significantly outperformed one made out of quilter's cotton (80 TPI) for particles of all sizes. If you don't know the thread count of a fabric (as is often advertised on bed sheets, for example), you can check the tightness of the weave—it should be tight enough that you can't see through the mask when you hold it up to light, Gandhi adds.
The same study also found that using two different fabrics together in a mask—cotton plus silk, cotton plus chiffon, and cotton plus flannel—also improved the filtration.
Ideally, look for a mask with a filter pocket. In Clapp's study, when a filter was added to a two-layer nylon mask with a nose bridge, its filtration rate improved from 56.3 percent to 74.4 percent.
Look for filters made out of polypropylene (the same material found in surgical and N95 masks), Gandhi says.
Research N95 and KN95 Masks Carefully
While you might think that it's time to invest in a medical grade mask such as an N95, that's not usually necessarily—and might not be any more effective. One of the reasons an N95 mask works so well is because generally, it's specially fitted to the wearer, Martinello says. "If it's not, air will leak out from the sides and won't provide you with much more protection than that from a regular cloth mask."
And while the KN95 masks from China are also popular—and usually more available than N95s—they may not necessarily offer adequate protection, especially because it can be hard to find a legitimate product. A report released last year by ECRI, a nonprofit organization that advises hospitals on product safety, found that up to 70 percent of imported KN95 masks from China don't actually filter 95 percent of aerosol particles.
If you do decide you want an N95 or a KN95 mask, look into the product carefully before you buy it. The CDC has a list of approved N95 suppliers and has started testing imported KN95s—you can check its list here for a brand that got a good result. The FDA also maintains a searchable list of authorized personal protective equipment.