Furbo Dog Camera Review
And can it work with a cat? As part of a recent Outside the Labs project, my colleague and I tried two pet security cameras, as well as two regular home security cameras, to see how easy they were to use, and how well we could watch our pets.
When this project started, I initially wanted to find out whether or not it made sense to use a Furbo Dog Camera on well, not a dog. My cat, Frannie, loves to chase a handful of thrown treats, and I found myself wishing I could see what she was up to and maybe give her a reward while I ventured back into the outside world on trips or extended stays away from home. But were there features that wouldn't work for a cat? Are cat treats the right size for the machine?
For more information on the other pet cameras we tested, as well as our thoughts on the other models, check out "Can You Use the Furbo Dog Camera for Your Cat?"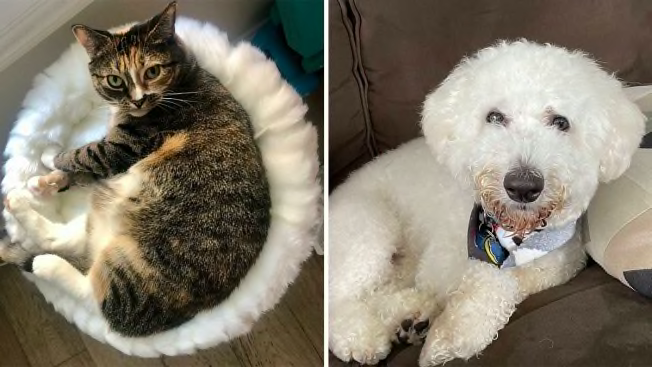 To find out, I bought a Furbo and a few other cameras, and enlisted the extra help of my colleague, Patrick, and his dog, Bentley. We tried out the treat-tossing functions when available and looked at how easy the cameras were to set up and use. And because these devices go in your home, well, we were a bit judgy on appearance. 
Price: From $199 for the camera at Amazon, Chewy, and Furbo. Or you can purchase a bundle from Furbo, which includes the camera and Nanny Cam access for $9.99 per month. Without the bundle, Nanny Cam costs $6.99 per month.
Basic app features: Live view, toss treats, talk to and hear your dog, and get barking alerts.
Subscription plan: The Nanny Cam subscription Cloud recording, advanced barking alert, Doggie Diary (a video summary of the day that you can choose to save to your device), activity alert, selfie alert, and person alert. In early December, Furbo also added new alerts for eating and running, and a potty alert.
Did we like it? Yes! Both pets liked getting treats, as well, and weren't startled by the tossing function.
Setting Up the Furbo Dog Camera and Using the App
Both Patrick and I chose to place it on a countertop, where it was less likely to get knocked over by our pets but was still within treat-tossing range.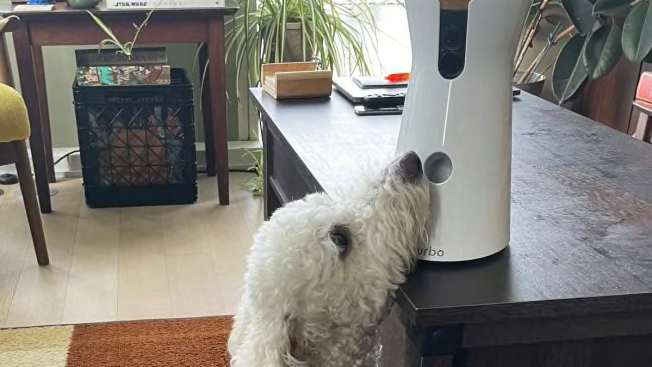 We both found pairing the app with the camera easy, and the interface itself intuitive and clean. Owners have the option of attaching a behavior to a recorded video clip: Once the motion is detected, you can choose whether your dog (or cat, as it were) was chasing its tail, urinating or defecating, barking, etc. This can help owners keep track, perhaps of behaviors to address with their vets. 
The Doggie Diary was kind of cute, although when it comes to cats there's less footage to sum up the day, except for the times when I'd trigger the camera notifications myself. But I did capture a few selfies when Frannie went up to inspect the treat machine to see whether it was going to spit out any more treats.
Patrick found that he almost got too many movement and noise notifications on his phone, which became overwhelming at times, "especially while you're out and can't really do anything about it," he says, adding that it caused a bit of anxiety on the human end because there's not much you can do from a distance besides throwing a treat to calm or distract the pet. However, my cat is so lazy that the only times I got notifications for my cat's behavior were when she got right in front of the camera again after I'd just thrown treats, or when I arrived home and the camera detected a human.
Due to the position of the camera toward the top of the device, the resulting view is a nice, wide angle, allowing us both to see most of the room where it was placed. The quality was also clear enough to see what our pets were up to—although one day after my cat sitter had visited, I spotted a bright green blur in the middle of the carpet and worried that it was a pile of cat grass vomit because I couldn't quite zoom in close enough. It turned out to be a green plastic bag used to pick up dog poop—luckily, empty—that my sitter had dropped on her round.
Furbo's app has a brief intro to help owners get their pets used to the treats, including giving them a treat near the camera at first so that they get used to the idea. What kind of treats you use are up to you, but the instructions recommend choosing "rounded shaped treats with a diameter of 1 cm (0.4")."
You can choose to record your own sound or voice, or use a general squeaky toy sound. Because my cat doesn't respond to squeaks but instead to a certain pitch of my voice, I recorded myself saying, "Frannie, want a treat?" Patrick chose to go with the squeaky toy sound. Overall, neither of our pets were scared by the sound of the treat dispenser. You can't customize how far the treats are thrown—a few feet—or the amount dispensed. That said, the treats went far enough, and you can always throw a second round of treats if you want.
To toss your pet a treat, you place your finger on an image of a cookie on the live streaming view, and slide it to throw. It takes a few seconds, but my cat didn't complain when the treats popped out. 
My cat definitely loved this function, to the point where she would sit and watch the camera and wait for a treat, or climb onto the counter to try to see whether she could free them on her own. She was unsuccessful. Patrick also found that his dog enjoyed the treat-dispensing feature.
Key Takeaway for the Furbo Dog Camera
In short: Yes, you can use a Furbo Dog Camera for your cat (or really any camera), but if they're anything like my cat, most of the time they'll do exactly what cats do—sleep a lot. It also made me miss her even more when I was away, so you'll need to take that into consideration for your own feelings, as well.
If you're a dog owner, there are a lot of appealing features that could be helpful when training your pooch, or at least figuring out who was really responsible for knocking the garbage over and spreading it all around the house. 
Of the four cameras we used with our pets, the Furbo was our top pick overall. We both liked it on an aesthetic level, with its sleek, white hourglass shape and bamboo cover for the treat bin. Because hey, if you're going to have a somewhat large piece of equipment in your home, it might as well look good. And at usually around $150 or even less during sales events, it's more than $100 cheaper than the other treat-tossing model we looked at, the Petcube Bites 2.
When you shop through retailer links on our site, we may earn affiliate commissions. 100% of the fees we collect are used to support our nonprofit mission. Learn more.