Can You Use the Furbo Dog Camera for Your Cat? If you're a pet owner, maybe you know the feeling: You've just stepped out the door and you can't help but think, "What is my Fluffy McFluffersons the First doing right now?" Is the cat shredding the new couch? Is the new puppy barking his head off? 
When we venture outside the home now, some of us may have a newfound need to monitor our furry friends from afar, especially with experts warning that some pets may experience "separation distress." When I found myself once again leaving for long weekends to attend weddings or visit family, I worried that might be the case with my cat, Frannie, who is a bit doglike in her love of chasing handfuls of treats I toss to her (after asking, "Frannie, want a treat?" and getting an enthusiastic "Meow!").
I'd seen commercials for the Furbo Dog Camera—which can toss treats and let you hear and talk to your pet—and was intrigued by the thought of throwing treats to Fran remotely while I was away or maybe just popping in to say "hi." I wondered if the technology would work for a cat. And at around $169, I also wondered if treat-tossing was worth the money or whether a simple security camera could do the trick. So why not try it?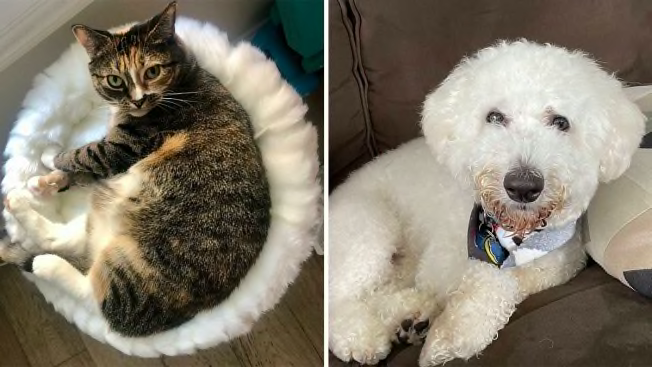 A dog-owning colleague, Patrick O'Brien, decided to get in on the action so we could get the canine side of the equation as well. After I tried out the Furbo Dog Camera and the Petcube Bites 2 camera with my cat, I passed them off to him. Later we discussed what we liked and disliked about each model.
Frannie: Seven-year-old domestic shorthair rescue cat, loves chasing treats, sleeping, and knocking things off tables and counters while making eye contact. Also, sleeping. Dislikes include not getting treats every time her owner stands up, and going to the vet.
Bentley: Four-year-old "Poochon" rescue whose favorite activities include snuggling and long walks while sniffing everything and saying "hi" to everyone. Doesn't love being left alone or ignored, which is why his owners got a camera in the first place.
Best Overall: Furbo Dog Camera
Both pets liked getting treats and weren't startled by the tossing function.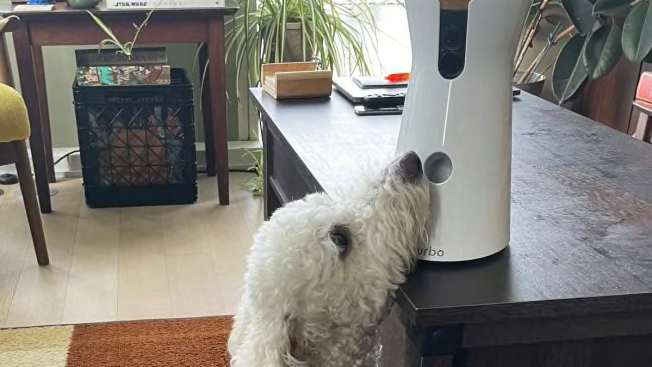 Price: From $118 for the camera at Amazon, Chewy, and Furbo. Or you can purchase a bundle from Furbo, which includes the camera and Nanny Cam access for $9.99 per month. Without the bundle, Nanny Cam costs $6.99 per month
Basic app features: Live view, toss treats, talk to and hear your dog, and get barking alerts.
Subscription plan: The Nanny Cam subscription Cloud recording, advanced barking alert, Doggie Diary (a video summary of the day that you can choose to save to your device), activity alert, selfie alert, and person alert. In early December, Furbo also added new alerts for eating, running, and potty alert.
Read CR's full Furbo Dog Camera evaluation.
A Close Second: Arlo Essential Indoor Camera
We liked the Arlo a hair more than the Wyze for its ease of use and super sound. We could really hear everything in the room, even the quiet thump of my cat hopping off the couch.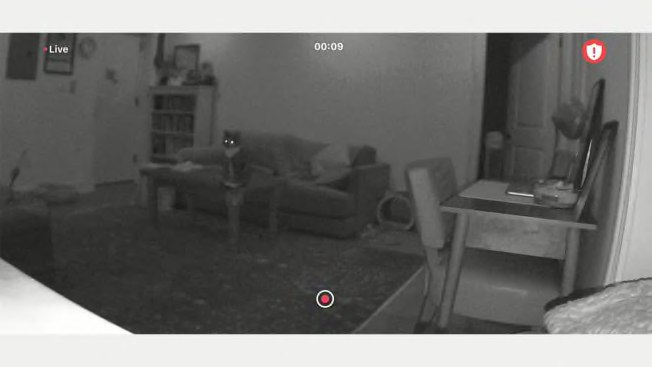 Price: $100 at Amazon, Arlo, Best Buy, Dell, and Lowe's
The Arlo Essential Indoor slightly edged out the Wyze Cam V3 for both of us because we liked the picture quality and wide viewing angle. Though the Arlo was a little bit trickier to set up, I found it easier to customize the different profiles and rules for when and why I received notifications.
See the full Arlo and Wayze evaluations.
Another Good Option: Wyze Cam V3
The Wyze Cam V3 was also easy to operate and had a nice, wide viewing angle and clear picture.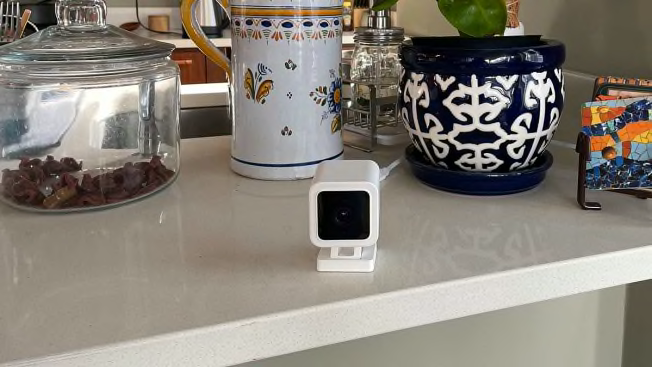 It's the smallest of the bunch and thus easier for my cat to potentially knock over, but its small size does make it inconspicuous, which we both liked. And at just about $36, it's the cheapest option.
Not Recommended: Petcube Bites 2
If you want to light $250 on fire, go for the Petcube Bites 2, which didn't impress either of us.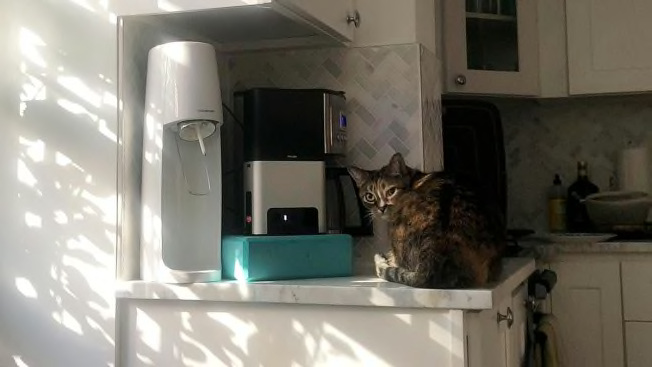 Overall, Patrick and I both admitted that using the cameras to check in too often on our pets led to more human anxiety than the pet kind. I especially felt bad watching Frannie wait for the treat dispenser to throw more food after the initial toss. It looked to me like she was staring into my eyes instead of the camera's lens.
I decided that yes, the Furbo Dog Camera can be used for cats. But the emotional toll of spying on my cat while she sleeps 22 hours a day, and throwing treats to her because I feel guilty for being away, isn't worth it. My cat also didn't move enough to trigger the motion detectors most of the time. In other words, I don't think I have to worry about her scaling the bookshelf or clawing her way up the walls.
Patrick still uses his own Wyze at home and says it can definitely come in handy. One night while he and his partner were on their way to a movie, the camera showed them Bentley with a peanut butter container he shouldn't have, and he'd somehow gotten himself half-stuck under the TV going after it. 
"Based on our concern he would electrocute himself on all the wires and/or bring the TV down on himself, we were able to turn around and get back to him before anything too bad happened," Patrick said. On the flip side, however, they were still pretty close to home so they could head back. But if they'd been farther away or at work, "there might have been little we could do, and it would have caused a lot of stress on us."
If your pet doesn't mind a camera, it might just come down to how you feel about watching from a distance.
Before I started turning on any cameras, I talked to an animal expert first to go over the potential benefits—or downsides—of using one of these devices. Melissa Bain, DVM, a professor of medicine and epidemiology with a focus in veterinary behavior and welfare at the University of California Davis School of Veterinary Medicine, says that many in her field are concerned about dogs suffering from separation anxiety, especially as owners start to venture back to offices and other places outside the home. 
Some signs of anxiety are more identifiable than others, she explains, like howling, whining, urinating or defecating, and destruction. "Other signs can be pacing, drooling, and inappetence, or just laying and staring at the door for hours," Bain says.
Having a camera can help pet owners figure out if their pet is anxious in the first place, or that maybe there's another reason they're eating the woodwork and barking all day. 
"Sometimes they're surprised that it's not separation anxiety but it's more boredom, or they're chewing the doorframe because the mail carrier is coming to the door," Bain says. "Or they're barking, and maybe someone complained that the dog is barking, but the dog is barking at the squirrels."
Cats are more subtle in their anxiety, Bain adds—they don't do things that will cause the neighbors to call the police—so they could be pacing or meowing but owners won't know about it until they see it on video.
Having a pet camera can help owners identify problems, and Bain says they can also help alleviate separation anxiety, especially if the device can offer up a treat as a reward for good behavior.
To that end, while it may be tempting to scold your puppy for doing bathroom business on the carpet, Bain recommends that two-way voice communication should be used only to reinforce good behavior and not to punish bad behavior, because that can cause the dog to develop an aversion to the camera and the owner leaving.
If you do see signs of anxiety in your pet, Bain recommends letting your vet know, so that the underlying issues can be addressed.
Don't want to buy a new device? Bain suggests turning on a tablet or laptop and placing it somewhere safe from your pet, with a good view of the area your pet will spend most of its time in while you're gone. Then, set up a video meeting and join it from that device. While you're away, join the meeting when you want to pop in on your pet. When Patrick first adopted Bentley, he set up a laptop with a video meeting on when he left the house before purchasing a home security camera.
Trying Out the Pet Cameras
Before you bring home a machine that makes noise and throws things, it's important to think about your pet's personality. If they're scared by loud noise and sudden movements, a device that throws treats may not be the best idea. You may want to rethink trying it out, or at least make sure it comes with a return policy. With the amount of city noise outside my apartment, I knew my cat wouldn't be bothered by a little beep 'n toss action—especially if it's accompanied by food.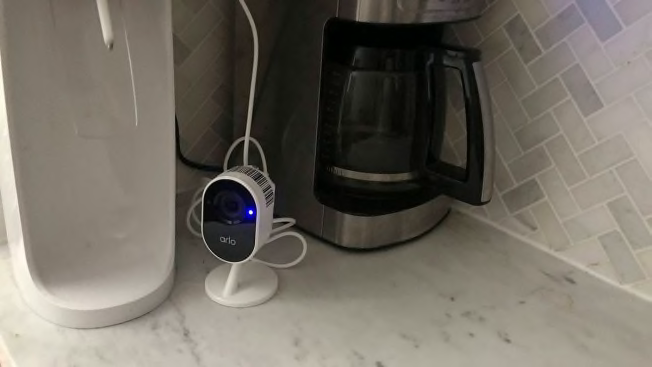 The Setup
Depending on how treat-crazy your pet is, you're probably going to want to position your camera out of reach of your pet. Or, barring that, at least situate it somewhere your pet can't knock it down. I also had to consider where my cat spends the most time in the hope of catching the most action. She didn't have a lot of choices in my small apartment, so I picked the kitchen counter as the designated camera spot. Not only did it offer a good view of the living room, it's also underneath the cabinet where her treats live, an area she already associates with rewards.
But I was slightly concerned about the Arlo and the Wyze models, because they're both small enough for my cat to knock off a counter if she set her mind to it, something she loves to do as a way to alert me that it's mealtime. This meant I had to snuggle those smaller cameras in between my small appliances. Both the Arlo and Wyze come with mounting hardware to tuck them away. But they're wired, so you'll have to make sure you have access to an outlet wherever you place them. While I caught Frannie checking out the cameras many times—especially those that dispensed treats—she was never able to completely knock them over or down.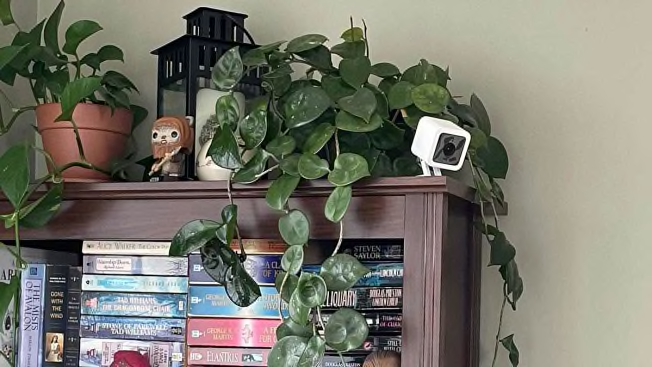 Patrick already owns a Wyze, which he tucks onto the top of a bookshelf, a vantage point that allows him to get a good view of his living room. Because the Furbo and PetCube models are larger, he placed them on the kitchen counter facing out toward his living space when using them.
The Operation
All four of the models we tried required downloading an app to use the basic camera functions. And in order to receive alerts—instead of just livestreaming when I wanted to check in—or download videos to the cloud, each service required a monthly upgrade, typically for around $10/month or less. 
For example, free features on the Furbo app include using the camera's live feed to check in, two-way voice communication, barking alerts, and the ability to toss treats to your pet. The additional Dog Nanny service is $9.99 a month and includes features like cloud recording, a daily video "Doggie Diary" of all the action from that day, activity alerts, and "selfie" alerts (for when your pet gets right up in the camera). Petcube offers similar features. The basic app gives you live video streaming, a one-year warranty, and treat-tossing. The Care Optimal is $5.99 a month and adds in three days of video history, smart alerts, and a limited amount of video downloads, among other things.
Our Criteria
While using the cameras, we looked at factors like how easy it was to set up the cameras and pair them with the smartphone apps, what the camera angle allowed us to see, basic video quality, how accurate the alerts were, and, of course, how our pets reacted to the voice and treat-tossing functions.
This product evaluation is part of Consumer Reports' "Outside the Labs" reviews program, which is separate from our laboratory testing and ratings. Our "Outside the Labs" reviews are performed at home and in other native settings by individuals, including our journalists, with specialized subject matter experience or familiarity and are designed to offer another important perspective for consumers as they shop. While the products or services mentioned in this article may not currently be in CR's ratings, they might eventually be tested in our laboratories and rated according to an objective, scientific protocol.
Like all CR evaluations of products and services, our "Outside the Labs" reviews are independent and free from advertising. If you'd like to learn more about the criteria for our lab testing, please go to the Research & Testing page on our website.
When you shop through retailer links on our site, we may earn affiliate commissions. 100% of the fees we collect are used to support our nonprofit mission. Learn more.