How to Find the Best Dog Bed
A better bed can make your dog happier and more comfortable When my husband and I first got our dog, Gordo, from the dog rescue, we bought him a thin, flat, lightly cushioned dog bed. The easygoing family dogs I grew up with had slept wherever—our beds, the carpet, curled up in front of the gas fireplace. But Gordo was different. He was only a year old, and for all we knew had been a stray before we got him, but nevertheless he turned his nose up at his new dog bed, sleeping on it only occasionally and preferring to curl up on the sofa or my reading chair instead.
Choosing a Dog Bed for a Puppy
Get a mess-proof dog bed. It's not necessary to get your puppy a super high-end supportive bed, according to Kiersten Forsyth, a research fellow at the Dog Aging Project at Texas A&M University. But there are a few things you should keep in mind. Forsyth recommends buying a dog bed that you can easily throw into the washing machine, or one that has a cover that you can take off and clean. A waterproof dog bed, or one with a waterproof cover, is a great idea "because puppies do tend to make more of a mess in their bed," she says.
Shop waterproof dog beds: Amazon, Chewy, Target, and Walmart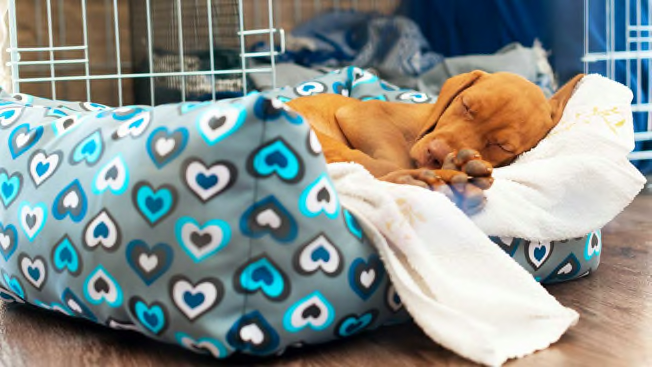 And consider chew-proof materials. "Avoid anything that can be chewed and ingested, especially fibers and fabrics. This is a potentially serious issue for puppies or confirmed chewers," says Jacqueline Boyd, a senior lecturer in animal science at Nottingham Trent University in the U.K. "Often towels, blankets, etc. are not ideal choices here. Fleece bedding with a non-chew backing is often a good start for puppies." 
Flynn agrees. "If a puppy is a big chewer, there probably isn't a material that would be safe to leave in its kennel unattended," she says.
Julie Potter, the business and development director at Paws Crossed Animal Rescue in Elmsford, N.Y., says the group uses K9 Ballistic dog beds because they're great for chewers. "They are extremely tough but also very comfortable," she says. Plus, they come in a bunch of different styles and sizes, so they'll suit a wide variety of puppy preferences.
What size dog bed should you buy for your puppy? It's okay to get either a puppy-sized bed and upgrade later or get a larger dog bed for the long term. "It's fine to get a bigger bed for them to grow into," Forsyth says. "If you've got a very small dog, they actually have to be able to physically get into the bed, so make sure that it's not too tall." If you do opt to get a puppy-sized dog bed and graduate to a larger bed as the dog grows, be aware that it may prefer the small bed even after it's too big for it. 
"If your dog seems more sentimental and gets attached to the old puppy bed, sometimes they will still choose to lay in it instead of the nice new bigger bed," Forsyth says. Her 14-year-old dog still lies in his puppy bed even though he clearly doesn't fit in it anymore, she says. "When he lays in it, half of his body is laying on the floor." Forsyth says that if it's what he prefers, it's fine. If it were actually hurting him or making it difficult to sleep, he wouldn't lie in it as often as he does, she says.
Buying a Bed for an Old Dog or a Pet With Joint Problems
Choosing a bed for senior dogs and dogs with conditions such as arthritis and hip dysplasia requires more care than when shopping for younger, healthier dogs. "You really want a bed that's going to be supportive for their joints," Forsyth says. Egg crate foam and memory foam are both supportive and comfortable for dogs with tender joints and bones.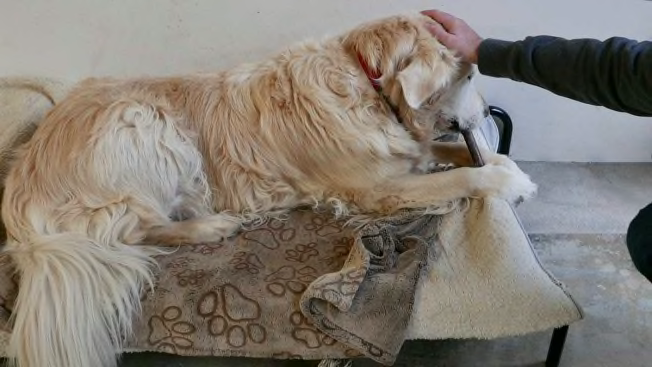 Elevated beds, which look sort of like a rectangular trampoline, are another good option for senior dogs. Potter says Paws Crossed Animal Rescue loves Kuranda elevated beds. Because they're elevated, they reduce the number of pressure points and thus are great for dogs' joints, she says. Plus, they're easy to clean and chew-proof. "You can buy extra cozy toppers for them," she says. "We use donated blankets and comforters to keep our pups cozy. They're easy to change out once or twice a day." 
Whichever bed you choose, make sure it isn't so high off the ground that the dog can't get in or out of it. Forsyth says to pay particular attention when purchasing an elevated bed or one with a tall "wall" going around it. "It might be difficult for older dogs to actually step up into the bed," she says. 
Choose washable materials. With older dogs, as with puppies, you may want to consider washable materials. "Sometimes a washable, waterproof cover is important for older dogs who might start to have bladder weakness," Boyd says. "You can get some bedding and beds that wick away moisture in such events to keep your dog dry, clean, and warm." Mallory Kellery, the marketing director for Muddy Paws Rescue in New York City, recommends the Majestic Bagel Dog Bed, which is cozy as well as simple to throw in the wash when it gets dirty. "Our foster pups seem to love that they can curl up against the sides like they are getting a hug when they are hanging out in their crates," she says. 
Gordo, who is the proud owner of a Majestic Pet-brand "Villa Bagel Dog Bed" in a "vintage" colorway, agrees. 
Choosing a Climate-Specific Dog Bed
A husky in Arizona is probably not going to want to cuddle in a big, fluffy, faux fur dog bed at any time of year, but especially in the summer. Likewise, a shivering whippet may be uncomfortable on a thin mat near a drafty corner of a New England apartment. Some materials or bedding styles will be better than others, especially if you have a dog whose breed is particularly sensitive to temperature, such as the aforementioned huskies and whippets. 
Best dog beds for a warm-weather climate: "If you live in a really hot environment, you might not want to get a memory foam bed, because memory foam tends to trap heat," Forsyth says. Dog beds made with egg crate foam won't get too hot because their shape encourages airflow. They're also comfortable and supportive even for senior dogs. An elevated dog bed is another great option for hot weather or for dogs that tend to run warm. "Because they're lifted up off the ground, air can flow beneath," Forsyth says. Just make sure the dog bed isn't too high for the dog to get into, and choose one with plastic piping rather than metal, which can get extremely hot.
Best dog beds for a cooler climate: Memory foam is a great cold-weather option. All of that captured heat will make it a beloved cuddle zone for chilled dogs in cold regions. Dog beds with tall sides that a dog can tuck his head into (such as a bagel bed), faux fur beds, and sherpa beds are all cozy, warm choices for a pup in a cold apartment or uninsulated barn. Or consider a pile of blankets. My dog likes to be tucked in, like a little kid at bedtime, when the temperatures drop. 
Shop memory-foam dog beds: Amazon, Chewy, Target, and Walmart
How to Acclimate Your Dog to a New Bed
It took several weeks to convince Gordo that his fancy new bagel bed was, in fact, his, and was for sleeping in. He eyed it suspiciously for some time, instead choosing his old spots on the couch, a regular bed, or the sofa—typically neglecting his old dog bed, too, of course. But with coaxing, he eventually figured out that the taupe fabric bagel was all his.
Forsyth says that a dog may avoid a new bed because it doesn't like the way the bed smells. Cleaning the dog bed or letting it air out a little bit, so that it doesn't smell like the box it came in or the store that it came from, can help, she says. You could also pile old blankets, clothes, or toys that the dog loves into the bed, so that it learns to associate the bed with positive things and the bed more quickly takes on familiar scents. 
"Positive association" is key, Boyd says. "Provide treat rewards when your dog experiences a new bed." If that doesn't work, Flynn says that feeding the dog its meals in the bed can coax a reticent pooch into his new sleeping area.
When you shop through retailer links on our site, we may earn affiliate commissions. 100% of the fees we collect are used to support our nonprofit mission. Learn more.