How to Pick the Best Toys for Your Dog
Shopping and safety guidelines for the pooch in your life
Toys are vital to a dog's health. They help to ward off boredom, prevent poor behavior problems and strengthen jaws. They can also keep a dog's teeth clean. But if you get the wrong kinds of toys dog, they could also be dangerous.
So when you go shopping for Fido, try to buy toys that are size-appropriate. Big dogs, for instance, might rip apart and eat toys meant for little pups, which could cause choking or intestinal blockages. Small dogs (or older ones) could injure their teeth on hard toys meant for large dogs.
Run this little test. See if you can make a dent in your dog's toys with your fingernail. If they don't give a little, the toys might eventually lead to a broken tooth, especially for a small dog. Many toys are labeled so that you know what size dogs they're intended for. But if you have any questions, ask your vet or dog trainer.
Also, think also about the purpose of the dog toy. Is it a toy that you will use to play with your dog? Is a toy that will entertain your dog when you are away? Perhaps it's a toy that can help a hyper dog to calm down.
Choose toys that let you interact with your dog, perhaps allowing you to play some form of Frisbee or a gentle version of tug-of-war (if your dog is very aggressive, skip tug-of-war). Such games can give your dog a good cardio workout. "Dogs, like people, often don't get as much exercise as they need," says Bonnie Beaver, a professor at Texas A&M University College of Veterinary Medicine & Biomedical Sciences and former president of the American Veterinary Medical Association.
Remember that size matters. Stick with a small Frisbee (or something similar) for little dogs and pups and a tougher Frisbee (or something bigger) for bigger dogs.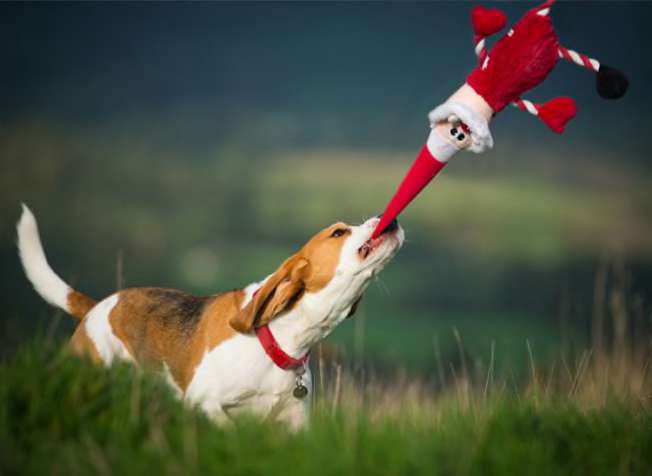 Do look for tough toys like Kongs that you can fill with treats. They might be the only ones your dog plays with by himself, trying to extract the goodies. Softer versions are good for young pups and older dogs.
Don't forget to check labels to get the right version for your pooch. Large dogs might quickly chew through softer toys meant for small pups, which would be a waste of your money at best, a hazard at worst.
Consider giving your dog a stuffed animal. "Dogs often just like to hold soft things in their mouths," Beaver says. Some dogs seem to find it calming to chew on toys like a stuffed animal or rope knot, she says.
Forget buying your dog a stuffed animal if your pooch is the search-and-destroy type that tears out (and eats) stuffing. Such toys can be dangerous. Be sure to toss out any snuggly animal toys when the insides start to come out. Animal-shaped toys without stuffing can be a good substitute. And never give Fido a worn-out shoe to gnaw; your dog won't be able to differentiate between your old slipper and your new Burberry loafers.
Watch out!
If you have an aggressive dog, avoid toys with squeakers that can easily be ripped out and swallowed. And keep kids' toys that might be swallowed, like toy soldiers, out of reach. Veterinarian Stanley Truffini of the Georgetown Veterinary Hospital in Redding, Conn., said he operated on a dog to remove a staple he saw on an X-ray only to find it was surrounded by a Koosh ball. "Pet-proof your home and look for hazards on their level," he says. For more safety tips, watch the video below.