When you shop through retailer links on our site, we may earn affiliate commissions. 100% of the fees we collect are used to support our nonprofit mission.
Learn more.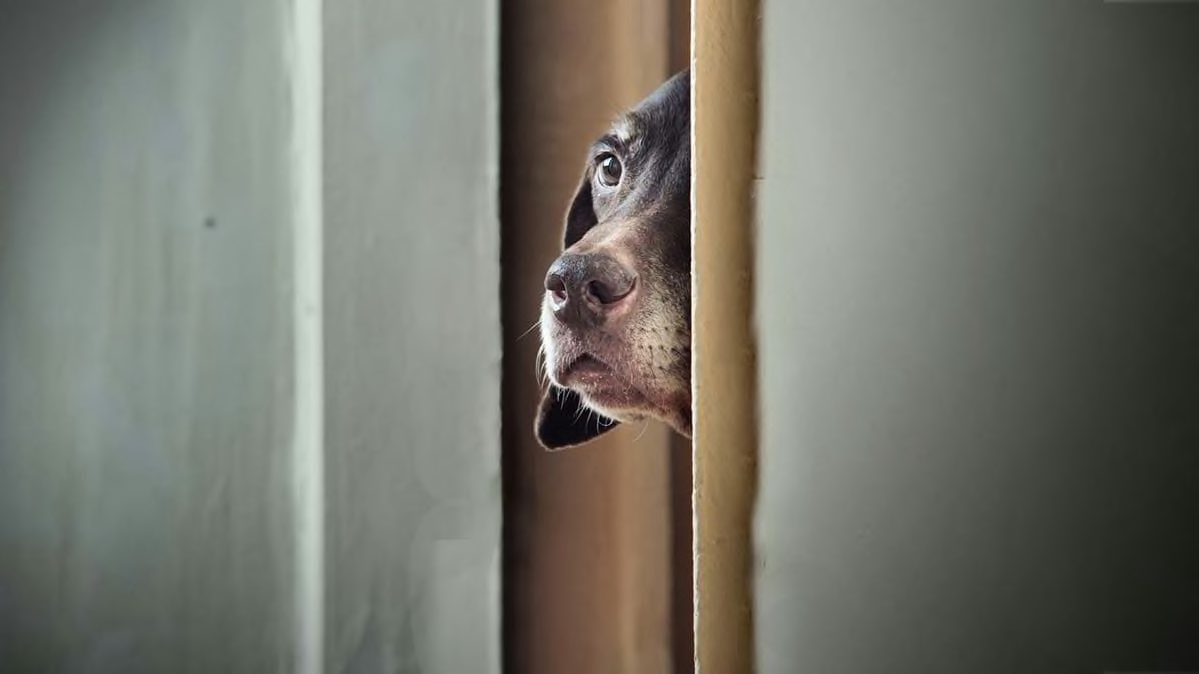 On any given day, pets can get into all sorts of mischief, including toppling plants or shredding shoes. So imagine the potential for disaster with your pet and a lit candle or a basketful of bite-sized candy.
As critical as it is to keep kids safe on Halloween, it's also important to recognize the dangers that abound for pets—and in turn for their owners—during Halloween festivities.
"Any holiday poses risks and requires special attention for your pets, in terms of how they interact with their environment," says Kenny Lamberti of the Humane Society. "For Halloween, it's smart to institute some additional precautions."
For starters, candy can be toxic for pets. Chocolate in all forms—particularly dark or baking chocolate—can be very dangerous for dogs and cats.
Symptoms of significant chocolate ingestion may include vomiting, diarrhea, hyperactivity, and increased thirst, urination, and heart rate.
Candies containing the artificial sweetener xylitol can be poisonous for dogs. Even small amounts can cause a sudden drop in blood sugar, which can lead to a lack of coordination and seizures.

How to Keep Your 4-Legged Friends Safe
And as cute as it might seem to dress your feline friend or canine companion in a costume, bear in mind that a frightened pet in a cape is nobody's idea of fun (especially not the animal's).
Here are some guidelines from the Humane Society of the U.S. and the ASPCA on how to keep your pets—and the people around them—safe on Halloween.
Keep your pet in a quiet place, away from trick-or-treating and other Halloween activities. Dogs and cats can become frightened or agitated by the unaccustomed sights and sounds of costumed visitors. "If possible, keep your pets in another part of the house, since you're going to get plenty of door knocking and doorbells," Lamberti says. Or if you have a dog near the door with you, keep him on a leash.
Cats—black ones in particular—often fall victim to pranksters. Keep them safely indoors.
Place live flame decorations like candles and jack-o'-lanterns out of your pet's reach. Curious cats or rambunctious dogs can easily knock over a candle with a paw or a wagging tail.
In terms of candy you're handing out, keep all baskets and bags out of reach (never on the floor near the door).
Pick up candy wrappers. Ingesting tinfoil and cellophane can pose a choking hazard or cause an intestinal blockage.
Don't let the family dog accompany the kids on their trick-or-treat outing. Children may have a difficult time handling a pet during the festivities, and your pooch could get loose, especially if she is spooked by neighborhood goblins. And even if you have a tight hold on the leash, realize that when you take your dog out, you're responsible for keeping the public safe, too. "If your dog is jumping on people, he won't make a good trick-or-treating companion," Lamberti says.
Keep decorations that pets could chew on—like streamers and fake spiderwebs—as well as wires and cords from electric decorations out of reach. If pets chomp on Halloween decorations, they could choke or become ill; if they chew on electrical cords, they risk a potentially deadly electrical shock.
In the rush to get costume-ready, you might leave makeup or face paint within reach. These products can be toxic to your pets, Lamberti warns. "Talk to the young people in your house, too, so if they're wearing face paint or makeup, they don't let Fluff lick their faces."
IDs, please! Always make sure your dog or cat has proper identification. If for any reason your pet escapes and becomes lost, a collar and tags and/or a microchip can increase the chances that he or she will be returned to you.