Best Pillows From Consumer Reports' Tests
CR testers put more than two dozen pillows through their paces to figure out which ones will help you get better zzz's
When you shop through retailer links on our site, we may earn affiliate commissions. 100% of the fees we collect are used to support our nonprofit mission. Learn more.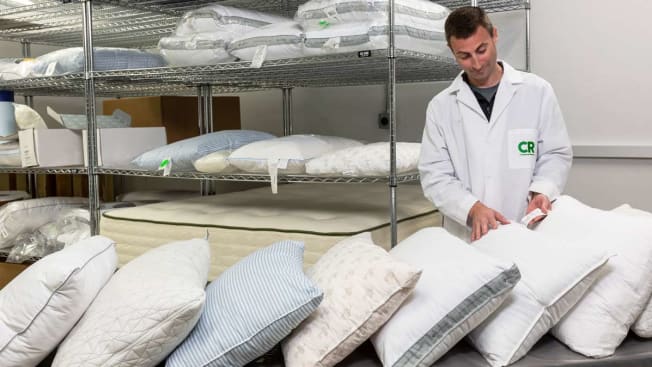 Sometimes, the biggest barrier between you and a good night's sleep isn't your mattress, but what's under your head. Regardless if your pillow is too firm, too soft, or just a bit old and lumpy, swapping it out for a new one that suits you better might help you wake up refreshed in the morning.
We currently rate more than two dozen pillows from widely available brands, each poked, prodded, and pounded by machines in the lab. We assess how well each one supports the head and neck of people of various sizes—petite, average, and large/tall—whether they sleep on their side or their back. And we use a pressure mat to analyze about 1,600 pressure points, focusing on the contact area between the head and the pillow.
"You need to find a pillow that doesn't crane your neck in any position," says Joel Press, MD, physiatrist in chief at the Hospital for Special Surgery in New York City. "The idea is to keep your neck as neutral as possible when you sleep."
We also evaluate how well pillows hold their shape by placing an evenly distributed 225-pound weight on each one (to simulate the human body) in a room set to 98.6° F (to mimic body heat) for 96 hours. "Some pillows will show considerable changes, but fluffing will bring the pillow back to the exact characteristics it had prior to the test," says Chris Regan, the CR test engineer who oversees pillow testing. "Some aren't able to bounce back." That's reflected in a lower resilience score.
Pillows need long-term maintenance so they last as long as possible. Be sure you know how to wash your pillow to keep it in good shape. And if you have asthma or a dust mite allergy, consider adding a pillow protector.
Read on for a closer look at the top pillows from our tests, listed in alphabetical order. Some are adjustable, meaning you can remove some of the filling to your liking.
For more, check our pillow ratings to see how the full slate of pillows performs in each of CR's tests. And consult our pillow buying guide, where you can learn more about how we test pillows and additional factors to consider as you shop.