When you shop through retailer links on our site, we may earn affiliate commissions. 100% of the fees we collect are used to support our nonprofit mission.
Learn more.
Fans of single-serve coffee makers that take soft pods or hard-shell capsules like Keurig's K-cups tend to value fast brewing, fuss-free operation, and a variety of flavors and beverages. Unfortunately, the trade-off is often taste. For readers who want it both ways—decent taste in a hurry—Consumer Reports has just completed expert taste tests on 20 single-serve coffee makers—and added the results to our full coffee maker Ratings. Two single-serve coffee makers made our list of top picks.
Coffee makers that brew ground coffee in traditional ways, such as drip machines, can coax the most flavor out of quality beans. For our taste tests of the single-serve machines, we use the Colombia coffee made for that brand or the closest varietal available. But like the single-serve coffee makers we've tested in the past, the current batch performed no better than so-so for taste.
If you drink your coffee with a lot of milk and sugar, you might not notice. But for true coffee lovers, the taste can be disappointing. That's because the pods come with pre-ground coffee, which begins to lose its flavor as soon as the beans are ground.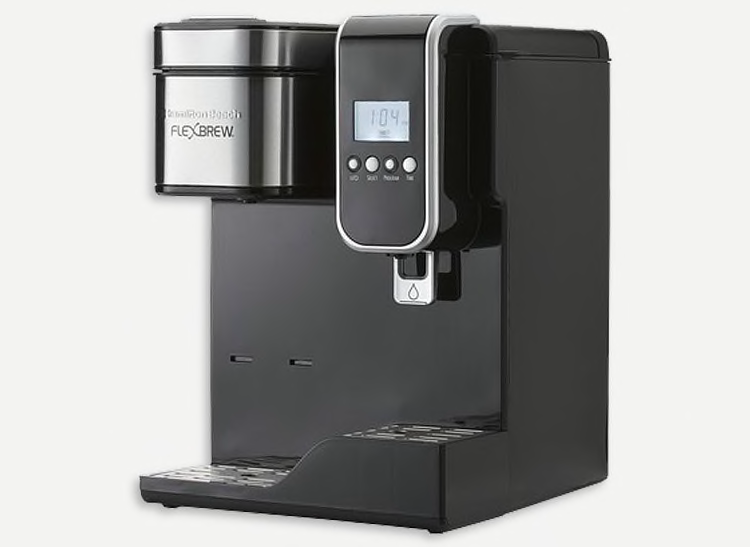 Two New Pod Picks
One model that was just added to our recommendations, the $100 Hamilton Beach FlexBrew 49988, is especially noteworthy because single-serve coffeemakers of this brand haven't made our list in past tests. This model, however, was fairly quick at delivering both a first serving and subsequent cups. We also found it especially consistent at maintaining both size and temperature across multiple servings, though other recommended models were more convenient overall.
This model will also brew loose coffee into travel mugs, but in those separate tests the Hamilton Beach FlexBrew 49988 failed to impress at either brew performance or convenience.
Another newly recommended model, the $150 DeLonghi Nescafé Dolce Gusto Esperta, was less surprising in its performance. It fell short in comparison to long mainstays in the top ranks of our Ratings such as the $130 DeLonghi Nescafé Dolce Gusto Genio EDG455T but is nevertheless worth considering if you're satisfied with the selection of Nescafé Dolce Gusto drinks. They're down to just 18 flavors from the former 25.
One also-ran came close. The KitchenAid Nespresso by KitchenAid KES0504 drew attention during initial tests both from its solid construction and candy-apple red finish, along with its whopping $450 price. But its range of serving sizes, more narrow than from most other machines we've tested, helped pull its overall score down just enough to keep this coffee maker off our recommended list.
If you're looking for a single-serve coffee maker, you can't go wrong by viewing our coffee maker Ratings of 43 models—out of a total of almost 140 machines in all. Be sure to check out our coffee maker buying guide if you haven't bought a coffee maker in a few years.