When you shop through retailer links on our site, we may earn affiliate commissions. 100% of the fees we collect are used to support our nonprofit mission.
Learn more.
For years, many consumers who used prepaid cards thought of them as an alternative to a checking account. They could buy a prepaid card from a retailer, load money onto it at a grocery store or at a check-cashing outlet and then use it to make payments—up to the amount deposited on the card. It was a great way to avoid having to keep a minimum balance in a bank checking account and it reduced the risk of being charged overdraft fees.
But these cards weren't always as good as they seemed. Some prepaid card issuers were charging customers fees they didn't expect, including fees for transactions, and activating a card and then loading money onto it.
Today, prepaid card issuers are more transparent about the fees they charge, but those fees can still be very high.
The Univision MasterCard Prepaid card, for example, charges a monthly fee of $9.95. Both of the NetSpend Prepaid Visa cards that we rated charge $2.50 for an "over-the-counter cash withdrawal at a financial institution" as well as if you take money out using your card at an ATM.
Partly because of fees, these cards rank among the lowest in our Ratings. NetSpend is the lowest rated card. When asked about the high fees, NetSpend responded by saying that it offers "a feature-rich product that may not be comparable to prepaid card programs" we reviewed.
Check our prepaid cards buying guide for more information and scroll down this page to see our Ratings chart of prepaid cards used as a bank account substitute and our Ratings chart of prepaid cards used in addition to a bank account.
Top-Rated Prepaid Cards
Among the top cards are those rated highly for convenience (which means the cards have low ATM fees, are widely accepted and offer services such as online bill pay), value (which means low fees), safety (FDIC insurance), and fee accessibility and clarity.
Among the prepaid cards reviewed by Consumer Reports (see the Ratings charts below) four stand out as being highly rated: American Express-Walmart Bluebird was among the top four because it charges no monthly fee and offers some great services, such as bill pay and free access to in-network ATMs.
Also highly rated were Chase Liquid Visa and Green Dot Prepaid Visa, which both charge monthly fees but are more widely accepted than Bluebird.
All of the cards we recommend are FDIC-insured, so if one of the institutions that provides the card goes out of business, the money you loaded onto the card will be protected. They also voluntarily offer fraud protection, which limits your liability in the event of unauthorized charges.
We should point out that we are not currently recommending the Prepaid Visa RushCards.
In October 2015, we suspended our recommendation of these cards because of the widespread problems customers were having when using them (RushCard was in the process of transitioning to a new card-processing vendor). The Consumer Financial Protection Bureau, which ensures that financial service providers operate fairly, launched an investigation shortly afterward, which is ongoing.
We're monitoring consumer complaints registered with the CFPB. The complaints have declined after an initial spike—a step in the right direction. Our suspension remains in place until we are convinced that this issue has been fully resolved.
Consumer Protections
Our Ratings will guide you to the prepaid cards we like best. While the prepaid cards listed here provide some consumer protections, remember that they are not currently required by regulation to do so and those protections can be withdrawn at any time.
"Until strong federal rules are fully in place, we urge consumers to consider the lack of mandatory legal protections when deciding whether to use a prepaid card," says Christina Tetreault, a staff attorney for Consumers Union, the policy and advocacy arm of Consumer Reports.
For more than a decade, Consumers Union has lobbied for more consumer protections on prepaid cards (PDF). The CFPB says it plans to issue regulations for all prepaid card users this year. Among the benefits we expect:
Financial institutions would be required to provide periodic statements or online account access to customers who register their cards.
If errors were found, card issuers would be required to investigate and resolve those errors in a timely manner.
Consumers would also be protected against unauthorized use of the card, which could include fraudulent withdrawals or purchases.
"Know before you owe" disclosures would provide consumers with information about their prepaid card, such as applicable fees.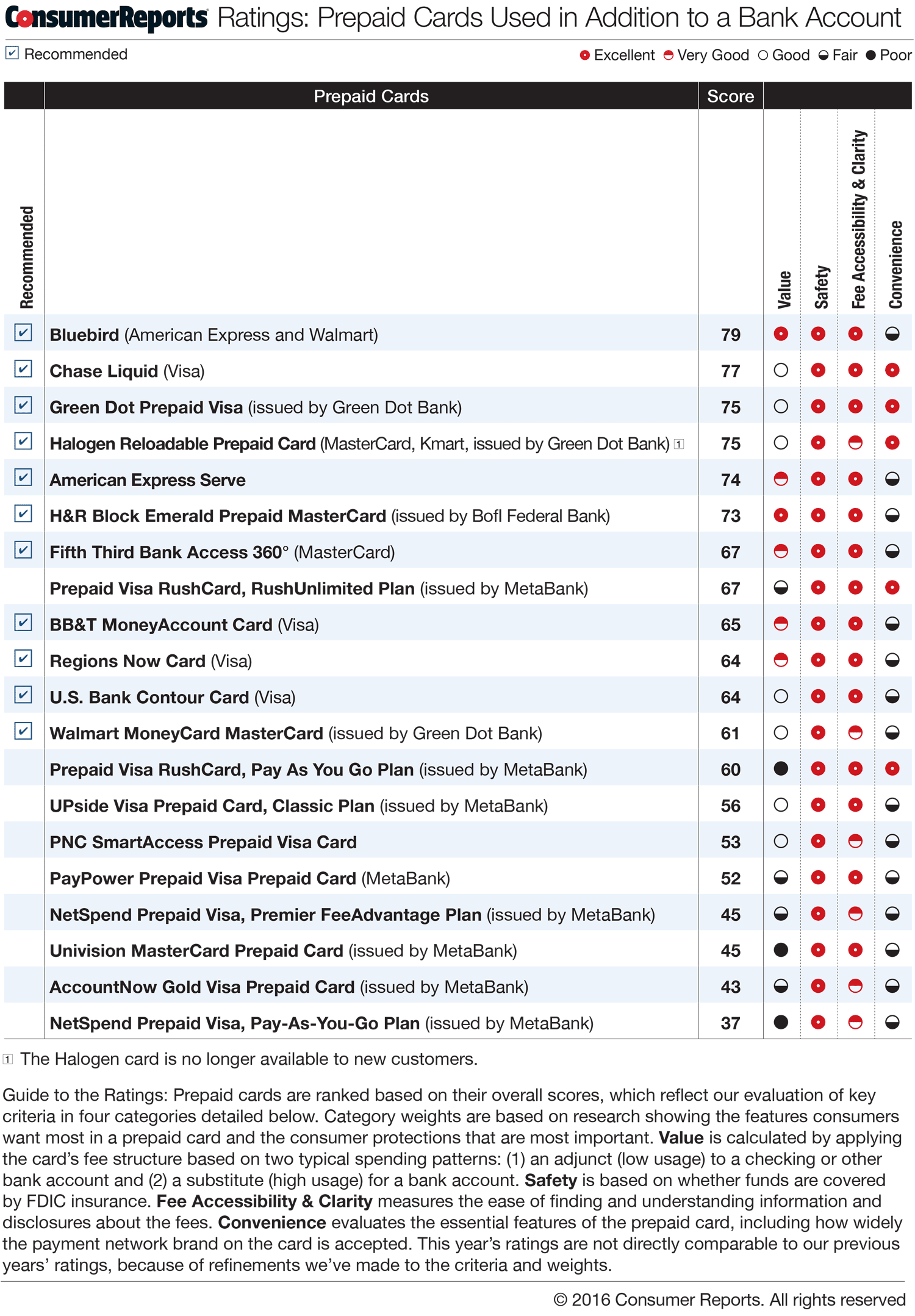 Editor's Note: An earlier version inadvertently had incorrect headlines on the tables. The headlines have been corrected. A previous version also included the Halogen Reloadable Prepaid MasterCard, issued by Green Dot Bank. That card is no longer available to new customers.