Best Home Printer: You Can Find Just Your Type!
Our ratings and advice will guide you to the printer that's right for you—and help you save money using the one you already own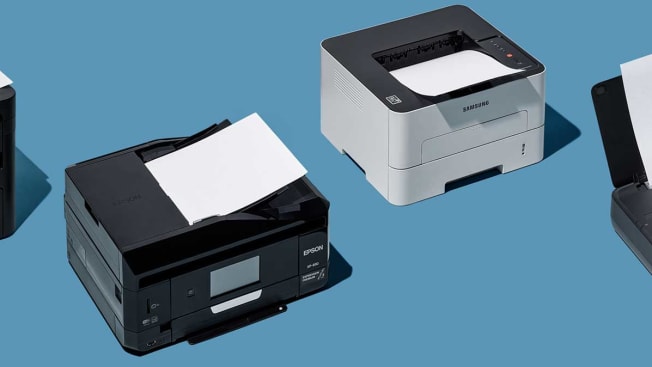 Printers these days can be surprisingly inexpensive. In fact, you can often find one on sale for less than $50. But buyer beware: If you pick a printer just because it looks like a steal, there's a good chance you'll end up feeling robbed.
That's because the cost of owning a printer doesn't end with that first trip to the cash register—not by a long shot. You're going to have to buy replacement ink, which, at up to $87 per ounce, can add up quicker than a bar tab at a bachelor party. Our lab tests show that with some ink-guzzling models, you could spend more than three times the cost of the printer on ink over two years. No wonder more than half of the 53,000 subscribers we surveyed about product reliability last summer said they wanted to know how to save money on ink.
The good news is that Consumer Reports never stops putting printers through their paces. Our ratings (which indicate both the cost of ownership and how much ink a model uses) will help you find one with the features you need that won't cost a fortune to operate. We'll even tell you how you can save money using the printer you already own. (See our call to manufacturers to cut down on ink waste.)
You might think you don't need to worry about the cost of ink if you print only occasionally. But you'd be wrong. With some printers, the less frequently you use them, the more ink they drink. Inkjets, the most popular kind of home printer, use ink for a maintenance cycle—mostly to keep printheads clean after the printer has been sitting idle. Some of them can really guzzle it.
The ink used for maintenance never makes it onto a page but is deposited into an internal reservoir known in the industry as a "spittoon" or "diaper." With intermittent use, plenty of models we tested used half or less of the ink in a cartridge for printing; some used as little as 20 to 30 percent, meaning that people who print infrequently could end up spending more on ink than those who print a steady stream of pages.
Printers from Brother were generally thrifty with ink when used intermittently. Other brands varied. For example, Epson's Expression Premium and Expression Home series printers used relatively little ink for maintenance, but Epson's other series we tested used much more.
We found no correlation between ink guzzling and print quality in our tests, but we did find that printers that use the most maintenance ink could add $100 (and up to $200) to the cost of operating them each year. So look for ones that sip ink rather than chug it. You can find them by referring to the Maintenance Ink Use column in our ratings.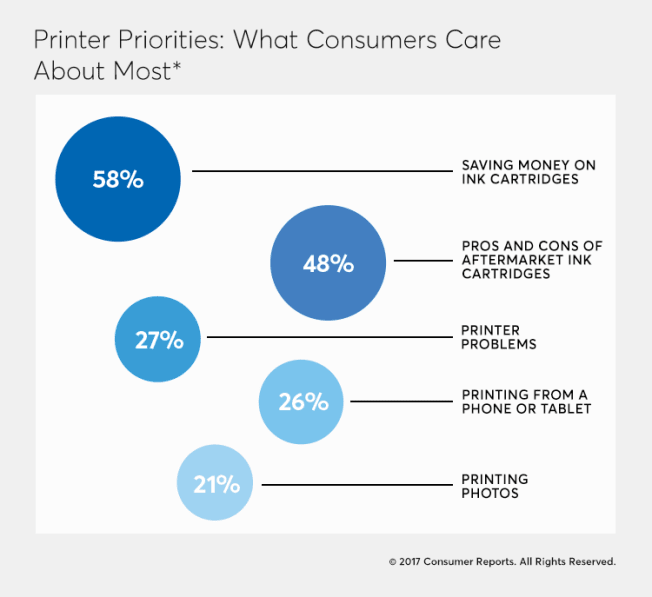 To satisfy ink misers everywhere, Epson rolled out its game-changing EcoTank line of printers in 2015. Instead of using cartridges, EcoTank printers come with ink tanks that are less expensive to refill than traditional cartridges are to buy. (Canon introduced its own line of ink-tank models to the U.S. market, the Pixma G-series MegaTank printers, at the end of 2016. We'll be testing them later this year.)
EcoTank printers come with what the company claims is enough ink to last up to two years (based on a generous print volume of black-and-white and color pages). When the ink runs out, you can replace all four colors for about $50, which should last about another two years. Buying the same amount of ink for a regular inkjet would cost about $800.
The more expensive EcoTank printers rated Very Good in terms of text quality; the less expensive models rated Fair. But there's no question that they're crowd-pleasers: 58 percent of the EcoTank owners we surveyed said they were completely satisfied with their printer vs. 37 percent of those who owned other Epson inkjet printers purchased since 2015. EcoTank printers are also comparatively trouble-free. Only 8 percent of EcoTank owners reported problems with their printer vs. 17 percent of those who owned other Epson inkjet printers. EcoTank printers are pricey (they start at about $300) compared with regular inkjets. But Rich Sulin, who tests printers for CR, says that an EcoTank will save you money in the long run, paying for itself after about three years of use. Still, if you're only printing documents in black and white, a black-and-white laser printer will deliver more options and better quality at a lower price.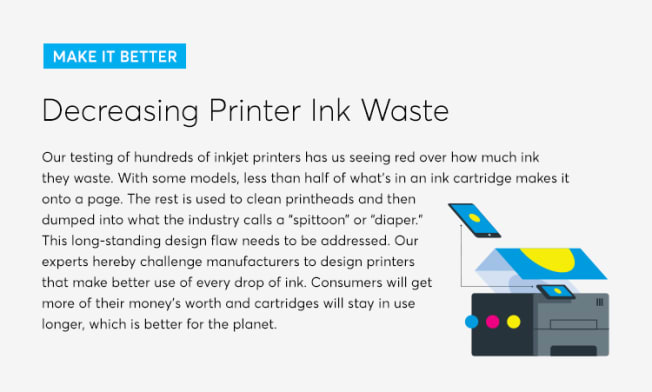 You don't need to buy a new printer to trim your ink expenses. These tips will help you save money with the inkjet printer you already own:
Consider capacity. Remember to think about not just the price of ink cartridges but also their capacity. For example, HP's 950 cartridge costs $29 and yields 1 ounce of black ink for $29 per ounce. The 950XL cartridge yields 2.8 ounces of ink and costs $40, or $14 per ounce.
Leave it on. Leaving your printer on may reduce ink-guzzling maintenance cycles. (Inkjets that are Energy Star compliant consume very little power when left on but not in use.)
Try aftermarket cartridges. Ink cartridges manufactured by third parties usually cost less than name-brand cartridges and are widely available online. Just over one-third of our survey respondents reported having used third-party cartridges. Of those, 63 percent said that they worked just as well as name-brand cartridges; 36 percent said they performed worse.
Print with less ink. If it's for your personal use and you're more concerned about saving money than about print quality, consider using "draft" mode, which uses less ink. And avoid using heavy fonts like Arial, which will empty your cartridges faster than other fonts.
These features are available on regular and all-in-one models, and can add value and versatility to your next printer purchase
Autoduplexing: Allows you to save paper by easily printing on both sides of a page. Or you can print the odd-numbered pages first, flip them over, place them back in the paper feed, and then print the even-numbered pages.
LCD screen: A built-in screen lets you easily navigate a printer's functions and, on some printers, view and edit images from a memory card.
Separate cartridges: In addition to black, most color inkjet printers use cyan, magenta, and yellow ink (some use even more colors), which, depending on the model, can be supplied in individual cartridges or combined into a single cartridge. Separate cartridges can save you money; you replace just the color that's running low. When a single cartridge runs out of color, you need to replace the whole thing.
Connectivity: Wireless printers allow you to print directly from the internet or a mobile device (such as printing photos directly from your phone) and eliminate the need for cords or placing the printer next to the computer.
Photo quality: If you'll be using the printer to produce photographs, choose one that rates highly in photo quality in our tests. Also look for models capable of printing larger formats.
Editor's Note: This article also appeared in the March 2017 issue of Consumer Reports magazine.