When you shop through retailer links on our site, we may earn affiliate commissions. 100% of the fees we collect are used to support our nonprofit mission.
Learn more.
Facebook released today a new messaging app designed specifically for children, raising concerns among digital privacy advocates, who urge parents to exercise caution before embracing the tool.
The free app, called Messenger Kids, is aimed at children between the ages of 6 and 12 and allows them to share texts, photos, and videos with parent-approved family members and friends. Parents must first be Facebook friends with the parents of their children's friends. Though similar to Facebook Messenger, Messenger Kids does not require users to have a phone number. It can be downloaded to a phone, but it's optimized for use on a tablet or Apple's non-cellular iPod Touch as well.
The user profile, which is set up by the parent, will include a photo and the real first and last name of the child, although Facebook says that information will not be searchable. As of now, the profile does not include a bio, age, or birthdate. Other personal data such as the user's gender is optional.

The app is available in Apple's App Store starting today, with versions for Android and Amazon Fire users to follow in a few months. Like Facebook Messenger, Messenger Kids requests access to the microphone, camera, and photos on the user's mobile device.
"This app will allow very young children to message other people, chat with them, and even exchange personal photos and videos," says Jessica Rich, vice-president of Consumer Policy and Mobilization for Consumers Union, the policy and mobilization arm of Consumer Reports. "Parents should be very careful about turning their kids over to these products at such a young age."
Messenger Kids is ad-free and does not permit in-app purchases. A parent with a Facebook account must authorize the account on the app and approve all friends. The parent also receives access to conversations on the child's device, but can't actively monitor those conversations via another device.
Children have the ability to block a user or flag inappropriate content, but once they do, the parent is notified and can then see the content or prior exchanges with the blocked user.
These features offer some parental control over children's usage of the app, but Rich warns that Facebook's safeguards don't do enough to protect kids. "We'd like to see some stronger controls here," she says. "Like the ability to monitor kids' communications in the parent's app, and a timer for parents to limit usage."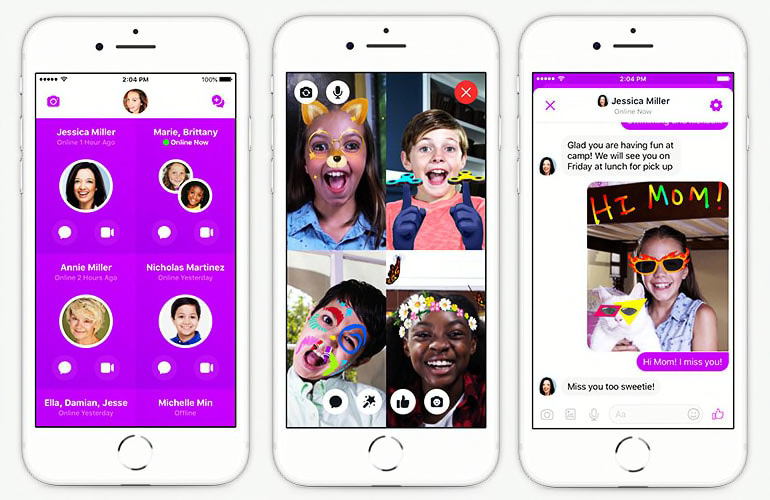 According to Facebook, Messenger Kids is designed to be compliant with the Children's Online Privacy Protection Act (COPPA), a federal law that regulates how personal information can be collected for children under the age of 13. The company also stated that the app's accounts will not automatically convert to regular Facebook accounts when users become teenagers.

But experts raise questions about what data is being collected on the app's users and how that data may be used in the future. To date, Facebook has only acknowledged that it will monitor content and collect data on how the app is being used.
That data will be stored apart from the data collected on the company's adult users, Facebook says.

"A messenger app for kids under 13 that only parents can sign them up for sounds like a nice idea on its face, but without clear policies about data collection, what happens to the content children post, and plans for the future, it is impossible to fully trust the platform," says James Steyer, CEO of Common Sense Media, a privacy advocacy group. "We appreciate that for now, the product is ad-free and appears designed to put parents in control. But why should parents simply trust that Facebook is acting in the best interest of kids?"
From a security perspective, Facebook says it will scan for content that is violent or inappropriate in texts, photos, and videos, as well as in any attached links.
"It's a double-edged sword," adds David Choffnes, an assistant professor of computer science at Northeastern University. He points out that the app's filters can flag undesirable content, but they only work if Facebook is able to monitor activity on the app, which raises privacy questions. "The question is: Is it okay for Facebook to be able to see this communication? That may be a concern for parents," he says.
Some experts do praise the safeguards baked into the app, while expressing the need for continued oversight.
"By designing an ad-free and safe environment for children, Facebook is playing a leadership role in developing responsible corporate practices that could be the basis for industry-wide guidelines," says communications professor Kathryn C. Montgomery, a senior consultant at the Center for Digital Democracy. "But it is too early to understand fully how young people's engagement with this new generation of digital interactive platforms will impact their psychosocial development."
For more information on how to protect your child's privacy online, check out these stories on connected toys, privacy settings and managing your own posts.