When you shop through retailer links on our site, we may earn affiliate commissions. 100% of the fees we collect are used to support our nonprofit mission.
Learn more.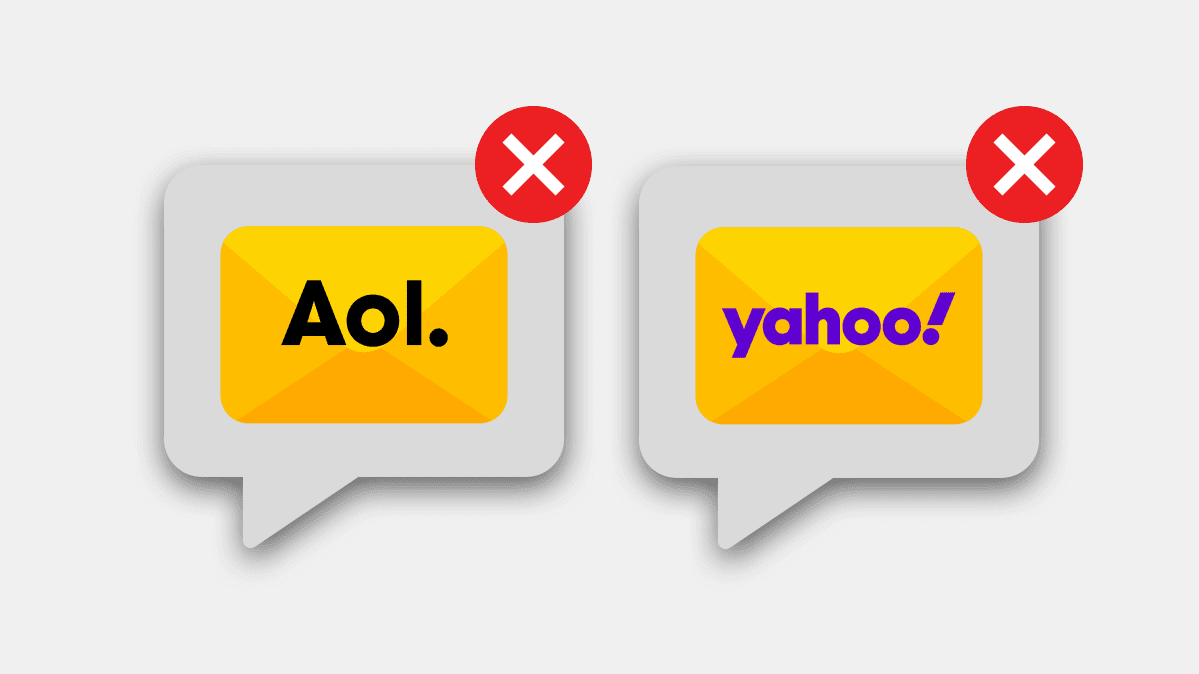 Illustration: Lacey Browne/Consumer Reports, iStock
With AOL and Yahoo changing owners for the second time in a half-dozen years, now is a good time to delete any old and unused accounts.
Verizon has agreed to sell AOL and Yahoo to the private-equity firm Apollo Global Management for $5 billion, significantly less than the combined purchase price of $9 billion for the two media companies in 2015 and 2017.

One of the most significant assets being sold to Apollo is the mountain of consumer data compiled by AOL and Yahoo over the decades. Yahoo still has about 900 million monthly users, and there are probably millions of additional people who set up AOL or Yahoo accounts years ago and then let them languish.
If you're one of those folks with an unused account, the data associated with it—from your emails to your Yahoo Finance portfolios—are still being held in the databases, available for use in targeted advertising and for other business purposes.
Like most companies, AOL and Yahoo drafted broad privacy policies that allowed the firms to use and sharing your data in a variety of ways. The policies also anticipated the possiblity of a sale, so your data can now be transferred to Apollo without asking for your permission.
However, Apollo will at least have to follow the same guidelines as Yahoo and AOL in using consumer data, and if they plan to change the policy significantly they'd need to notify you. "Whatever privacy policy was in place, that's still going to apply after the sale," says Pam Dixon, executive director of the World Privacy Forum, a California-based digital advocacy group.
Apollo is likely to go to work trying to make more money off that data. Verizon and Apollo Management didn't reply to requests for information on how consumer data would be used after the acquisition, but analysts report that the company intends to continue to operate the platforms rather than sell the consumer information separately. "It's not a purely data-driven deal," says Seth Shafer, senior analyst with S&P Global, a worldwide financial analytics firm. "I don't think they're going to part out the business and sell it off."
That means that if you're actively using an account, there may be no increased risk to your privacy. However, if your accounts have been idle, you're letting corporations trade your data and make money from it with no benefit to you. And if there's ever a data breach—such as a Yahoo data breach that began in 2013 and affected 500 million users—it just means hackers will get more of your information, which could be used for scams or identity theft.
If you'd like to delete your accounts, it's relatively simple to do.
How to Delete Your Yahoo Account
Closing your account is a two-step process: securing any information that you might want, and then shutting the account down for good.
Once you close your account you'll lose access to all of your data and content, including emails, calendars, Yahoo Fantasy Teams, and Finance portfolios. But that information can be easily archived before your delete your account.

It's easy to transfer old emails to most other email services. For instance, if you want to move Yahoo emails to a Gmail account, open your Gmail settings, then click on the Accounts & Import tab, and follow the directions.
To download other information from your account, visit Yahoo's Privacy Dashboard and Controls page. Click on Manage Your Information > Download and View Your Data > Download My Data> Select Data > Next. Then, enter an email for notification and click on Request Download.
Yahoo says it can take up to 30 days to have your information delivered.

Once you're ready to delete your account, follow this link and enter your password. You'll land on a page of text entitled "Before continuing, please consider the following information." After you've read it, click on Continue > Delete My Account. Then enter your email, and select Yes to terminate the account.
You should get a message saying "Your account has been deactivated and scheduled for deletion," and you can click Got It.

If you have a paid account, you'll need to pay off your balance before you can delete your account.

If you delete your account in error, you can recover it by logging in within 30 days, verifying the recovery information, and creating a new password.
How to Delete Your AOL Account
When you close your AOL account, you'll lose access to your content including your emails and email folders, so it makes sense to download your data.

To archive your emails, you'll want to copy them into an email app like Outlook or Mac Mail using IMAP settings. Exact settings and detailed instructions can be found here. The process can be very slow; if you have a lot of emails, it can take several days.
To access any other information, visit AOL's privacy dashboard, click Manage Your Information> Request Download.
It can take up to 30 days for your information to be delivered.
Next, to delete your account, go to the Account Termination Page and follow the on-screen prompts which are similar to the steps for a Yahoo account, which are detailed above.
If you have more than one username, you need to delete them each individually, with the primary username coming last. If you're still paying for AOL services you'll need to visit the My Account page to cancel your paid services.