When you shop through retailer links on our site, we may earn affiliate commissions. 100% of the fees we collect are used to support our nonprofit mission.
Learn more.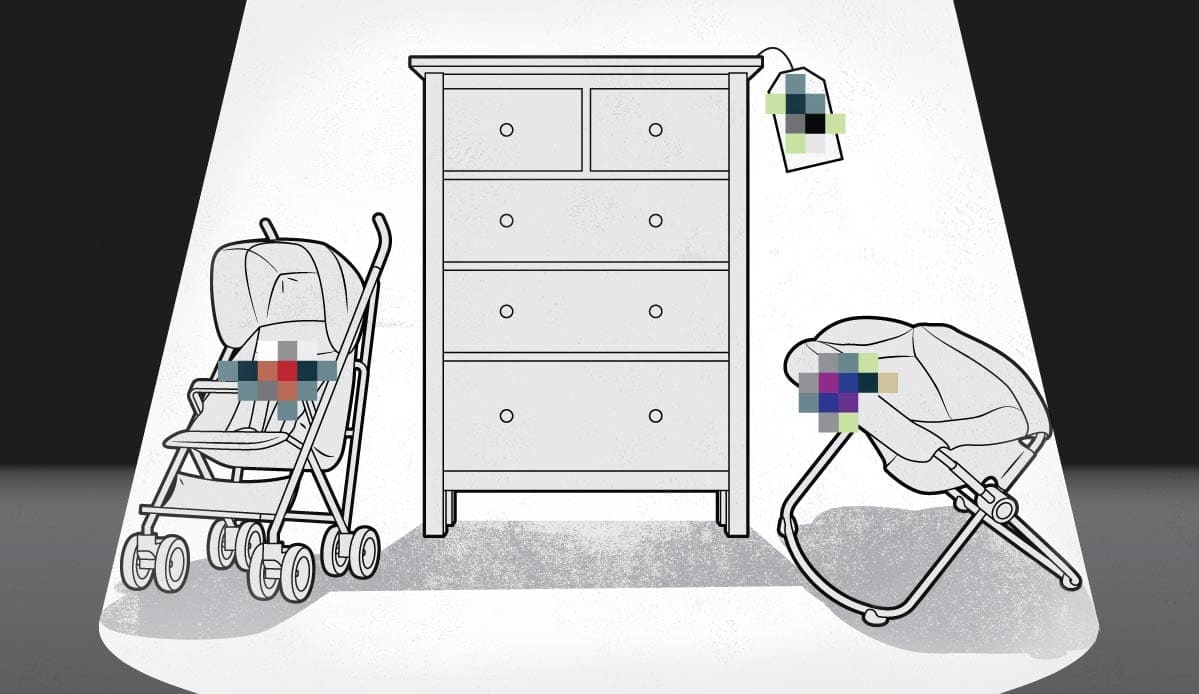 Illustration: Chris Philpot
Update: On April 22, 2021, U.S. Senator Richard Blumenthal (D-CT) and Representatives Jan Schakowsky (D-Ill.) and Bobby L. Rush (D-Ill.) introduced the Sunshine in Product Safety Act, which aims to repeal the anti-transparency provision of the Consumer Product Safety Act known as Section 6(b). The proposed legislation would enable the Consumer Product Safety Commission to alert the public faster about potentially dangerous products without risking legal retaliation by manufacturers. A similar bill, called the SHARE Information Act, was introduced by Rush in the last session of Congress.
This article was originially published on January 9, 2020.
You might assume that if a government agency knows a product is tied to deaths and injuries, it would warn you right away. But in fact, the Consumer Product Safety Commission, the federal agency that oversees thousands of consumer goods, is typically bound by law to stay mum unless the manufacturer of the unsafe product agrees to when and how the news comes out. If the CPSC wants to alert the public and the manufacturer doesn't agree, the manufacturer can sue the agency—so the agency typically keeps quiet.
A new bill, introduced in Congress today by U.S. Representative Bobby L. Rush (D-Ill.), seeks to change that.
The current law muzzling the CPSC, known as Section 6(b) of the Consumer Product Safety Act, dates back to the 1980s. The idea was to give companies a chance to review and respond to product safety issues before making them public, which proponents say ensures that the concerns are accurate and fair and protect a company's reputation from undue damage. Critics, though, say the law creates significant time delays and puts consumers at risk, particularly when products are causing serious harm.
No other U.S. health and safety government agency must, as a general practice, seek a manufacturer's permission before alerting the public of a specific product's dangers.
"Section 6(b) fundamentally protects manufacturers at the expense of consumer safety," says William Wallace, manager of home and safety policy at Consumer Reports.
It was largely due to Section 6(b) that the CPSC did not warn consumers about fatalities linked to the Fisher-Price Rock 'n Play Sleeper and other infant inclined sleeper products. At least 73 infants have died in the Rock 'n Play Sleeper and similar products made by other manufacturers since they were introduced. Had it not been for an accidental disclosure to Consumer Reports of CPSC data that included fatalities linked to individual manufacturers, the public might still not know the extent of the danger. And the sleepers, now recalled by Fisher-Price and others, might still be on the market.
New Bill Would Bring More Transparency
Outrage from child safety advocates as well as parents over how the infant inclined sleeper fatalities were kept secret for so long has prompted significant pushback to Section 6(b).
Sara Thompson, whose son Alex died in a Rock 'n Play Sleeper in 2011, was shocked to learn that the CPSC knew about deaths in infant inclined sleepers but did not warn parents about the dangers for years. "It's sad because people count on [the CPSC] to know if products are safe," she says.
Rep. Rush's bill, called the Safety Hazard and Recall Efficiency (SHARE) Information Act, would rewrite Section 6(b), allowing the CPSC to publicly share critical information about unsafe products without risking a lawsuit by the product's manufacturer. The legislation would also increase the fines on companies that violate product safety laws, including laws requiring companies to report possible safety hazards to the CPSC.
"Section 6(b) undermines an essential function of the Consumer Product Safety Commission, prohibiting them from alerting consumers to hazardous products in a timely manner," said Rush in a statement. "This has allowed companies to continue to line their pockets while consumers unknowingly purchase harmful products, completely oblivious to the potentially deadly consequences. The SHARE Information Act would reverse this remarkable injustice, protecting millions of Americans in the process."
The bill is backed by CR and other consumer groups, including the Consumer Federation of America, Kids In Danger, Public Citizen, and U.S. PIRG.
It also has support in the Senate from Sen. Richard Blumenthal, D-Conn., who told CR previously: "For too long, Section 6(b) has acted like a gag order—depriving the CPSC from carrying out its critical mission."
A Broken Safety System
The CPSC currently has few tools to warn consumers quickly about potentially unsafe products. "The CPSC rarely releases specific information about a manufacturer or a product without the company's permission, largely out of fear the company will sue," says CR's Wallace.
When the CPSC does release information, Section 6(b) also gives companies the ability to limit the information the agency shares and to negotiate the language used, so consumers may still not get the full story. That's what happened when the CPSC and Fisher-Price issued a joint alert on April 5, 2019, about the Rock 'n Play Sleeper. It cited 10 deaths linked to the product even though the agency and Fisher-Price knew of many more than that. It was only after CR published an investigation on April 8, reporting on 32 infant deaths known at that time, that the company publicly acknowledged the higher death count and recalled the product on April 12.
"In the last year, we've seen the clear consequences of keeping information about injuries and deaths confidential as the death toll from inclined sleepers like the Rock 'n Play continued to climb," says Adam Garber of U.S. PIRG. "Rep. Rush's effort to make critical health and safety information transparent will help the CPSC meet its mission of protecting consumers, saving lives," he says.
Parents Call for Action
Parents have also been active in opposition to Section 6(b). Crystal Ellis of Snohomish, Wash., whose 2-year-old son Camden died after an Ikea dresser tipped over onto him in 2014, spoke at a CPSC hearing in May 2019 about how the law kept her from learning about the tip-over risks of the Malm dresser in her son's room, even though the CPSC and Ikea knew the dresser had been linked to deaths.
"The restriction of information prevented my family from even having a chance to know that our dresser was unsafe," says Ellis. And it "allowed Ikea to delay the recall [of the dresser] with an ineffective education campaign."
Janet McGee of Apple Valley, Minn., was also unaware of the furniture tip-over risk until it was too late. It was only after a Malm dresser fell onto her 22-month-old son Ted in 2016, killing him, that she learned of other deaths connected to the product.
And that was years before McGee found out about deaths linked to the Rock 'n Play Sleeper, a product she used when Ted and his younger brother Mason were babies.
Ted's "dresser was recalled because it killed him, and now the Rock 'n Play Sleeper was recalled because it killed dozens of children," says McGee. "It makes you feel so vulnerable. What is safe to use?"
McGee feels that with Section 6(b) still in place, her baby Lauren, who was born this past June, remains at risk. "As a parent you try your best. But you don't know what you don't know," she says.
Rep. Rush agrees that parents should not be kept in the dark. "It is past time that consumers have access to the knowledge they need to make well-informed decisions as to products that affect their health and safety."