When you shop through retailer links on our site, we may earn affiliate commissions. 100% of the fees we collect are used to support our nonprofit mission.
Learn more.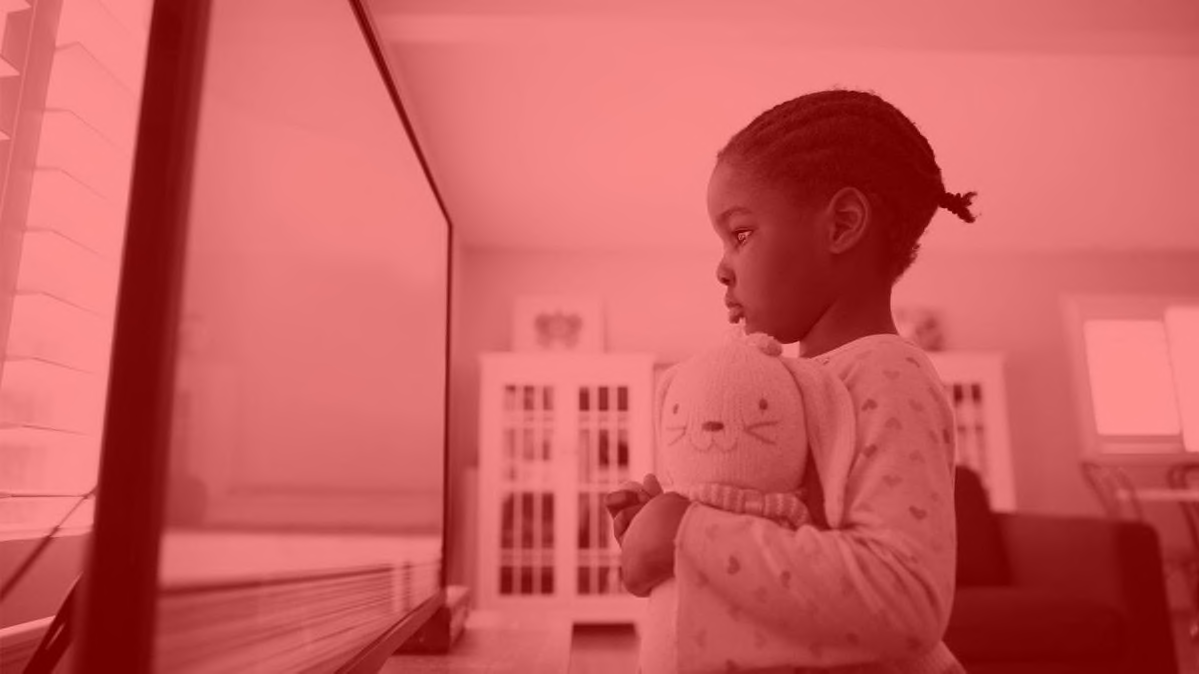 This is something you might not think about when you're buying a new TV, but it's a sobering fact: Between 2000 and 2017, more than 340 people in the U.S. were killed by a television tipping over, often along with a piece of furniture. And the overwhelming majority of them—72 percent—were children, often younger than age 6.
"Nearly 40 kids a day are injured as a result of a TV or furniture tip-over incident, and on average, two to three kids die each month," says Patty Davis, acting communications director at the U.S. Consumer Product Safety Commission (CPSC). "It's important to remember that for young kids, their home looks like a playground. Unsecured furniture and televisions are dangers hiding in plain sight."

In addition to the fatalities, tip-overs involving TVs caused an average of 8,200 injuries a year from 2015 to 2017, according to CPSC data.
Why Accidents Happen
You might think that TV tip-overs wouldn't be dangerous now that thinner LCD TVs have replaced bulkier CRT TV sets.
It's true that today's TVs are considerably lighter than old-fashioned CRTs, but that doesn't mean they're light, especially in the jumbo sizes many consumers prefer. For example, a 65-inch TV we tested, the Sony XBR-65A9F, weighs more than 78 pounds, including the stand. The even larger Hisense 75EU8070, a 75-inch set, weighs slightly more than 82 pounds.
More on Furniture Tip-Overs
The danger is greatest if a TV is sitting on a piece of furniture that also can tip over. That's why it's a bad idea to place a television on a dresser. Some children pull out dresser drawers and use them to climb, which can cause the dresser and TV to topple onto the child.
Last year Consumer Reports tested dressers for stability and found significant differences. Based on the results and an analysis of CPSC data, CR is calling for strong, mandatory industry standards for dressers and similar furniture.
Outside of bedrooms, today's bigger TVs are often placed on cabinets, tables, and media consoles designed for the smaller sets they replaced, which can make them unstable.
And some new TVs have stand designs that position the legs at the very edges of the TV base. If these sets are placed on media consoles or tables that were designed for pedestal-style stands, where the feet are positioned in the middle of the set, the feet may extend beyond the edges of the stand. That will make the TV highly unstable.
How to Stay Safe
TV tip-overs aren't difficult to prevent, especially if you have basic DIY skills. Even if you're not handy, you can improve safety by placing the set on an appropriate stand. And the same goes for renters who aren't allowed to screw things into the walls. Here's what you should do:
Wall-mount the TV. A properly installed wall mount—lag-bolted to studs or a hefty crossbeam—will keep the TV secure and high enough off the floor so that it can't be grabbed by young children.
If wall-mounting isn't feasible, secure the TV to a wall (or to the back of the stand if it's substantial enough) using anti-tipping straps (about $7 to $20). Furniture holding the TV can also be anchored to the floor or wall using brackets, screws, or braces. If you're using straps, secure them to a stud in the wall, not into drywall or plaster, which can give way under pressure.
Make sure the stand or furniture is sturdy and appropriate for the size and weight of the TV, and place the set as far back on the stand as you can, especially if anchoring isn't possible. If you're putting a new TV on your old TV's stand, make sure that no portion of the pedestal or feet extends over the edge. If you have an older home with irregular floors, make sure the stand or cabinet isn't wobbly (insert a shim if necessary). Consumer Reports has details on how to anchor furniture to help prevent tip-overs.
Avoid placing TVs on dressers and chests, because children may be tempted to climb on the drawers, possibly causing the dresser or TV to topple.
Make sure that electrical cords and cables are out of a child's reach wherever a TV is placed.
Don't place kid-enticing items, such as remote controls or toys, on top of a TV or TV stand. That could encourage kids to climb up on unstable surfaces to reach them.
Consider recycling an older tube TV rather than moving it into a child's room. Small, lightweight TVs are very affordable—there are 22- and 24-inch models available for about $100 in our TV ratings. And new 32-inch TVs start at about $130. Remember, even small TVs should be properly secured.
For more information about properly securing TVs and furniture, Davis suggests going to anchorit.gov for step-by-step videos and guides.
Podcast: Hear Moms Tell Their Stories
Keeping Kids Safe From Furniture Tip-Overs
A danger might be lurking right in your home. On the 'Consumer 101' TV show, Consumer Reports' expert Peter Anzalone explains to show host Jack Rico what consumers need to know about furniture tip-overs.