When you shop through retailer links on our site, we may earn affiliate commissions. 100% of the fees we collect are used to support our nonprofit mission.
Learn more.
Tara Casaregola, the test engineer who oversees Consumer Reports' cooking appliances lab, has been evaluating ranges for more than a decade. In that time she has broiled thousands of hamburgers and baked at least as many cakes in basic and pro-style models.
One of the best ranges she has ever tested is the unassuming Kenmore Elite 99122, an electric smoothtop model that was sold in white, black, and, yes, bisque, back in 2005. And though it didn't come in coveted stainless steel, the Kenmore was so good that we kept it.
"Even though we only have space for five to eight ranges in the lab at one time, the Kenmore has earned a permanent spot," Casaregola says.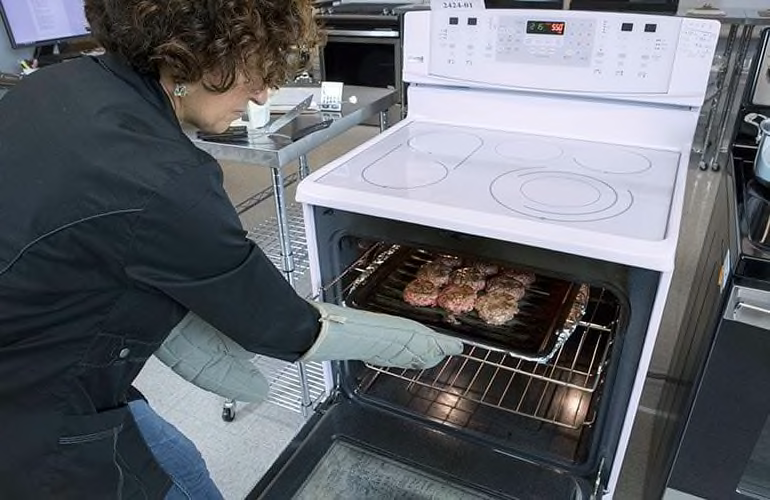 The Kenmore Elite 99122 turned in decent enough performance from the burners, heating 6 quarts of water to a near-boil in less than 14 minutes, on par with its peers at that time. It also simmered steadily.
But when it came time to subject this Kenmore range to the more demanding baking and broiling tests, its oven performance really shined. The oven turned out batch after batch of perfect cookies and layer cakes. And the broiler seared as well as the best we'd ever tested—beautifully browning burger patties, replicating results you'd get on a grill and setting a new benchmark for broiling.
When we first tested this Kenmore range, it was the second-highest-scoring electric range in our ratings, losing out to a less expensive model from the same brand that actually had better stovetop performance. We paid $1,250 for the Elite 99122 at the time and had this to say: "Paying more for the Kenmore buys you convection, a warming drawer, and a triple element with up to 2,700 watts, along with superb baking and broiling."
Getting such performance from a model is unusual. And though we wouldn't change our testing standards based upon a single result like the Kenmore's, we do take note, to see whether it's reflective of a bigger change across the industry.
"Product improvement tends to be more evolution than revolution," says Jim Nanni, associate director and appliance testing team leader at Consumer Reports. "When we see a larger number of models approaching our benchmark, we might decide to raise the bar for what we consider a top result."
In this case, the Kenmore range was an indicator of changes to come across its category. Today, many of the ranges in our ratings broil as well as the Kenmore, but it was way ahead of the curve back in 2005.
And after 12 years, this Kenmore range is still a workhorse, if not a little worse for wear. "Its door fell off the hinge a few years back, but we repaired it and still use it as a reference range for broiler tests," says Casaregola. "It's still so spot-on that every time we buy a new batch of ground beef to test broilers in new ranges, we do a test run in the Kenmore. The broiler still browns with perfect precision."
Kenmore discontinued the Elite 99122 a few years later, but for similar broiling results you can check out the Kenmore Pro 92583, $2,080; LG LRE3083SW, $855; or the Frigidaire Gallery FGEF3035RF, $620.