When you shop through retailer links on our site, we may earn affiliate commissions. 100% of the fees we collect are used to support our nonprofit mission.
Learn more.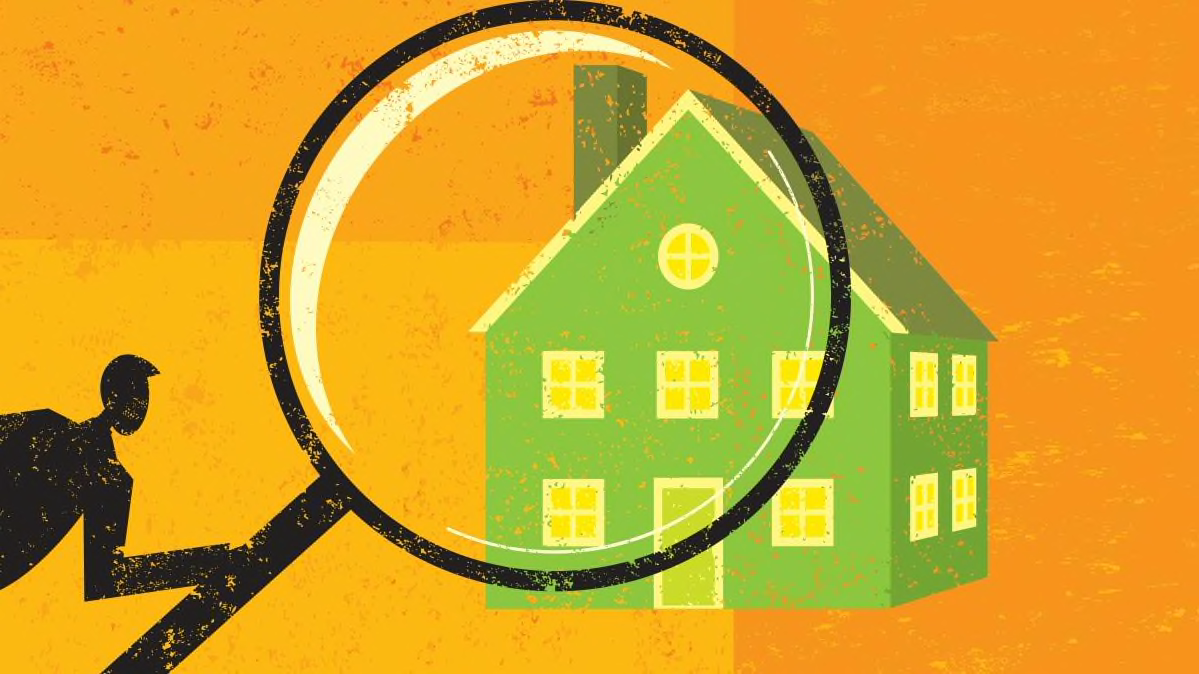 Buying a new home is supposed to be a joyous experience—not one that leaves you kicking yourself for having made a colossal mistake.
So Tiffany Holley and her husband were understandably upset when they discovered that the home they had just moved into had a plumbing problem that had been causing raw sewage to spill into the foundation's crawlspace. The home inspector they'd hired prior to buying the house had failed to uncover the issue.
"I was so mad," says Holley, adding that she and her husband would not have bought the house if they had known they'd be hit with the significant cost of cleaning up and repairing the damage.
The Problems With Home Inspections
The Holleys' experience underscores the importance of choosing a good home inspector. Although home inspections aren't generally required by mortgage lenders, nearly 80 percent of those buying homes not newly built opt for one in order to make sure there are no problems with the structure, roof, heating, plumbing and electrical systems, among other things, says Tim Buell, immediate past president of the American Society of Home Inspectors (ASHI), which trains and certifies inspectors, and sets standards for the industry.
More On Buying and Selling a Home
Sometimes purchasers of new homes also hire inspectors. So do sellers who want to know about any problems their home may have before listing it.
But finding a good inspector can be tricky. There are thousands of inspectors nationwide. Some may lack adequate training, especially in the 18 states and Washington, D.C., that don't require they be licensed, says Buell. And even in states that license inspectors, the requirements for experience, training, and continuing education vary significantly.
Complicating matters further is the issue of home inspector certification. Along with ASHI, there are two other major professional inspector associations, each with its own standards, education programs, testing, and levels of certification: the International Association of Certified Home Inspectors (InterNACHI) and the National Academy of Building Inspection Engineers (NABIE), which certifies professional engineers and architects who do general inspections.
But it's not as though being licensed by a state or certified by a trade group is a guarantee that an inspector will do great work. Consumers' Checkbook, an independent nonprofit advocacy group that rates local services, announced last year the results of an undercover investigation that revealed shortcomings in 12 home inspections that had been ordered for a three-bedroom house that had 28 known problems. All the inspectors were licensed and certified.
The group said five of the inspectors failed to examine the home's window air conditioners. Only three made close-up inspections of the roof, which was badly damaged. And just half bothered to test the windows by opening and closing them. It reported that none of the inspectors "performed very well, and as a group they spotted only about half of the problems."
"Part of the problem was that some inspectors were clearly sloppy, lazy, or both," the group said in announcing the results.
How to Find an Inspector You Can Trust
Complaints about home inspectors abound on the BBB website and elsewhere online. But there are steps you can take to find a qualified home inspector who will do good work.
Know what to expect. A basic inspection takes about 2 to 3 hours and costs from around $300 to $1,000, depending on the home's location and size, the inspector's experience, and the scope of the inspection itself.
If you want to learn what a typical inspection does and does not require, the home inspection trade associations' websites can be informative. The list may surprise you.
For example, among the items that InterNACHI says inspectors aren't required to examine are a home's chimney flue, swimming pool, solar heating and water treatment systems, lawn irrigation and home security equipment, and even the washing machine and other appliances. And inspectors typically don't test the water quality or for the presence of radon, lead paint, or mold.
Some inspectors do offer these and other additional services, though you may need to pay more.
To see what inspection reports look like and how they can differ, check the reports posted by InterNACHI or simply search online for samples, such as the one we found from Texas-based Professional Engineering Inspections (pdf). Finally, check your state's home inspector regulations and licensing requirements, if any.
Find an inspector. "Try to get recommendations from someone you know," advises Buell. You can also check the professional association websites for members by location. You'll find details about their experience and certifications and the services they provide. Other resources include the Better Business Bureau, Angie's List, and Consumers' Checkbook in the seven metro areas it covers.
If you're concerned about a home's structure, consider hiring a professional engineer or architect who also does general home inspections, advises Consumers' Checkbook executive editor Kevin Brasler, who worked on the group's inspector investigation.
But if you do, be prepared to pay more. Edward Robinson, a professional engineer and president of Professional Engineering Inspections in Houston, estimates that the $600 to $800 he charges to inspect a typical three-bedroom home is about double what someone in the Houston area would pay for a non-engineer's inspection.
One caution: Think twice about hiring an inspector recommended by your real estate agent. Because inspections can cost the agent the sale, an inspector may feel obligated to go easy.
"Unless you deeply trust your agent, find your own inspector," says Brasler. One agent told us she would stop recommending inspectors who she felt were too nitpicky and likely to cost her sales.
Consider the timing. Ideally, an inspection should occur after the buyer and seller sign a contract, says Albany, N.Y.–based attorney Beth Carey, who specializes in real estate transactions. The agreement should include a contingency clause allowing the buyer to cancel if the inspector finds serious problems.
But in some parts of the country, says Carey, sellers want the inspection done before the contract signing. That's risky for buyers, who can end up spending hundreds of dollars for an inspection only to see the seller pull out of the deal because of a better offer or for any other reason. If you're concerned, says Carey, try negotiating for a post-contract inspection.
Check credentials. Verify the inspector has any state-required licenses, advises Buell. It's also wise to select an inspector who has a top certification from at least one of the major professional associations. "I think any of the organizations have made an honest attempt to put together a legitimate certificate program," says former NABIE executive director David Carlysle.
Ask questions. First, go through the house and jot down any potential problems you see, advises Brasler. Then find out exactly what the inspector will and won't examine. He recommends asking for sample reports and reviewing them carefully.
If you're concerned about items not on the inspection list, ask whether those ancillary inspections can be added and at what cost. But make sure the inspector is qualified to do them. If not, you may need to find another inspector or hire additional professionals, such as a roofer, electrician, plumber, pest expert, or professional engineer.
Find out how long the inspection will take and when you'll receive a written report, which should include photographs. Also make sure that you'll be allowed to accompany the inspector and ask questions.
Brasler also recommends asking what happens if the inspector misses problems. He says the inspection contracts he reviewed say the inspectors' maximum liability is cost of inspection. But Buell and Carlysle agree that the inspector should be on the hook for the repair.
"If there is something that should have been caught, the inspector needs to pay for it and turn it over to his insurance company," says Carlysle.
Some states, including New Jersey and Arizona, require inspectors to carry errors and omission insurance, which can cover the cost of an inspector's mistakes.
Find out what others are saying. There are many resources for user opinions about home inspection companies, including Angie's List, the Better Business Bureau, Yelp, and Consumers' Checkbook. Try a web search and the name of the company and such terms as "complaints" and "reviews."