When you shop through retailer links on our site, we may earn affiliate commissions. 100% of the fees we collect are used to support our nonprofit mission.
Learn more.
In a reminder to consumers about the ongoing dangers posed by many hoverboards, the Consumer Product Safety Commission has announced recalls for almost 14,000 boards distributed by seven different brands.
They include Drone Nerds, Go Wheels, iHoverspeed, ILive, TechDRift, SonicSmart, and Smart Balance. All of the recalls stemmed from overheating problems related to the batteries in the boards and the resulting threat of fire or explosion. (Hoverboards are two-wheeled self-balancing motorized scooters that have become popular under various brand names over the past few years.)
The CPSC also issued a product safety alert for hoverboards supplied by an eighth brand that may be tied to two home fires and a pair of fatalities.
"CPSC has evidence that LayZ Board was the brand of hoverboard involved in the fire on October 23, 2017, in Manchester Township, Pa., which destroyed one townhome and damaged four others," the agency reported.
The CPSC had issued a previous warning about LayZ Board hoverboards in May, following a fatal house fire on March 10, 2017, in Harrisburg, Pa., which took the lives of two young girls.
The LayZ Board products were not officially recalled because that process requires the cooperation of the manufacturer. "We can't find the manufacturer," CPSC spokeswoman Elizabeth Klinefelter says. "So we can't do a recall."
What Owners Should Do
The CPSC is advising consumers to stop using LayZ Board devices immediately and dispose of them using the hazardous waste or recycling program in their communities for safe disposal of the lithium-ion batteries.
Consumers have a bit more recourse if they own one of the recalled models; the companies are cooperating with the CPSC to get those products off the market.
Anyone who owns one of these devices should stop riding it, contact the manufacturer using the contact information included with the recall notice, and arrange for a replacement or other remedy, the CPSC says.
Consumer Reports contacted all the manufacturers for comment but has not received responses.
The Consumer Product Safety Commission had previously announced recalls of hoverboards from 10 companies, in July 2016. More than a half-million of the devices were involved.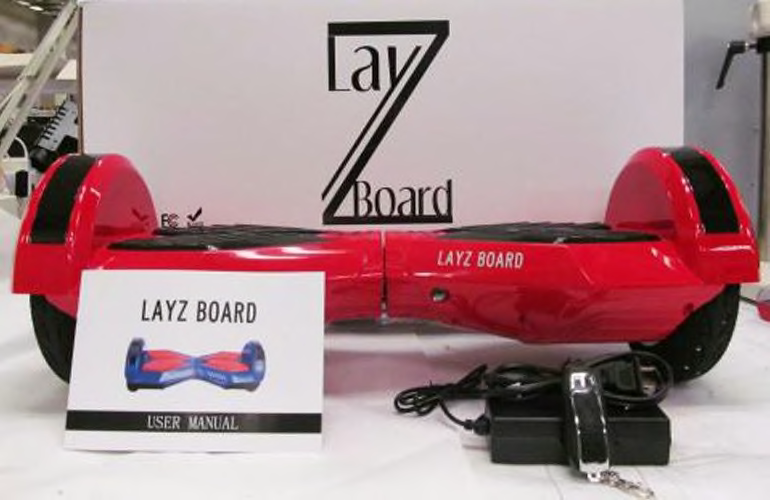 Photo: Consumer Product Safety Commission
Li-Ion Battery Dangers
"We're glad to see the CPSC secure these recalls and alert the public," says William Wallace, a policy analyst for Consumers Union, the policy and mobilization division of Consumer Reports. "These dangerous products need to be off the market and out of homes. But this news won't reach everyone. We urge consumers to tell friends and family about it, and encourage them to take action now if they have a recalled hoverboard."
Catastrophic battery failures can occur when the internal membrane separating the volatile chemicals inside a Li-ion battery is compromised. And that's true whether the battery pack is providing power to a scooter or to a smaller device such as smartphones, like the Samsung Galaxy Note7 recalled in 2016, or e-cigarettes, which have caused a number of incidents on planes and in airports.
The batteries in hoverboards are much larger than the ones in hand-held gadgets, so a failure can be more dangerous.
Since 2015, the CPSC has reported hoverboard incidents involving 13 burn injuries, three smoke inhalation injuries and property damage in excess of $4 million. Hoverboards are currently banned by a number or U.S. airlines, universities, and transit systems including the New York City subway.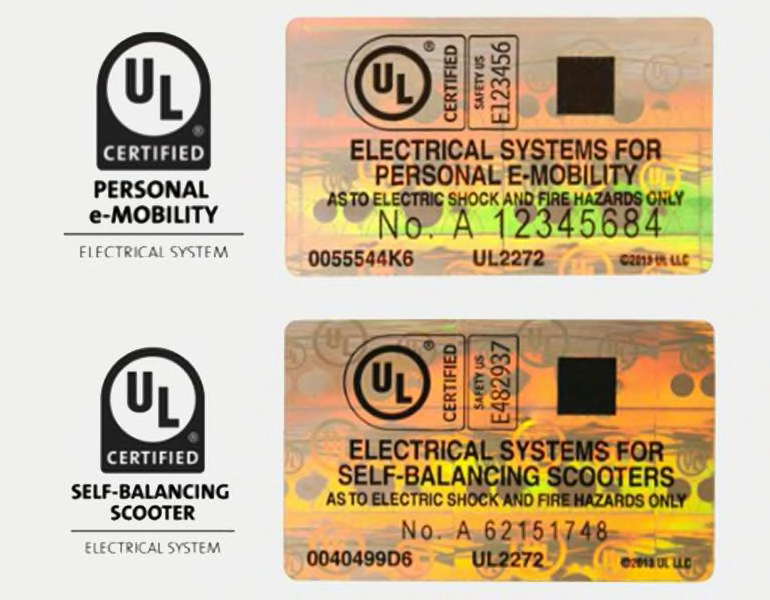 Photo: Consumer Product Safety Commission
Staying Safe With Other Hoverboards
In 2016, Underwriters Laboratories (UL), a national product safety organization, developed a safety standard—UL 2272— specifically for Personal e-Mobility devices such as hoverboards.
So far, 78 companies have received UL 2272 certification for their products. None of the devices recalled by the CPSC had been certified.
To determine if a device you're thinking about buying complies with the UL standard, look for a UL mark on the front of the packaging and the UL holographic certification label with the Enhanced Mark on the bottom of the product.
If you already own a hoverboard, Consumer Report urges you to check for recalls at the CPSC's website. And even if it hasn't been recalled, inspect its UL certification.
"If consumers have a hoverboard in their home, they should check their hoverboard for a UL listing label," says Don Huber, CR's Director of Product Safety. "Go to the UL website and enter the number on the label in the field marked 'UL File Number' to confirm that it is valid, as it is possible that the UL label is counterfeit."
If you bought a hoverboard before 2016, it wasn't evaluated under the UL certification program.
The CPSC warns that consumers should be careful even with hoverboards that have been certified by Underwriters Laboratories. The agency has issued a series of recommendations, including the following:
· Use only chargers supplied with the hoverboard.
· Only charge a hoverboard when you are there to watch it. Do not leave the device charging unattended, especially overnight.
· Keep the hoverboard away from flammable materials, while charging or even storing it.
The CPSC also warns consumers to be wary of low-price devices which may use substandard batteries and other components.
Additionally, if you're contemplating buying a hoverboard as a holiday gift, Mark Connelly, Consumer Reports Senior Director of Product Testing, warns that the devices present risks that go beyond potential fire hazards.
In 2015, Consumer Reports reported on an 11-year-old Long Island, N.Y. boy who suffered a serious head injury—a subdural hematoma—after falling off a hoverboard while not wearing a helmet. "Many people fall as they're learning to use these products, and some get injured in the process," Connelly says.
When we evaluated hoverboards at that time, we found that an unexpected obstruction—even a small stick, pebble, dip, or bump in the sidewalk—could jolt the rider into shifting his or her weight from one side to the other. That shift could make the wheel on one side speed up or slow down, forcing the hoverboard into an unplanned turn.
When that happened, it was very easy to fall.